JIKEship's guide to shipping container sizes and types
Did you know that approximately 80% of the world's cargo is transported by ship? What are the sizes of shipping containers? What are the types of shipping containers? In order to transport such a large amount of cargo, there are several different shipping container sizes and types to choose from. Here is our shipping container guide to help you choose the right container for your needs. 
Do you ship goods around the world? We have the most frequently asked questions and answers for you regarding shipping container sizes and types. By viewing our website, you can easily access all of our logistics services online, including instant quotes. 
What are the sizes of shipping containers? What are the types of shipping containers?
There are countless types and sizes of shipping containers and transport equipment available to transport your cargo. Essentially, the type of cargo and its needs will determine which container you need. We have listed below some of the most common sizes and types of shipping containers.
1. Dry Cargo Containers
They are called dry cargo containers because they do not have any temperature control - they are basic containers used to carry cargo such as toys and clothes. Dry cargo containers (DC) are the most common type of container in the world, with 90% of all sea freight being carried in them. They are available in different shipping container sizes and variants:
20ft container or 1 TEU: The standard 20ft container or "dry van" is one of the most common containers used for ocean freight along with the 40ft container. The twenty-foot container is designed to carry more weight than bulky cargo. This is suitable for heavy cargoes such as minerals, metals, machinery, sugar, paper, cement and steel coils. You can use the cubic meter calculator to calculate the size of a 20ft container.

40ft container or 1 TEU: This is one of the most common container sizes and as such, it is used to carry most types of general cargo. 40ft dry cargo containers are designed to carry and store more voluminous cargo rather than heavy cargo. For example, furniture, steel pipes, paper scraps or cotton.

40 High Cube Containers (40HC): These containers are designed for lighter cargo. 40HC containers have taller dimensions so you can accommodate more cargo. However, you cannot use them for heavier cargo due to the weight limit of each container. 

Controlled Atmosphere (CA container): This type of shipping container provides the right conditions inside the cargo container to help slow down maturation, preserve perishable products and greatly extend the shelf life of your cargo, especially on long trips.
2. Refrigerated containers.
These are cargo containers capable of controlling temperature. They are ideal for storing and transporting perishable items, such as flowers or food that needs to be refrigerated over long distances. Reefer shipping containers are available in the sizes listed above, including 20ft, 40ft, 40HC and 45HC. 
3. Special Shipping Container Sizes.
These shipping containers are available in specific sizes for specific shipments. They include. 
Open Top Container: A container sized for cargo that is extra tall and not easily loaded through doors. 

Flat Rack: A cargo container that is ideal for transporting oversized cargo such as heavy machinery, yachts and construction materials. 

Platform: for odd-sized cargo that does not fit into any other type or size of shipping container. 

Mobile Tank: Made of rugged steel or other corrosion-resistant materials for the storage, transport and long-life protection of liquid materials. 
View the following infographic for items suitable for 20ft containers.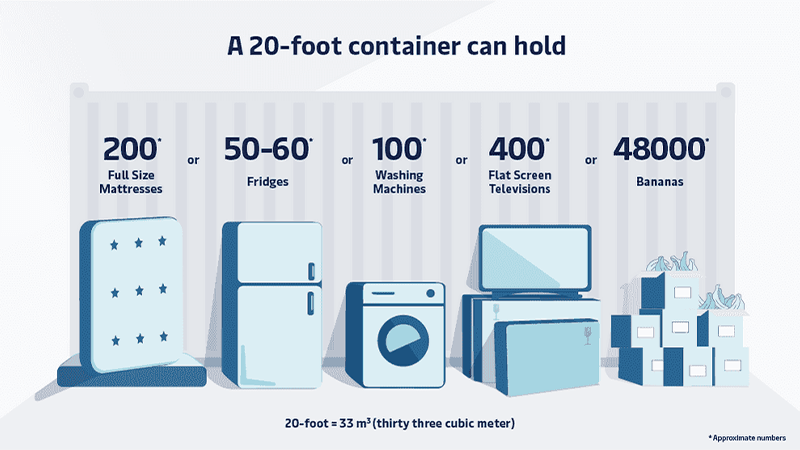 What are the vertical dimensions of a shipping container? 
The height of a typical shipping container is approximately 8 feet 6 inches. However, this can increase with the option of larger containers, usually by one foot, to 9 feet 6 inches.  
How to use JIKEship to book different shipping container sizes and types
With JIKEship, you can book 20-40-45 (HC) box containers for dry cargo. You can now contact us via the Request a Quote page to view pricing and schedule your next container shipment. Our platform offers instant pricing, saving you time wasted on unnecessary back and forth quotes.  
Contact us if you want to book shipping containers for temperature controlled cargo, dangerous goods, LCL (less than container load) or oversized cargo. At JIKEship, we are backed by industry leader Maersk, making it easy for you to book specific cargo shipments directly with them. Simply check out their services for fresh and frozen cargo as well as dangerous or consolidation cargo.
Some types of shipments may require additional documentation. If you are shipping for the first time and are unsure of the required documentation, we have collected the most important shipping documents in our Blog Center.