Shipping to Russia from China
JIKE has access to a wealth of logistical resources in various countries, and Russia is no exception. Shipping to Russia, Russian customs, whatever the problem, we have a dedicated expert to answer it for you. Of course, most of the questions you will encounter are also covered in this article and we hope to help you as well.

As the world's "factory" for the manufacture of consumer goods, China is able to meet most of Russia's needs. China and Russia are close trading partners, so there is no shortage of logistical transactions between China and Russia.
【Russia Customs Clearance】
As a businessman shipping to Russia, the security of your cargo is of course paramount and for this you need a suitable transport method.
You must try to import from China to Russia
As your advisor, it is our responsibility to make this journey a smooth one for you.
Part 1.Customs system in Russia
①The government departments in charge of trade in Russia are the Ministry of Economic Development, the Ministry of Industry and Trade, the Ministry of Agriculture, the Federal Customs Service, etc
②In Russia there are annual restrictions on the import of such products as alcohol, vodka, explosives, explosive equipment, pyrotechnic products, raw sugar, meat and so on. The allocation of import quotas is mainly carried out through tenders and auctions.
③State registration is required for chemical biological agents, radioactive substances, production wastes and some products, especially foodstuffs, imported for the first time into Russia
④Imported products for use in industry, agriculture and civil construction must first be certified as sanitary and epidemic-proof.
⑤Quarantine articles allowed for import in Russia must have an import quarantine license issued by the State Phytosanitary Authority of the Russian Federation for Agri-Food
Following the following 5 proposals will guarantee you a smooth experience in Russia.
1.Apply for and truthfully declare the value of the goods in use
If the use value of the goods is found to be fraudulent, Russian customs officials will not allow you to clear the goods. So make sure you take it seriously, record every value of the goods accurately and don't forget to back up the relevant documents at the end.
2.The name and description of the document must be the same
This means that HS coding and the segmentation of each product and the content of the usage value information need to be as comprehensive as possible. Russian customs will only release you if they have confirmed your goods, so it is in your own best interests to provide accurate information.
3.The documents must be consistent
Every file you fill out needs to be consistent. Simply put, the letter of credit, the name of the consignor on the document all of this information content is likewise consistent. are the same on every file.
4.The recipient pays the duties and charges
5.Document preparation can fully reduce the time of delivery
Here's a tip for you, there is plenty of time to prepare the relevant documents in advance of any inspection, saving you valuable time and unnecessary haste when faced with a full inspection.
Oh yes, one more thing. The consignee must pay the duties and charges at the terminal. (i.e. to apply for customs clearance in his own name), plus Russia does not levy customs duties on deliveries.
①Import duties and taxes: Russian import duties and taxes are mainly determined by the type of importer and are calculated on a CIF basis and VAT is levied on imported goods.
②VAT: The standard rate is 18%, and some goods enjoy a preferential VAT rate of 10%.
③Starting point: The tax payable by individuals and commercial entities in Russia is different. For individuals sending express mail: the total weight up to 31 kg in a month and the CIF price does not exceed €1,000 is exempt from taxation. For commercial entities: 30% of the excess of the value of the goods over €1,000; for weights over 31 kg, €4 per kg of the excess is levied. Total tariff not exceeding €2, duty free.
④Russia's simple average final rate is 7.7%, of which the tariff rate on agricultural products is 11.1% and the tariff rate on non-agricultural products is 7.2%.
⑤Russian food tariff rate of 5%-20%
⑥Russian textile and apparel tariff rate of 5% -17.5%
⑦The tariff rate for Russian shoes is 0.28-1.5 euros per pair
⑧Russian machinery and equipment tariff rate of 0%-15%
⑨Tariff rate on Russian electronic products from 0%-15%
⑩Russian auto tariff rate of 0%-15%
⑪Russian optical instrument tariff rate of 5%-13%
Russian customs clearance requires a customs declaration of goods and a customs value declaration. Permits, commercial inspection certificates, licensing certificates for the goods in question. Certificate of origin. Documents for payment of taxes and duties, registration certificate of the import contract, other supplementary documents, customs clearance in Russia takes about 2-3 working days to complete.
Part 2.Ocean Freight From China shipping to Russia
Another way of transporting goods from China to Russia is by sea.The advantage of this is that you can export large quantities of goods.
And that is not all.
Compared to other traditional modes of transport, sea freight is the cheapest of them all.
Vostochny
Located in the largest port in the Russian Far East, it is ice-bound in winter and navigable all year round, with coal and timber as the main export commodities. Imported grain and container transportation, etc
Murmansk Port
An important non-freezing port in Russia in the Arctic Ocean, the port is also the only non-freezing port in the Arctic Circle, the largest fishing port in Russia and the largest commercial port in the north
Vanino Port
The third largest port in the Russian Far East, on the northwest coast of vanino Bay in the Tatar Strait, operations can be arranged if required during holidays, but overtime pay is required
As of today, the main routes for shipping to Russia from China are as follows: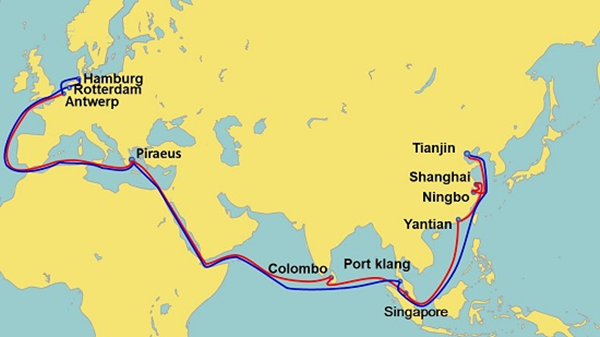 The first route is to transport containers from Chinese coastal ports to European base ports such as Hamburg and Rotterdam for unloading, and then to St. Petersburg, Russia by feeder ship, a total journey of approximately 50 days. Originally, the freight rate of sea freight was the lowest, but recently with the world supply chain crisis sea freight rate has increased a lot.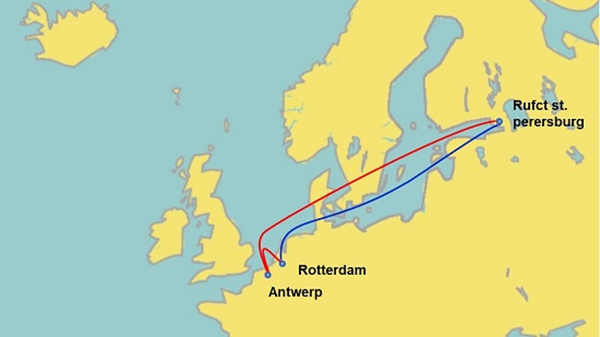 Because Russia's economic center of gravity and main consumption are in the European part, this channel is the most important in normal times, and it is also this line that is most affected by liner company sanctions. Since most of the capacity from the first-trip Chinese coastal ports to the European basic ports, and almost all the capacity from the second-way European basic ports to St. Petersburg, is provided by shipping companies from European and USA system countries, so this route will be nominally interrupted by the sanctions.
Part 3.Air Freight From China shipping to Russia
If you choose air transport as a means of transport for your goods, it will reach its destination faster.
You might consider selecting this mode of shipment if you want to import expensive items.
Some of these airports include:
Sheremetyevo Airport (International Airport)
Sheremetyevo International Airport (which has been in operation since 1980) Skeremetyevo Airport is situated 28 kilometres northwest of Moscow. Located 11 kilometres from the Moscow ring road, it is Moscow's civilian airport, a hub port for Aeroflot and the second largest international airport in Russia.
Vnukovo Airport
It is the third busiest airport in Russia and is located 28 km southwest of Moscow. On the other hand, the airport is used as a backup airport during the foggy season.It is due to its location and architectural design.You can use this airport if you are shipping to Moscow or its environs.
Now you don't have to worry about whether your goods are going to be transported far away. The reason for this is that it is connected by rail to the kryersky railway terminal. The current renovation and expansion will enable it to serve its customers better, as it currently has only one terminal.
Part 4.Sea-rail Shipping from China to Russia
The main aim of sea-rail shipping from China to Russia is to cut on importation costs.
Now, how does it work?
Firstly, you can ship your goods to a Chinese port first.
Then arrange for rail freight from Yingkou to Manchuria and any inland city in Russia through Zabaikalsk.
The goods are then transported to the port of Orient or to the port of St. Petersburg, and finally to the inland cities using rail freight.This is possible with the existing transport system in Russia.
Under normal circumstances, containers or cargoes of less than 1500 kg are still recommended for sea and rail transport from China to Russia.
Part 5.Cost of Shipping from China to Russia
Sea freight, the cheapest price is its biggest advantage.
Sea freight is cheaper than other forms of shipping and also allows you to ship bulk cargo.
When it comes to costs, as a businessman you need to understand what costs make up these costs.
But during your shipping, certain fees are bound to change.
As an importer, it is important to minimize the cost of importing.
Below I will describe some ways to reduce transport costs:
① Shop around and get the best deals based on different quotes. It is the easiest way to choose the most suitable and satisfactory offer from among them. By comparing their costs and the services they offer, you are perfectly placed to choose the best.
② Packaging materials are also one of the reasons for additional shipping costs. Don't underestimate this, your shipping costs are based on the weight of the goods weighed, and packaging is counted in this, so you don't want to be chagrined by this unjustified extra cost. Also, try not to use the packing materials provided by the airline, after all you have no idea what their specifications are.
③The third point is to save money! There is nothing more rewarding than the savings you make. If your business is not importing goods for promotional purposes, then don't add the burden of extra shipping costs. Instead, pass it on to the buyer. This will make shipping cheaper and more convenient for you.
The price of shipping depends to a large extent on factors such as
Type of product: Different products correspond to different transport needs. For example, certain dangerous goods need to be arranged with special protection measures
The size and weight of your parcel: This is perhaps the most important factor when it comes to price.
The size of the package determines the price, the larger it is the more expensive it is. However, if you are arranging a small shipment, air freight is much more cost effective.
As I said above, items under 100kg are cheaper by weight if you use air freight, and if you still don't think it's worth it, then courier will make it much more valuable
Part 6.About the express service from China to Russia
International Express: DHL International Express, EMS International Express, UPS International Express, TNT International Express, FedEx International Mail:China Post Parcel, Hong Kong Post Parcel, Swiss Post 2 Parcel, Express Denmark Price Different express ways have different prices, international express ways are fast but slightly more expensive, international mail ways are cheaper but slightly longer. Each freight way express to Russia price, please consult online customer service or send us an email, within 48 hours there will be experts to give you the most professional answer.
1KG of clothes by EMS Express, 300 RMB, approx. 6 days delivery.
1KG general cargo by DHL, 300 RMB, 21KG and above 59 RMB/kg, time limit 4-7 days.
1KG clothes by Russia special line 350 RMB, 21KG and above 45 RMB/kg, time limit 15-20 days.
China to Russia express can take DHL/UPS/FEDEX/EMS/TNT/Russia line, etc., the fastest is also 3-7 days, and the time limit for taking the Russian line is about 15 days. Liquid goods, food, cosmetics are generally sent TO EMS, whether it is powder or liquid is the general goods channel rush out of the time limit of 4-8 days. Liquids can also go through DHL sensitive goods channels, with a validity of 4-7 days.
Restricted and contraband in Russia
All countries have prohibited items list, which is different for each country. Please ensure that the goods you import comply with the import of Danish law.
Some of the prohibited items that cannot be imported into Russia from China are:
● Securities that are difficult to estimate in value and valuables that are easily lost, such as bills of lading, write-offs, passports, etc
● Flammable and explosive, corrosive, toxic, strong acidity and radioactivity of various dangerous goods.
● All kinds of potent poisons, narcotic drugs and psychotropic substances.
● Items that are prohibited from circulating or being transported by national laws and regulations, such as: cultural relics, weapons, ammunition, imitation weapons, etc.
● Newspapers, periodicals, books, pictures, publicity materials, etc. contain reactionary, obscene or offensive content.
● Obstructing public health, such as bones (including incinerated bones).
● Animals, plants and their specimens.
● White powder with difficult to identify ingredients.
● Private correspondence, etc.
Part 7.FAQ with shipping from China to Russia
FAQ
Q: How long does it take to ship my cargo from China shipping to Russia?
A:Even though most companies do not give you an exact date for the arrival of your cargo, they do provide an approximate date.In most cases these dates are reliable.But yet again it depends on the method of shipment and the frequency of the shipping company to your destination.
Q:My supplier has no right to export. Can you help me export the goods?
A: Yes, we can. We can buy the export license, do the customs declarationand ship the goods out to you.