Ports in Denmark
JIKE has the most professional freight experience and abundant logistics resources for you to choose from, from any city in China to any place in Denmark.Ports in Denmark or Denmark international airport, guaranteed worldwide delivery. Shipping from China to Denmark, all your questions are answered in this blog.
Denmark is located in Northern Europe, the most northerly country in the world. With high-tech agriculture, a relaxed welfare system, a comfortable standard of living, a stable currency, and a high dependence on international trade, Denmark is a major exporter of food and energy.
Denmark Customs Clearance Guide
As a professional trader, your goods need to be prepared for a perfect transportation trip.
Importing from China to Denmark will become easy and simple.
Part 1.Customs system in Denmark
The Danish Ministry of Foreign Affairs has a Trade Commission, which is responsible for Danish foreign investment and trade activities
Denmark follows a free trade policy and complies with the rules of the European Union and the World Trade Organization in the area of trade. As a member of the EU, its tariff rates for import and export of goods, customs procedures and valuation system for import and export, anti-dumping regulations, administration of non-tariff measures, technical health and safety standards and other trade regulations are all used in eu-uniform regulations
Denmark is equally strict on imported plants and animals. There are sanitary and quarantine regulations for potatoes, plants, certain animals and livestock products, and importers are required to ask exporters to provide a health certificate in the contract or letter of credit, which is necessary and usually done. In addition, imported food products must also meet Danish purity standards and meat products must have an edible certificate.
Materials and precautions for export to Denmark
Customs clearance documents include: bill of lading, invoice, packing list and certificate of origin (Form A or CO)
Denmark has high requirements for product quality, and export enterprises must ensure quality on the basis of price advantages, especially for food products, they should pay attention to food safety to avoid adverse effects. Danish industrial design has a high status in the world, in product design, Chinese enterprises should respect the intellectual property rights of other countries, improve their product design capabilities and export competitiveness.
Any enterprise or individual who does not provide truthful product information and data, or misrepresent the price, etc., when declaring to the Danish Customs will be punished with a fine. when declaring to the Danish Customs will be fined
①Cargos imported from EU member states are exempt from customs duties, while cargos imported from non-EU countries are subject to import duties and taxes, and the customs duty rates are always implemented in accordance with the uniform EU rates.
②The tariff rate is basically between 0% and 17%, some goods are exempt from customs duties, and certain goods may be subject to additional taxes (anti-dumping duties, etc.)
③Danish customs duties set a threshold, the value of imported goods (FOB) does not exceed 1150 crowns, exempt from customs duties; The value of imported goods (FOB) does not exceed 80 crowns and is exempt from VAT
④Denmark to import goods to be uniformly levied value-added tax, Danish standard value-added tax rate of 25%, some special goods can be applied to zero tax rate, value-added tax = value-added tax rate × (CIF price + import duties)
⑤Excise taxes are levied on certain more specific products, like certain dangerous or essential goods, such as gasoline, cigarettes, beverages, and automobiles.
⑥Kangsen Putin Taks Islevid Enseltans Pessiar Produks Suchi Asgarsolin, West Garretes, Beverags Ander Motovehikles
How long does it take to clear customs in Denmark
Nothing special, normally one day is enough for fast customs clearance. Now when the goods have not yet arrived at the destination, they will first pre-clear customs, if it is smooth, there is no special customs clearance, and it will be directly released when it arrives in the local area. If the pre-clearance has not passed, the specific customs clearance time depends on the speed of the recipient's cooperation. Some 1-2 days, some 4-7 days. This is uncertain
Part 2.Ocean Freight From China to Denmark
In Denmark, sea, air and road transport are more developed and most people choose sea transport to the ports in Denmark to transport goods from China to Denmark. The reason for this is that shipping by sea is much less restrictive than the other two modes of transport, with the lowest costs and guaranteed times.
Unfortunately, direct shipping from China to Denmark is not yet supported, and you need to transfer from another port to the corresponding port in Denmark. The Danish shipping line mainly calls at the two ports of Aarhus and Copenhagen in Denmark, and the shipping routes of other ports are relatively small. If you have other port transportation needs, you can consult us for details, as a logistics company is confident to give you a satisfactory answer.
Danish cargo arrives at the port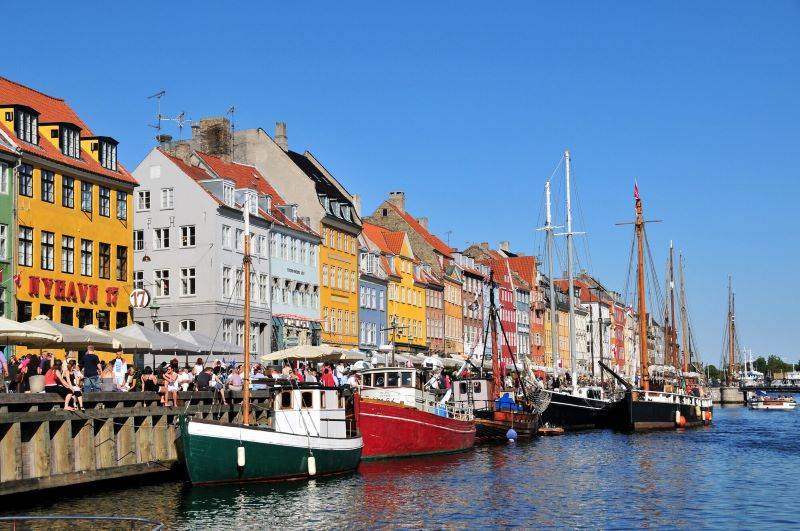 Copenhagen
Copenhagen, one of the largest ports in the Nordic region, has 175,000 square meters of storage space at its container terminal.
If an importer from Copenhagen can sell their goods to many consumers in the region,Owned by the Port of Copenhagen Malmö and by & Havn.
Annual container traffic: > 194,000 TEUs.
United Nations/Regional Office: DKCPH.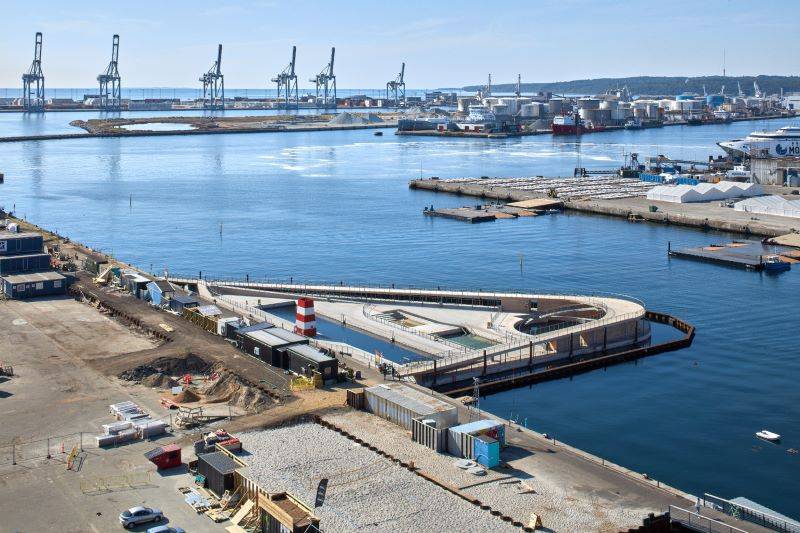 Aarhus
Port Overview: Located at the mouth of the Aarhus River, Aarhus is a busy port responsible for half of Denmark's container traffic. Owner: Aarhus City. Annual container traffic: > 540,000 TEUs. UN/LOCODE: DKAAR.
Which container type to choose for sea freight to Denmark
FCL transportation:
A full container shipment is usually one container per shipment or multiple containers per shipment. If the customer's cargo volume can reach 75% of the load of a container, it can choose FCL transportation, and the safety is relatively high.
LCL:
LCL refers to multiple tickets loaded together into one container, i.e. bulk cargoes of multiple shippers are loaded together into one container. For some customers with relatively small cargo volumes, they usually choose bulk shipping, and they can also share boxes with others, and the shipping period will be longer.
How many days can I get to the Danish statute of limitations?
Normally, the shipping time from China to Denmark is about 30-40 days, there may be errors in different destination ports, but the difference should not be far. In addition, customs clearance takes about 10-15 days, so it takes 40-55 days in total for Danish shipping companies to complete door-to-door delivery.
Part 3.Air Freight From China shipping to Denmark
Air freight price from China to Denmark
The airfreight prices from China to Denmark are specific to each weight segment: airfreight charges for cargo greater than 45 kg is RMB 19 a kilo; airfreight unit price for cargo greater than 100 kg is RMB 14.5 a kilo; airfreight price for cargo greater than 300 kg weight is RMB 12.3 a kilo; airfreight price for cargo greater than 500 kg with 1 ton is RMB 12 a kilo.
These airfreight prices are for general cargo between Ningbo and Copenhagen airport, from CZ South Cargo, and are valid until March 13, 2020. There are many factors affecting the price of air freight, and the exact air freight price will depend on your booking data on that day. The airline will publish a published price, and most cargo is booked according to the published price. For a few cargoes that need to apply for discounted rates or specified dates, they will be approved according to the actual situation. There are many first-class freight forwarding agents of airlines, and each agent will give different air freight costs to the final customer.
Denmark international airport
Copenhagen Kastrup airport;
Three-character code: (CPH; EKCH), belonging to the largest Danmark international airport, is one of the four largest airports in Europe. Copenhagen Airport is the world's leading airport, serving Copenhagen, Denmark and Malmö, Sweden.
Aarhus Airport
Three-letter code:( AAR; EKAH) is a civil airport in Tirstrup, Denmark, located 19.4 nautical miles (35.9 km) northeast of Aarhus.
Billund Airport
Three-letter code:(BLL; EKBI, located in Billund, Denmark, is one of the busiest air cargo hubs in Denmark, with a charter airline, but there are also some regular airlines.
Bornholme Airport
Three-letter code: (RNN; EKRN), it is an airport on the island of Bornholm, Denmark, 5 km from the city of Rønne. The airport was built in 1935, and on November 16, 1940, it began offering a daily flight to Copenhagen. in 1947, the airport was officially renamed Rønne Airport. The airport's first official terminal building was opened in 1961.
Part 4.China to Denmark International Logistics Rail Transport
Chinese railroad transport to Denmark train from Shenzhen, the average daily loaded containers sent train to Denmark, through the 6 countries in Asia and Europe, daily travel 1000 km, transport time in 14 days, Denmark pick-up time of about 18 days.
China to Denmark rail freight price
China to Denmark railroad freight above 100KG is 15RMB/KG, China railroad transport time to Denmark is about 14 days, after the goods are loaded on the train to Denmark, our agent will clear the container and pay the tax and then send to the whole territory of Denmark. The goods will be delivered to Denmark by local UPS Express.
What information do I need to provide for rail transportation to Denmark?
Packing list and commercial invoice, no other information.
After the cargo arrives in Denmark, our company will clear the customs and pay customs duties on behalf of the cargo, so there is no need to provide complicated information for export and import customs clearance.
Part 5.About shipping costs from China to Denmark
Cost of Shipping via Ocean
When it comes to ocean freight, cheap cost is the impression most people give it.
With cheap costs and a more acceptable timeframe, ocean freight sits firmly in the most used position. When we talk about its cost, as an importer, we all talk about what costs are made up of.
A simple analysis will reveal that the cost components are very simple. Certain costs will change as you move through the transportation process.
As an importer, there is only one thing to do, and that is to minimize costs.
One of the ways to do this is to compress the required shipping costs.
But what are some ways to do this?
① Buy different offers from different shipping companies
Comparing the prices between different shipping companies will allow you to make a better choice. Let's talk about the costs and the services they offer. You can even get freight rates you are more than happy with.
② Rationalize your packing materials
Because your shipping costs are based on the weight charged, you don't want to be charged extra, either. Some packaging is non-required, avoid using over the specifications of the packaging provided by the airline in the specifications of the packaging material provided by the airline.
③ Shipping costs are also an important part of the cost of your goods
The ultimate goal of all businesses is to make a profit, and the less transportation costs they bear, the better. Instead, pass it on to the buyer and your shipping costs will be much lower and easier.
④ Avoid parts shipping.
Undoubtedly, damage to goods in transit is one of the reasons for high transportation costs. You can arrange one-way transportation to avoid this particular situation
This will reduce your shipping costs.
Different impacts on freight generated
The following variables can have a significant impact on the price of shipping from China to Denmark:
Special product types: Different types of cargo correspond to different shipping methods and needs. For example, chemical-based products (perishable cargo) may require special packaging and/or security measures. These needs will also affect the corresponding costs.
The size of the package and the weight of the cargo itself: this is probably the most direct factor in terms of cost.
The larger the package, the higher the price. However, please note that for smaller shipments, air freight may be considered and air freight may be the more economical option.If you choose airfreight, for shipments under 100 kg you have to consider that it will be cheaper by weight, in addition, you can also enhance the greater value by choosing courier.
The means of transport: Air freight is always going to be much more expensive that shipping via ocean freight.
Part 6.China Express to Denmark
There is a volume weight limit for using China Post (EMS) Express to Denmark.
China Post EMS regulations, the weight of the parcel of goods sent to Denmark is greater than or equal to 30 kg, the side size of the parcel can not exceed 1.5 meters, in addition to the length and width, the maximum horizontal circumference can not exceed three meters.
Courier service to Denmark
Price advantage: JIKE Logistics is the official partner of DHL, UPS, FEDEX, EMS and other international courier companies, receiving prices as low as 2.4-4% off the official published price, can be sent directly from China to Denmark, stable timing, strong customs clearance capacity, more than 21kg heavy goods price advantage is more significant.
Channel advantage: we can send general cargo, built-in batteries, matching batteries and dry batteries, such as: tablet PCs, notebooks, charged toys, cell phones, dry batteries, etc.
Service advantages: Professional service team, providing you with timely door-to-door collection, inspection, claim settlement, pre-port and post-port handling of problematic parts and handling of various unexpected situations in cross-border logistics; with its own modern logistics system, which can be docked with the mainstream ERP, realizing one-stop screening, query, forecast, problematic parts handling, claim settlement and other whole process operations, escorting for your shipped goods to arrive at the destination safely.
Express delivery to Denmark
International express delivery time: generally delivered within 3 to 7 working days
International mail: 7-20 working days to deliver
EMS: 5-7 working days
*China Post EMS and Hong Kong Post EMS are faster and Singapore Post EMS has a longer delivery time, around 20 working days.
*The times above are normal delivery times, delivery times depend on factors such as weather and customs.
Restricted and contraband in Denmark
All countries have prohibited items list, which is different for each country. Please ensure that the goods you import comply with the import of Danish law.
Some of the prohibited items that cannot be imported into Denmark from China are:
● Magnetic objects (speakers…)
● Liquid, Powder, or paste (liquid cosmetics products with liquid, powder, capsule drugs…)
● Perishable products ( except properly packaged bees, silkworms and leeches)
● Batteries or any types of electronic products with batteries
● Documents (currencies, advertisement,…)
● Some categories of product (drone, electronic cigarette…)
● Weapons (real weapon, imitation guns, ammunitions)
● Hazardous goods (explosive, flammable…)
● Another important point to keep in mind is the size and the weight of your package:
● Your package doesn't have to exceed 2 kilos with packaging and labels included
● The longest side of the parcel should not exceed 60cm.
● The sum of all the sides length should not exceed 90 cm.
These are the basic rules for your China to Denmark shipping.
Part 7.FAQ with shipping from China to Denmark
FAQ
Q: How long does it take to ship my cargo from China to Denmark?
A:Even though most companies do not give you an exact date for the arrival of your cargo, they do provide an approximate date.In most cases these dates are reliable.But yet again it depends on the method of shipment and the frequency of the shipping company to your destination.
Q:My supplier has no right to export. Can you help me export the goods?
A: Yes, we can. We can buy the export license, do the customs declarationand ship the goods out to you.