Shipping to Germany from China
JIKE logistics has extensive experience handling every shipment from China shipping to Germany or from Germany to China, we provide sea, air and rail services, we can provide our customers with very competitive transportation prices, and most importantly, Jike can provide the best logistics solutions for our customers based on our professional experience.
Germany Customs Clearance Guide
I know you are a busy businessman and just need to provide the best way to transport your goods.
You must try to import from China to Germany
Well, today, I want to make the whole process simple and easy.
Part 1.Freight from China to Germany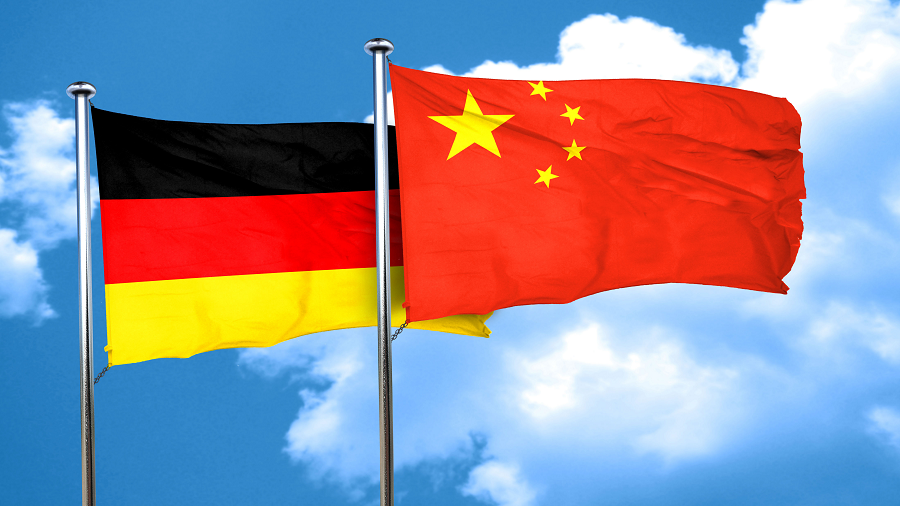 Germany's main export ports:
Maritime port: Hamburg; Bremen; Wismar; CUXHAVEN; EMDEN; Kiel
Air airport: Nuremberg Airport; Stuttgart Airport; Munich Riem Airport; Dusseldorf* Airport; Berlin-Tegel Airport; Dortmund Airport; Leipzig Halle Airport; Dresden Airport Railway port: Hamburg Hamburg Duisburg
Timeliness from Germany to China
Shipping: The main ports in Germany to the main ports in China are generally one-way in 4-6 weeks, according to the different shipping companies in the port, there are certain differences in the number of ports along the way.
Air freight: Major airports in Germany to major airports in China are generally 3-7 days one way, airport. Airlines, different transfer times will lead to different rates of limitation.
Railway: China-Europe railway can reach Chengdu Wuhan Chongqing Zhengzhou, the time limit is generally 15-20 days.
Part 2.Sea freight from China shipping to Germany
By far, sea transportation is the most popular mode of transportation for importers from China shipping to Germany.Although it is not as fast as other transportation methods detailed in this article, it is more economical and provides greater flexibility in the types of goods you can transport, the types of loads you can send, and the transportation routes you can transport.
We are AVOCC in China and have good cooperation with many carriers such as OOCL, EMC, COSCO, HMM, MSK, etc., so that we get very good sea freight and enough space from shipping companies.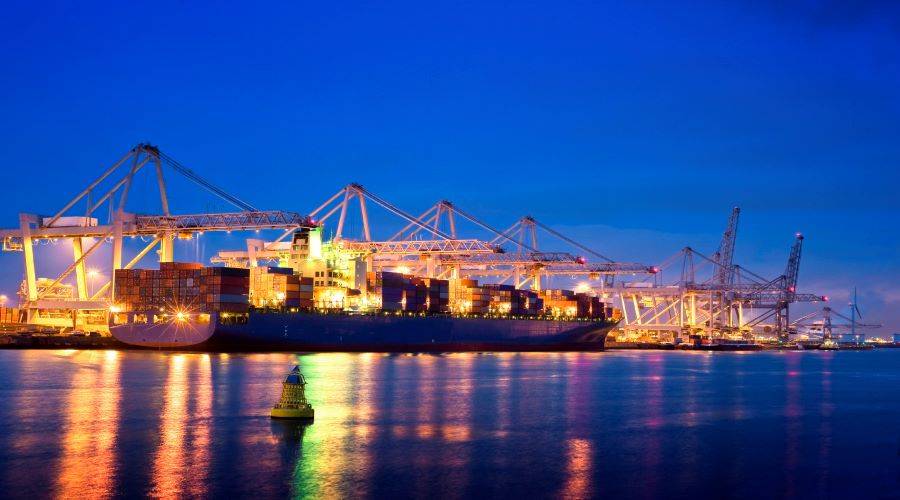 Whenever you import from China to Germany, you can consider the following ports:
Hamburger
Germany's largest port and the second largest container port in Europe, located in the European Community makes it the most important transit port in Europe
Bremen and Bremerhaven
Belonging to the German state of Bremen, the two ports are about 60 km apart and collectively known in German as the "Port of Bremen Combination"
Cuxhaven
A city in lower Saxony, Germany, the capital of Cuxhaven County, located at the mouth of the Elbe River flowing into the North Sea
Emden
One of the main ports in Germany, along with Zeebrugge in Belgium and Bremerhaven in Germany, it is one of the three largest car import and export ports in Europe
How long it takes to get to Germany from different cities
| Port of Loading | Port of Arrive | Transmit Time |
| --- | --- | --- |
| Shanghai | Hamburg | 28 |
| Shenzhen | Hamburg | 24 |
| Ningbo | Hamburg | 29 |
| Qingdao | Hamburg | 30 |
| Tianjin | Hamburg | 31 |
| Xiamen | Hamburg | 30 |
Sea Routes from China to Germany
When importing from China to Germany, some of the most popular sea routes include:
a) Jinan Port to Port of Bremen
This route needs to pass through the following main sea areas: the Bohai Sea, the China Sea and the Andaman Sea until it reaches the Indian Sea.
where it flows into the Lakdev Sea, the Arabian Sea, the Red Sea and finally into the Suez Canal.
This route passes through the Nile River and the Mediterranean Sea, then arrives at the Strait of Gibraltar, and finally passes through the English Channel and the North Sea, totaling 13074 nautical miles, to reach Bremen Port.
This route takes 55 days.
b) Jinan Port to Port of Hamburg
This route starts at Jinan port heading to the Indian Ocean through the Andaman Sea and into the Gulf of Aden.
From the Gulf of Aden directly into the Strait of Gibraltar, and through the Nile and the Mediterranean.
Finally, after passing through the North Atlantic and the North Sea, your goods will arrive at Hamburg Port.
This takes a total of 55 days covering a distance of 13108nm.
c) Port of Zhenjiang to Hamburg Port
This route from China to Hamburg Port takes a total of 52 days, covering 12391 nautical miles.
This voyage will start from Zhenjiang Port, pass the Malacca Strait, enter the Indian Ocean, and then enter the Gulf of Aden.
From there it proceeds to the Nile River through the Suez Canal and into the Mediterranean Sea.
The voyage continues to the North Sea passing through the Bay of Biscay and the English Channel. It arrives at Hamburg port via the Elbe River.
Part 3.Air freight from China to shipping Germany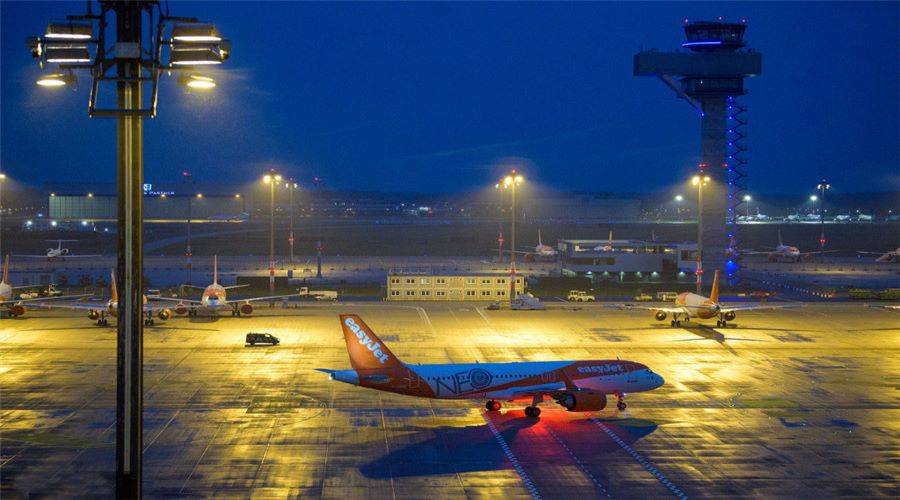 Major Airports in Germany
By choosing to ship by air to Germany, your cargo will arrive quickly into your hands even at the world's busiest airport for processing. These include:
Frankfurt Airport
The third largest airport in Europe and the 1st in Germany by passenger traffic, the airport covers an area of 2,300 hectares (5,683 acres) and has two passenger terminals that can accommodate around 65 million passengers per year, four runways, and extensive logistics and maintenance facilities
Munich Airport
Germany's no. 2 passenger traffic and one of Europe's largest aviation hubs, with around 100 airline operators flying to 242 destinations in 69 countries around the world
Dusseldorf Airport
Germany's 3rd highest passenger traffic, is located in Düsseldorf, the capital of the German state of North Rhine-Westphalia, about 8 km from Düsseldorf city centre
Berlin Tegel Airport
Germany's 4th largest passenger traffic and the main international airport in The German capital, Berlin, is located about 8 km in the Lennykendorf district of Berlin
Air freight from China to Germany prices
Air freight prices consist of the following parts:
1.Air freight (airline charge),
2.Fuel surcharge (According to the different price points of the airport, Hong Kong is generally 4 yuan now, 3.6 yuan in the past, about 4.8 yuan last year, and the price is adjusted by the airport, generally 2 yuan in Asia
3.Security inspection fee (Hong Kong charges a fixed fee of 1 yuan/kg)
4.Airport operation fee (HKD283/ticket in Hong Kong, the airport is responsible for transporting goods on the plane, etc.)
5.Terminal fee: 1.72 / kg, when the goods are given to the bookmaker, the bookmaker is responsible for playing the board and other things, and finally handed over to the airport to collect)
6.Air master bill fee: HKD15/bl, which is the cost of issuing the bill of lading - the property certificate
Air freight timeliness from China to Germany
The timeliness of air transport is incomparable to other modes of transportation, like some international logistics companies large freight forwarders, can provide direct flights from Shenzhen, Guangzhou, Hong Kong and other airports to Frankfurt International Airport, Munich International Airport, Düsseldorf International Airport, Hamburg International Airport, Bremen Airport, Dortmund Airport, Nuremberg Airport and other services, arrive immediately after the flight, the timeliness is guaranteed.
Jike logistics has its own charter service to create the safest cargo journey for you, with fast timeliness and escort for everything you have.
Part 4.Railway freight from China to shipping Germany
Railway transportation can be said to be the middle zone between sea transportation and air transportation.
This is because compared with sea transportation, railway transportation can ship large quantities of goods at relatively low prices.
By the way, railway transportation can save a lot of time compared with sea transportation.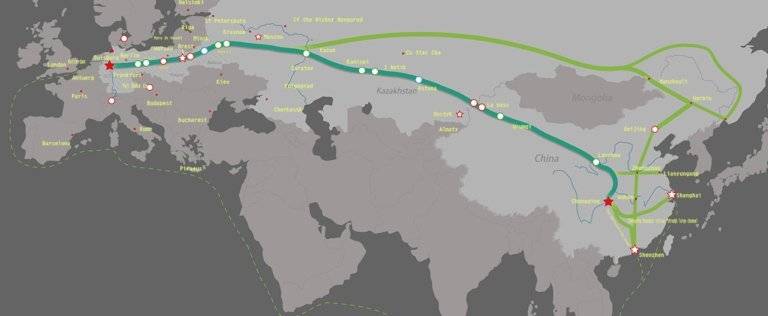 Sino-german Railway Route
LCL Shipping from China to Germany
An ideal shipping mode if you are a small or medium importer whose imports cannot fill a container.
This mode involves your cargo being loaded together with others to fill a container.
Of course, this is possible only if other importers are on the same road as you..
The limitation here is that you will have to wait longer for you to receive your cargo.
This is because the ship must unload other imports before arriving at your port.
There are also some hidden dangers. When you use this mode, your goods may be damaged or stay at another port.
LCL is cheaper compared to FCL when you are shipping small quantities of goods.
FCL Shipping from China to Germany
If you import a large number of goods, you may need to consider full containers to undertake your transportation.
Full container means that you only ship your goods in this container,using this mode of shipping allows for the shipment of your cargo without damages arising from sharing a container.
Because of this, you can safely transport fragile or valuable items. After all, they are your goods, and you don't need to fill the entire container with goods.
You can leave space if your cargo is all in, but you will still pay the price of the whole container.
There are two kinds of containers for you to choose from, one is a 20 foot container, the other is a 40 foot container.
Part 5.Germany Customs Clearance Raiders
Is Germany customs clearance troublesome? Jike provides you with a safe and fast customs clearance solution, and the customs clearance procedure is simple and reasonable.
The Foreign Economic Law provides for restrictions on the export of the goods concerned if the domestic supply of necessities of life is endangered
Germany's trade with non-EU countries (third countries) is subject to common EU policy measures
Germany applies the EU Community customs tariff regime
In principle, Germany does not impose restrictions on imports and exports, but there are import approval obligations or quantitative restrictions on goods from certain specific countries
The inspection and quarantine of animals and plants imported and exported in Germany is mainly responsible for the customs, which is an independent business department under the German Federal Ministry of Finance
If the number of specific types of products imported from a country exceeds 15% of the imports from all GSP beneficiary countries, the GSP status of that country will be cancelled and special benefits will no longer be available when entering the European market
Germany customs clearance form
①German customs clearance uses EU agreed customs declaration forms through electronic declaration, paper declaration, import, export and transit in general.
②The custodian shall be a permanent resident of the European Union or a company with a permanent place of business or registered office in the European Union.
③The importer may declare 4 days before the arrival of the goods at the port, or within 14 days after the arrival of the goods at the port.
Necessary documents for Customs clearance in Germany
①.EU unified customs declaration, supplier invoice, contract, bill of lading, waybill, loading list, packing list
②Proof of insurance, bank draft.
③Weight certificate, quota certificate, certificate of origin.
④Commodity inspection certificate, animal and plant quarantine certificate, food hygiene inspection certificate, import goods license certificate.
⑤Certificates, approvals, etc. required for specific tax reductions and exemptions.
Germany customs clearance requirements
①All documents must be in English.
②Commercial invoice is required for goods without documents or goods equivalent to 2 euros (19 dollars).
③The german customs declaration value and customs code must not be wrong, and the problem of under-reporting the value of the goods is more important to the German customs.
Tax policy on imported goods from Germany
①German tariff rates are basically between 0% (such as books) and 17% (such as Wellington boots). Laptops, cell phones, digital cameras and console consoles are all exempt from tariffs, and Chinese-made bicycles are subject to an additional 48.5 percent anti-dumping duties
②The German standard VAT rate is 19%, and certain goods such as books, newspapers and magazines enjoy a preferential VAT rate of 7%. German VAT = VAT rate× (CIF price + import duties)
③Germany's import tariffs set a threshold, and the value of imported goods (FOB) does not exceed 150 euros, which is exempt from customs duties; The value of imported goods (FOB) does not exceed 22 euros and is exempt from VAT; Customs duties and VAT combined do not exceed €5 and are exempt from customs duties and VAT
Germany customs clearance advantage
①Provide German customs clearance to the door, unlimited weight, stable shipping routes, reliable service attitude.
②Shenzhen to Hamburg, Germany customs clearance channels, agents check and inspect, to avoid cargo detention.
③All goods are formally cleared, 100% fully insured.
④It has unified and standardized customs clearance procedures, which can better ensure the safety of goods in professional customs declaration companies.
Restricted and contraband in Germany
● All legally authorized items can be carried in and out of the country at will.
● It is forbidden to bring narcotics, drugs, weapons, pirated books or computer software into the country.
● Duty-free entry and exit items are: items certified by Germany and sold as souvenirs or gifts; 50 g of perfume or a quarter liter of floral lotion.
● 17 years old or older, 200 cigarettes or 100 cigarillos or 50 cigars or 250 grams of tobacco are allowed. Over 17 years of age, 1 liter of alcohol with an alcohol content of less than 22% or 2 liters of aperitif or 2 liters of alcoholic beverages with an alcohol content of less than 22% or 2 liters of liqueur is allowed. Over 15 years old, 200 grams of coffee or 100 grams of tea are allowed. 2 cameras, 1 camera, 15 rolls of film, 1 CD player.
● Prohibited books cannot be brought in. Germany's import and export of foreign currency, gold, etc. is not controlled, can be brought in or out of the country without declaration, and can be freely exchanged for other currencies in Germany without any restrictions. Usually the bank's exchange rate is more favorable
Part 6.FAQ with shipping from China to Germany
FAQ
Q: How long does it take to ship my cargo from China to Germany?
A:Even though most companies do not give you an exact date for the arrival of your cargo, they do provide an approximate date.In most cases these dates are reliable.But yet again it depends on the method of shipment and the frequency of the shipping company to your destination.
Q:My supplier has no right to export. Can you help me export the goods?
A: Yes, we can. We can buy the export license, do the customs declarationand ship the goods out to you.