Freight rate determines the cost of shipping cargoes from one point to another. The total cost is influenced by the type of cargo, mode of transportation, volume weight of cargo and distance to the destination.

This Guide Will Introduce You All The Knowledge You Need From China To Canada
Shipping to Canada: Get the cheapest and the best way to ship.
When shipping to Canada, you can choose any of four modes:
LCL, FCL, Air or Express.
Sea freight from China to Canada
Ocean freight is the most popular shipping method when speed is not a major concern or when the volume of cargo is too large to use air freight.
When using ocean freight, importers have two options, FCL or LCL. Next, we will detail what is involved in each shipping method.
Ocean Freight FCL
FCL describes sea shipping for cargo loads large enough to fill a 20' or 40' shipping container.
FCL container size and dimensions
Here are container dimensions for the two standard container sizes, 20′ and 40′: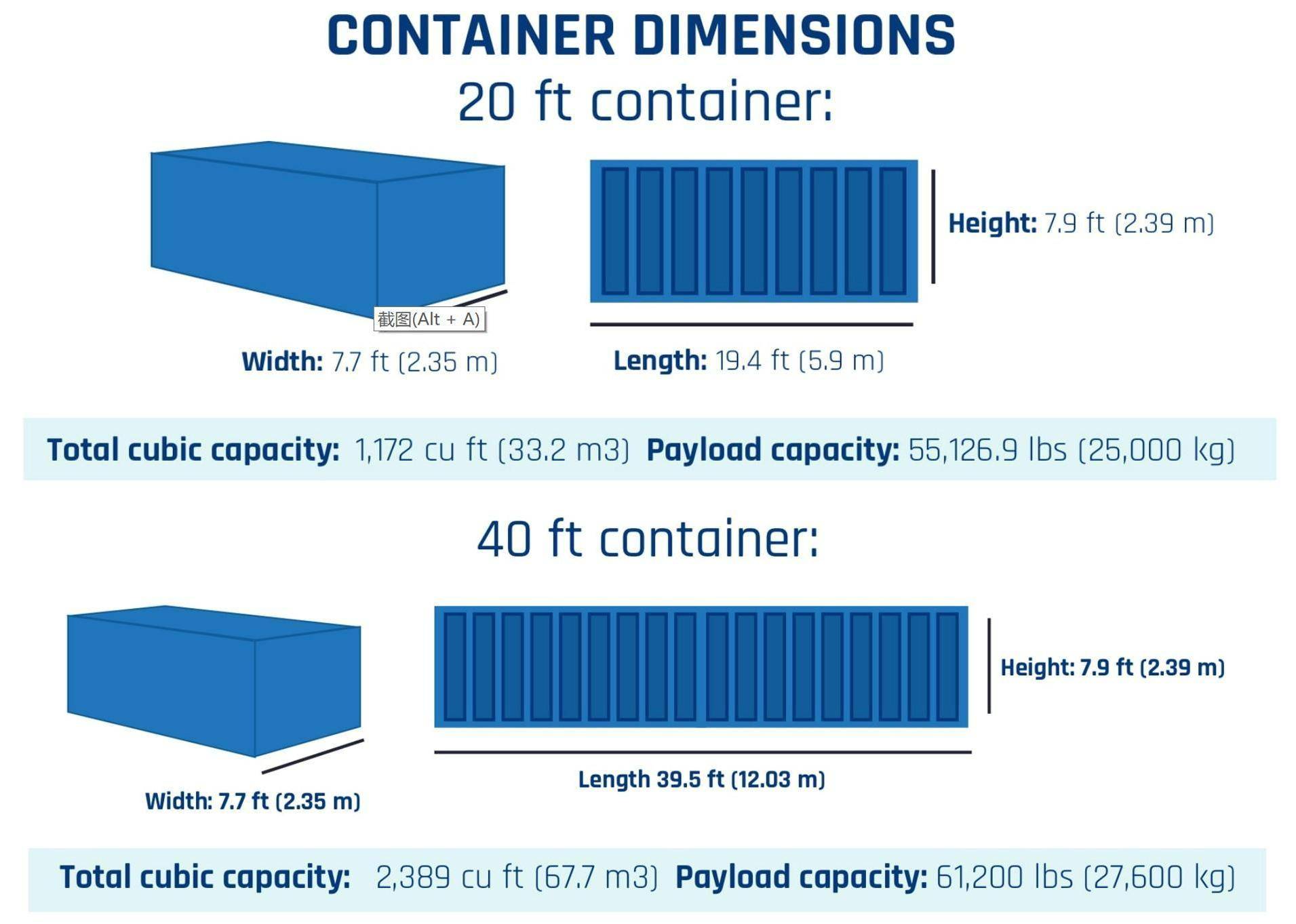 The 20ft container is designed to carry more weight such as minerals, metals, machinery, sugar, paper, cement etc.
And 40 feet container is designed for transporting large amount of cargo instead of heavy cargo, such as furniture, steel pipes, waste paper, cotton, tobacco, etc.
Ocean Freight LCL
LCL, or less than container load shipments, are shipments that are sent in a shared container with other importer's goods.
These types of shipments are ideal when transporting cargoes between 1 and 15 cubic meters, and LCL shipments are almost always more economical than Airfreight.
Main ports
1)Major Chinese ports that ship to Canada
Shanghai – Guangzhou – Ningbo – Xiamen – Qingdao – Shenzhen
2)Major Canadian port
Vancouver – Prince Rupert – Halifax – Nanaimo – Toronto – Saint John – Montreal
Transit time
Shipping by sea from China to Canada can take 14-37 days.
To give you a reference, JIKEship has compiled a reference time from major Chinese ports to Canadian ports, hope this will be helpful to you.
| | Shipping from Shanghai(CNSHA Port) | Shipping from Ningbo(CNNGB Port) | Shipping from Shenzhen(CNSZX Port) |
| --- | --- | --- | --- |
| Shipping to Vancouver | 14-16 days | 23-34 days | 26-37 days |
| Shipping to Montreal | 25-27 days | 26-37 days | 26-37 days |
| Shipping to Toronto | 25-27 days | 26-37 days | 26-37 days |
Air freight from China to Canada
Airfreight is a good choice for shipments that you need quickly or sensitively, and it is most economical when the shipment is loaded between 300 and 500 kg.
| Pros | Cons |
| --- | --- |
| Air freight is its speed relative to sea freight and its ability to send fragile cargo with a lower likelihood of damage in transit. | Air freight is its cost relative to ocean freight, in addition to the added logistics and customs clearance requirements. |
Transit time
Shipping by air from China to Canada is fast, with typical transit times ranging from 3-10 days. Please see below for some examples of airfreight times:
Guangzhou to Toronto — 6 days
Shanghai to Toronto — 5 days
Shanghai to Winnipeg — 6 days
Shenzhen or Xiamen to Toronto — 8 days
Shenzhen to Vancouver — 1 day
The following points to note when shipping by air from China to Canada.
If you are confirming an air shipment from China to Canada, you will need to provide your shipment details, shipment weight, and shipment dimensions.

Air cargo shipped by air must comply with all regulations from quality control to packaging. This packaging may vary depending on what you are shipping and the type of shipment.

For fragile products, make sure the fragile label is attached to the outer packaging. Try not to carry any irrelevant signs other than the address label on the outside of the bag.
Express Shipping to Canada
Express Shipping from China is a door-to-door service available from major global couriers like UPS, DHL, and FedEx.
How long does express shipping to Canada take?
Express shipments from China to Canada can range anywhere from 1-4 days, with the cost increasing the faster you want your shipment delivered.
How much does China Express Shipping to Canada cost?
The average rate for express shipments from China to Canada will depend on the load (size and weight) of your shipment, with shipments over 200 kg receiving the most favorable rates.
What is the best way to ship from China to Canada?
Express shipping is the most common way to ship from China to Canada. It is faster, easier and more economical than air or sea freight. With our logistics services, you will be able to track your shipment throughout the shipping process and plan accordingly.
Customs Clearance in Canada
When your shipment arrives at a Canadian port, it must be cleared through import customs. The process may take 1-2 days after the date of arrival of the goods at the port and will be completed on the same day.
The first step in import clearance is to find out how much duty your shipment will be subject to. The customs broker will issue an "entry form" with all relevant information about the duty rate and a list of duties to be paid for each item. Once this is done, it is sent to the customs officer for review and approval.
Canadian Customs Duty Rates
If you are importing goods into Canada, you will need to pay federal and regional sales taxes on your goods. The Canadian customs duty rates are governed by the Canada Customs Act and enforced by the Canada Border Services Agency (CBSA).
A few examples of duty rates for major imported goods:
Clothing---16-18%
Cookware---0-8%
Computers and related equipment---0% and duty free
Coffee machines---0-8%
Furniture---0-9.5%
Textile products (bedding, linen, towels, curtains)---16-18%
Auto parts---0-8%
HS Codes and tariffs
Customs Duty – 10-digit HS Code
HS Codes (The 10-digit Harmonized Item Description Code or Commodity Code) – This is the most important thing that all importers must know when importing goods.
Here is the composition of an HS Code: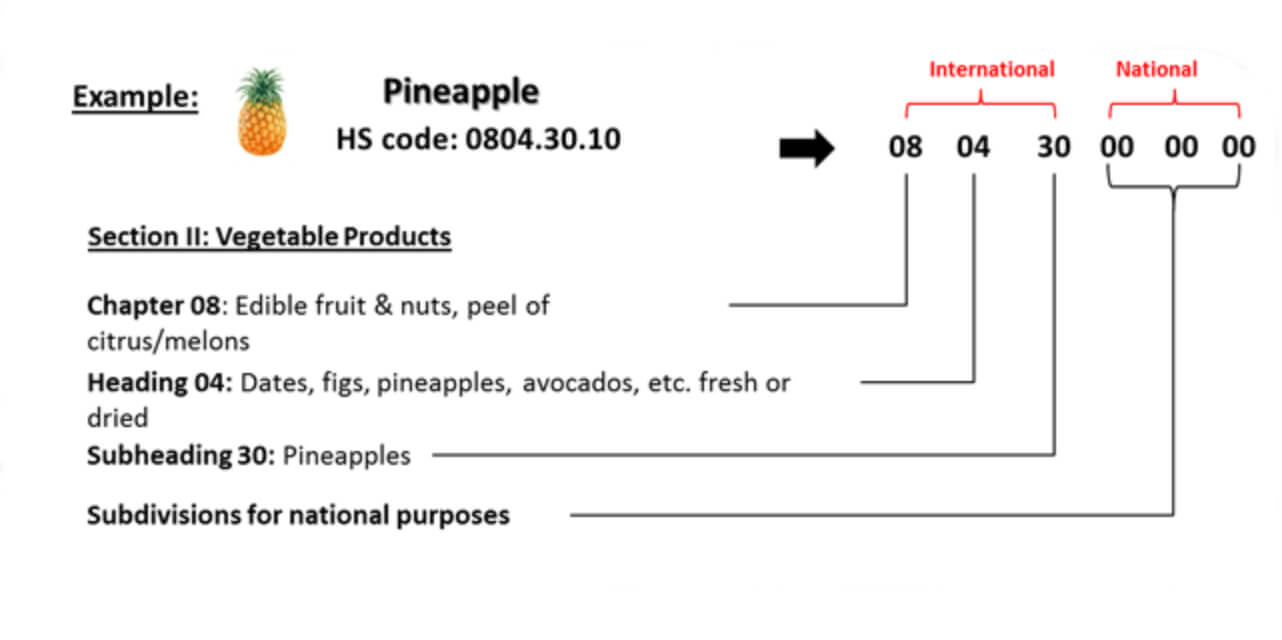 After you've confirmed your HS code, if you want to know what duties and taxes will be charged to your shipment, you can ask our Canada freight forwarder for free.
Customs Contact

Official name: General Administration of Customs of China
Official Website: Chinese Customs Website(Please contact us if you need help)

Official name: General department of Canada Customs
Official Website: Canada Customs Website(Please contact us if you need help)
What documents do I need to import to Canada?
When shipping to Canada, it is the importer's responsibility to ensure that all applicable customs clearance documents are available.
The importer or its authorized customs broker must submit the following documents to the customs office at the port of entry.
Commercial Invoice
Packing List---including its country of origin and HS code
Certificate of Origin
Bill of Lading
Insurance policy
What is prohibited in Canada?
Before importing certain cargo into Canada, you must determine if they are subject to domestic controls.
Some of these items are restricted or even banned altogether, and it is important to anticipate such shipments to avoid any problems. These include goods such as sugar and cork, which are the subject of quota agreements, as well as weapons, ammunition, nuclear materials and goods of a similar nature.
If you are not sure if your shipment is feasible, please contact our Canada freight Forwarder experts directly.
How to Ship from China to the Canada?
Step 1: Get a Shipping Quote from China
Contact a Freight Forwarder Based in China --- The team at JIKEship is standing by to pass-thru our high-volume rates with a best-price guarantee.
Step 2: Pickup and Delivery
Door-to-door pickup is provided in any city in China, and door-to-door delivery is provided when the destination is reached.
Step 3: Cargo Insurance
Get China Freight Insurance --- Make sure to always protect your investment from catastrophic loss, because it's more affordable thank you think.
Step 4: Customs Clearance
Make sure your goods have the proper documentation to leave China and enter Canada --- Our Canada freight Forwarder experts handle all the paperwork and customs clearance services for you.
If you are interested in shipping to Canada, please contact us.

No matter what your shipment is, we have the answer. Get custom shipping solutions and quotes from China to Canada.