Shipping to Austria from China
JIKE has abundant logistics resources for shipping to Austria from anywhere in China. Sea and air transportation has professional freight consultants to provide the best solution. Whether it is from China airport to Austria international airport or vice versa, we can arrange the best price for your travel reasonably.

Austria is located in the middle of Europe, is an important transportation hub in Europe, the economic development is relatively rapid, the economic growth rate is much higher than the average level of the European Union. Austria is also one of the partners with which China has frequent business contacts.
Austria Customs Clearance Guide
You are a solid businessman and need to plan a best way to travel for your cargo.
You must try to import from China to Austria.
Well, today, I want to make the whole process simple and easy.
Part 1.Customs system in Austria
Austrian Tariff Regulations
Since its accession to the European Union, Austria has used the EU import regulations and tariff system. There are no tariffs in the European internal market.. The EU implements uniform tariffs externally in the form of a customs union.
Tax policy on imported goods in Austria
Imports of goods (imports from countries outside the European Union) in Austria are subject to import duties and other taxes. Import duty is calculated on the value of the goods, i.e. CIF.
Austrian tariff rates are basically between 0% (e.g. books) and 17% (e.g. Wellington boots), some goods may incur additional taxation due to differences in country of origin, e.g. bicycles made in China will be taxed an additional 48.5% anti-dumping duties
VAT: The Austrian standard VAT rate is 20%, and certain goods such as books enjoy a preferential VAT rate of 10%. VAT = VAT rate x (CIF price + import duties)
Austrian import tariffs have a threshold. The value of the imported goods (FOB) is exempt from customs duties if it does not exceed 150 Euros: the value of the imported goods (FOB) is exempt from VAT if it does not exceed 22 Euros: the sum of duties and VAT on imported goods does not exceed 10 euros, exempt from customs duties and VAT
Excise Duty: Taxes levied on specific goods such as tobacco products
Customs surcharges: refers to imported goods in the customs inspection must be carried out when the inspection and testing, laboratory tests charged for the costs incurred.
Information required for imports from Austria
①Commercial Invoice:
At least in duplicate. The invoice must state all the information required for the Austrian customs officer to approve the release, including the names and addresses of the buyer and seller, the date of invoicing, Date of invoice, date of purchase, name of goods, unit price, total amount, number of pieces, number or mark of each piece, net and gross weight of invoice, and freight, insurance and other charges. The invoice shall be signed and attested to the value stated in the invoice. Imported goods need to provide an import license, and the import license number should be indicated on the invoice.
②Certificate of Origin:
A certificate of origin is generally not required for Austria. If this is required by the importer or the letter of credit, then at least two copies should be prepared, in the usual format and signed by the local chamber of commerce where it is located. A copy of the Chamber of Commerce file is also required.
③Bill of Lading
The form and number of bills of lading are not specified. The bill of lading usually contains the name of the consignor, the name and address of the consignee, the port of destination, the name of the goods, a list of freight and other charges, the number of bills of lading in the entire set, the date of official receipt by the carrier of the goods to be transported on board and the signature. B/L information should be consistent with the information on the invoice and packing list, if there is an error, the subsequent change of the bill of lading will incur some costs. Air waybills are used for air freight shipments.
④Certificate of packaging materials
For grass packaging materials, the relevant certification must be provided at the time of importation of the goods, otherwise such packaging will not be recognized and brought for destruction, and the cost will be paid by the importer. Twine and sacks made of old woven materials must also be certified, otherwise they cannot be used as packaging materials into Austria.
How long does it take to clear customs in Austria
In normal words, it takes only 1 day for fast customs clearance. Fast customs clearance means that the goods will be pre-cleared before they reach their destination, and if there is nothing wrong with them, they will be released directly upon arrival in the local area. If there is no pre-clearance, then the normal clearance process will have to be carried out honestly in the local area, and the specific clearance time will depend on the speed of the consignee's cooperation.Some 1-2 days, some 4-7 days. This is uncertain
Part 2.Sea Freight From China shipping to Austria
Sea freight is a popular method of international transportation, and it is often used to transport goods from China shipping to Austria, and it is the right way to transport large and heavy cargoes. It's also probably the slowest way, so don't use this method if you are working to a very quick deadline.However, if you feel that the time is just right, then this is the economically preferred method.
How to get to Austria by sea?
Usually shipping to Austria is usually done to the prime local cities and then transit, the main cities in Austria are Linz, Salzburg and Vienna. Exactly to which city, that depends on the specific location of the foreign consignee close to the major city or local. By sea to Austria, the shipping company will only go to Slovenia-Koper, after that it will be transported by truck/rail. The time to Koper varies from shipping company to shipping company, but the sea time is about 23 days for all, and the transit time takes about 4-7 days.
The difference between the cost of LCL and FCL
a) Less Container Load (LCL)
If you as an importer choose to import few goods, then this is the way to go - LCL.
Your shipment will be loaded with other shipments to the same destination until the container is filled.
The cost of transportation is taken to be shared by everyone in the container, and the cost per person will depend on the volume occupied by the cargo.
This is the most cost effective way to import only very small quantities and the long time is its biggest disadvantage compared to air freight.
The long time is the need to wait for there to be enough small packages to ensure that the container can be filled.
b) Full Container Load (FCL)
Here the container is full of commodities belonging to one individual and all the tracking is done as a single entity.
The whole container can be tracked by container/reservation number, which is convenient and easy
This shipment is always charged at the flat rate.
As mentioned earlier the LCL method is to charge for the individual package in the container, while the whole container is to charge according to the type of container, sea freight and sea freight surcharge.
The 2 types of containers commonly used are 20-foot and 40-foot high cube containers.
The maximum loading weight of a full container shall not exceed 28 tons.
In terms of security, the whole container is more secure than the LCL.
LCL and FCL costs respectively
Container cost consists of a variety of fees: sea port miscellaneous storage fees loading fees for some goods and drop box fees, pre-pickup fees, reverse box fees and other costs that may arise.
LCL generally includes three kinds of fees, ocean freight, local fees, warehouse fees.
LOCAL fee is the consignee of the destination port to pay the agent, each port produces different costs, each agent charges different fees, so you need to negotiate and confirm with the freight forwarding company in advance.
Full container shipments reduce some of the red tape for shipping companies, so some shipping associations offer discounts for full container shipments. And for LCL cargo, that is of course no discount offered, usually the shipping association charges a certain container freight terminal service fee.
Part 3.Air Freight From China shipping to Austria
Austria has a very strong air service, opened international routes to any important cities around the world, Vienna airport is one of the main airports in Austria.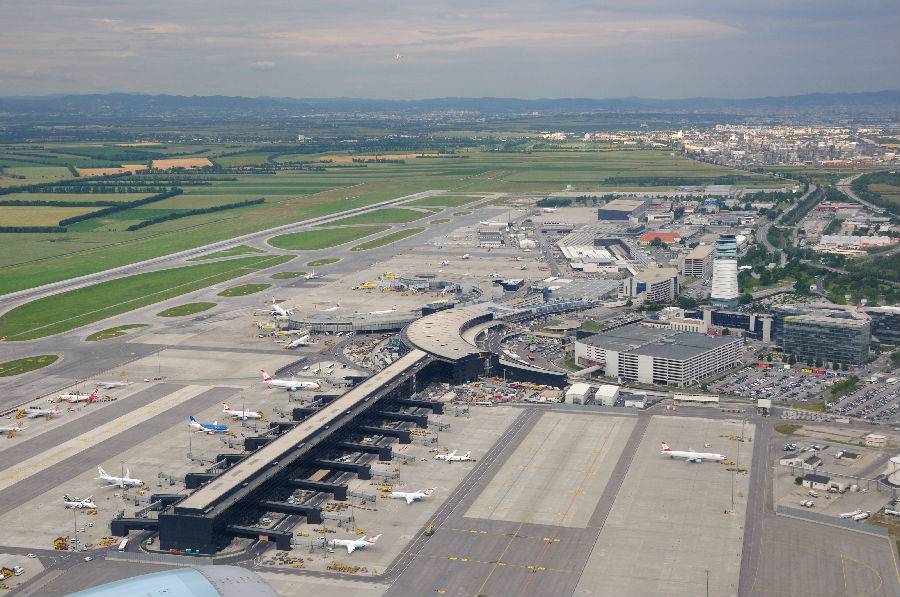 Austria international airport
Destination airports in Austria are Vienna Airport, Salzburg Airport, Innsbruck Airport, Graz Airport, Linz Airport and Klagenfurt Airport.
Air freight costs from China to Austria
| | Vienna Airport | Salzburg Airport | Innsbruck Airport | Graz Airport | Linz Airport | Klagenfurt Airport |
| --- | --- | --- | --- | --- | --- | --- |
| Shanghai | 3 USD | 1.5 USD | 3 USD | 1.5 USD | 3 USD | 1.5 USD |
| Hong Kong | 1.5 USD | 2 USD | 2 USD | 2 USD | 2 USD | 2 USD |
| Shenzhen | 2 USD | 3 USD | 1.5 USD | 3 USD | 1.5 USD | 3 USD |
| Tianjin | 1 USD | 1 USD | 2 USD | 2 USD | 2 USD | 1 USD |
| Ningbo | 3 USD | 1 USD | 1 USD | 1.5 USD | 3 USD | 2 USD |
| Guangzhou | 2.5 USD | 3 USD | 3 USD | 2 USD | 2 USD | 2.5 USD |
How long does it take to get air freight from China shipping to Austria?
The speed of airfreight must be known to everyone, but there are still options to make it even faster, subject to increased funding of course. In usual cases, air freight service from China shipping to Austria takes 4-8 working days.
Part 4.China to Austria International Logistics Rail Transport
In the trade between China and Europe, the international logistics transportation methods are more used for sea and air transportation, and the transportation time and cost have always been the real problems that are difficult to be equalized. In order to achieve a broader development of China-Europe transport, the China-Europe train, as the forerunner of the Silk Road "One Belt, One Road" international logistics logistics project, once opened, will become the most cost-effective and time-cost transport mode ever. Compared with the traditional transportation method in Europe, the transportation time is one third of the sea transportation, and the cost is only one quarter of the air transportation!
Part 5.Cost of Shipping from China to Austria
Cost of Shipping via Ocean
When it comes to sea freight, what perhaps impresses you is the relatively cheap cost.
Sea freight is the cheapest of the traditional modes of transportation and has the added feature of being able to ship bulk cargo. Whenever this word is mentioned, you, as an importer, should of course know what the costs included in this transport are made up of.
You will find that some of the factors you are responsible for are very simple.
On every shipping voyage, it is unpredictable and certain costs come with these surprises. To be a qualified importer is to have the awareness of making the big things small.
One way to do this is to reduce shipping costs.
But what are some ways to do this?
① Buy different offers from different shipping companies
Sourcing quotes from different shipping companies will give you an idea of the best companies.
Let's talk about the cost and the services they provide,you can even negotiate the best shipping rates.
② Recommend the use of packaging materials within the standard
Since your shipping costs will be calculated based on the weight that should be charged, you don't want to add weight to your goods.
This is achieved by using unnecessary packages,try not to use the packing materials provided by the airline.
③ Please don't forget about shipping costs when calculating the cost of your shipment
The most important thing to look for in sales is the cost, always pay attention to whether there is an increased burden of shipping costs.
Instead, pass it on to the buyer,your shipping costs and make it cheaper and more convenient.
④ Avoid parts shipping.
Damage is also one of the reasons for high transportation costs, which can be avoided by using one-way transportation for cargo.This will reduce your shipping costs.
Different impacts on freight generated
The price of a trip from China to Austria depends a lot on the product of the shipment, for example
The specific type of product: Different products have different transport requirements. such as, dangerous goods (chemical products) require special packaging or special security measures.
The size and weight of the package: price and these two are more or less unrelated, is a factor worth noting, the larger the goods, the higher the price. However be aware that for smaller items it may be more economical to ship by air.
However, air freight is a bit different. If you use air freight for items under 100 kg, it is much cheaper by weight, and in addition to that, you can save more by express delivery.
The means of transport: Air freight is always going to be much more expensive that shipping via ocean freight.
Part 6.About the express service from China to Austria
China Post EMS shipped to Austria volumetric weight limit
Parcels sent to Austria using China Post EMS must not weigh more than 30kg, the dimensions of any side of the parcel must not exceed 1.5 meters, and the maximum horizontal circumference other than the length and length shall not exceed 3 meters.
Courier service to Austria
International Express:DHL, EMS, UPS, TNT, FedEx
International mail:China Post, Hong Kong Post, Swiss Post II parcel, Express Mail Austria postage.
Different courier methods correspond to different prices, international courier methods are faster but slightly more expensive, on the contrary, international mail is cheaper but slightly longer.Each shipping method express to Austria price, please consult online customer service or send us an email, within 48 hours there will be experts to give you the most professional reply.
Express delivery to Austria
International express delivery: 3-5 working days to deliver
International mail: 7-20 working days to deliver
EMS: 5-7 working days
*China Post EMS and Hong Kong Post EMS are faster, Singapore Post EMS has a longer delivery time of about 20 working days
*The above time is the delivery time under normal circumstances, delivery time is affected by weather, customs and other factors
Restricted and contraband in Austria
Austrian Customs stipulates that those who go to Austria are not allowed to bring drugs and other contraband; Counterfeit or pirated products are not permitted. It is allowed to carry daily items with a value of no more than 175 euros per person tax-free, and excess items are taxed. Item limits are:
200 cigarettes or 50 cigars or 250 grams of tobacco;
1 liter of strong wine with an alcohol content of more than 22 degrees or 2 liters of alcohol content of less than 22 degrees of alcohol and alcoholic beverages;
50 g of perfume or 0.25 litres of flower lotion;
500 grams of regular coffee or 200 grams of espresso;
100 grams of tea or 40 grams of concentrated tea.
Animals and plants brought into the country should present a CITES certificate in accordance with the Washington Species Protection Agreement (CITES). According to this protocol, plants and animals are classified into 4 endangered categories (A-D). Category A is for all species of flora and fauna facing extinction and all species of harm, which are not allowed to be brought into the European Union. Other B, C and D animals and plants can only be brought into the EU after being rigorously inspected by the government.
Part 7.FAQ with shipping from China to Austria
FAQ
Q: How long does it take to ship my cargo from China to Austria?
A:Even though most companies do not give you an exact date for the arrival of your cargo, they do provide an approximate date.In most cases these dates are reliable.But yet again it depends on the method of shipment and the frequency of the shipping company to your destination.
Q:My supplier has no right to export. Can you help me export the goods?
A: Yes, we can. We can buy the export license, do the customs declarationand ship the goods out to you.