RAILWAY FREIGHT
We combine domestic and international movement to drive the extra value for your business.
Railway transport services are increasingly attractive in cargo shipping between China and Europe / Middle East/ Asia. Railway shipping offers sustainable railway transport services solutions because it has lower fuel consumption than other shipping options, especially when railway shipping high-volume / heavy cargo in a land-locked region. It has taken the place of safe and cost-effective service and gaining popularity today.
As a pioneer in railway shipping, JIKEship has been devoting itself to railway transport services since 2014 when was the year that regular Sino-Europe railway shipping became a norm. We focus on developing long-term relationships with our clients and strive to exceed their expectations. Jikeship provides one-stop railway transport services between China/Asia and Europe, including shipping, customs clearance, and home delivery.
Part1. RAILWAY TRANSPORT SERVICES ADVANTAGES
SPEED
The railway transport services journey from China to Europe, from terminal to terminal, can reach from 10days-16days. It is roughly half the time it takes by ship.

Shorter transit times lead to more rotations and less stock in the supply chain, which means a business can free up working capital and lower its capital costs.
AFFORDABLE RATES
Despite the scale of transportation, railway shipping price is sort of affordable, which is less expensive than air freight.
VERSATILITY AND HIGH LOAD CAPACITY
It is possible to transport both loose cargo (i.e., grain group, sardines) and bulk cargo (i.e., vegetable oils, fats in flex tanks). Large cargo such as equipment, vehicles, and machinery are okay for railway shipping.
SECURITY
During the journey, containers are in good protection from accidental damage and theft.
Sustainability
Comparing the number of goods railway transport services can transport, it is more environmentally friendly than other types of shipping. Energy potency is directly associated with carbon acid gas emissions.
*Jikeship arranges reliable cargo transportation under the most favorable conditions. As a market leader, we offer diverse and economical railway transport services tailored solutions through our extensive railway shipping network from China to Europe, the Middle East, and across ASEAN. Supported by a team of railway shipping experts and company-owned rolling stock, we manage a wide-ranging overland rail-based solution for a variety of industries.
Part2. railway transport services PROCESS
The transportation process includes several stages:
determination of the route of transportation;
coordination of all accompanying documentation;
registration of all railway documentation;
direct shipping to the designated destination station.
JIKEship is one of the leading logistics companies for railway shipping, which is reflected by our regular customers, with whom we have been working for many years.
Considering all the wishes and needs of the customer, our experts calculate and offer optimal ways of transportation. JIKEship has an individual approach for each customer.
Part3. FIND OUT THE COST OF RAILWAY SHIPPING
Railway transport service is a good alternative for entrepreneurs and companies operating internationally: cheaper than air freight but faster than the ocean freight.
If you or your company want to benefit from a cheap and quick delivery, the railway has become the perfect solution, offering an efficient and reliable logistics service. It can quickly become very profitable for German and other European companies operating on a global scale.
Contact for inquiries!
Part4. Railway shipping Network
Railway shipping from China to Europe
Do you know that JIKEship offers railway shipping from China to Europe? Well, if you don't know, it is time to mark that from today. We have helped many customers transport goods from China to Europe.

There could be a fact: China and the EU area unit the world's biggest traders. It inevitably follows that goods movement between these two regions has to be active all the time.

So far, we know that China possesses the most extensive railway network in the entire world. And for that reason, many suppliers all over the country can choose to organize railway transport services of products to their specific clients.

However, this is not in the interest of this section. The intention here is obvious, to discuss the railway shipping from China to Europe.

First, as repeatedly mentioned above, China holds the most extended railway network globally. It starts from Yiwu International Trade City, a city located in Zhejiang province, connecting several EU nations, including Germany, Spain, Italy, France, and the UK.

And by the way, the Yiwu-London Railway Line has enhanced the import and export of goods between these two countries, besides the other internal secondary railway connections within the country that links it to other smaller cities.

That shows you that railway shipping from China to Europe is somewhat one of the best alternatives, especially when shipping bulky cargo.

The EU countries import different types of items from China. Once the containers reach any of the EU member states, it becomes easier to transport them within the other union member countries.

For the longest time possible, the Sino-Europe corridor has been one of the most vibrant routes for railway shipping.

Initially, the Old Silk Road network enabled the movement of products from China to European countries in ancient times. It was used to link ancient Rome and China. At that time, the cargo that Europe imported from China was Silk. That is the so-called "Silk Road".

However, it reduces inefficiency due to various industrial revolutions and political commotions in different countries along the route.

Nonetheless, the present-day New Silk Road is re-establishing this route in different modes as follows:
Railway
Highways
Sea Freight
However, we will not focus on them in this article.

The route from Yiwu to London became officially operational on Jan. 1st, 2017. It covers approximately 7500 miles.

So mainly, we have two major operational railway shipping routes under the New Silk Road railway shipping for shipping goods from China to Europe;

The Northern Route and Central Route.

The central route passes through Kazakhstan and later links with the northern Trans-Siberian railway in the West of Russia.

Some of the notable goods China ships to European countries using this railway line include household items and electrical and electronic devices.

Also, we have footwear, clothing, consumer goods, medical apparatus, and others.
From Yiwu city in China, it goes to Almaty, the former capital of Kazakhstan. Then it will go to eastern Russia before heading to Moscow.
It is Moscow that links up the central and the northern corridors. Starting from Moscow, this railway line goes to Minsk, whose route: Belarus--Warsaw in Poland--Hamburg in Germany--Brussels in Belgium--Brest in France--London, UK.
Another intersection branches are from Brest to Madrid, the capital of Spain. Additionally, there are some secondary lines of this railway that interlink other cities to the main line.
Expectedly, this route provides several advantages to the business people, China, Europe, and the various countries the train passes through.

Some benefits of this railway route are as follows;
Opening up more European markets for Chinese products.
It is arguably the fundamental advantage that the particular mode of transportation brings on board. As you can see, on various occasions, limited accessibility of goods and products from international markets derails business opportunities. But once accessing the products becomes easy, several trading factors become apparent.
Shorter transportation of goods.
The European market has been shipping products from China via ocean freight for hundreds of years. Many people label the latter as the convenient and reliable way of transporting goods from China to Europe. However, the invention of the New Silk Road railway shipping revolutionizes this concept. For example, it takes between 10.5 to 18 days for transit. To some extent, the shortened time has arrived non-perishable products timely.
It is relatively affordable.
When you compare railway shipping via this route with air freight, you'll realize that you cut considerable costs. Of course, air shipping is faster than railway shipping, but when it's not a matter of transporting perishable goods, this might be the best route for European importers from China.
Alternative for full or less container load.
The China-Europe railway system provides the option of whether to transport in FCL or LCL. It subsequently saves time and cost since you do not necessarily have to wait for the container to be full-loaded before you can ship it.
A fundamental disadvantage of railway freight is that this route is that it passes through many countries. As you know, each nation tends to have different ideologies regarding various factors. If one of the countries experiences political, economic, and social disruptions, it might influence transport.

Nevertheless, the New Eurasian Land Bridge railway freight is arguably the best in reliability. Additionally, it can monitor the trace. Then you'll know where precisely the consignment is at every moment you wish to know before receiving it. However, as I mentioned in the earlier parts of this chapter, there is another wing of the New Silk Road railway known as a Southern corridor.

In Conclusion, it greatly boosts the business relationship between these two regions, and it is still developing.
Railway shipping from China to Russia
Both China and Russia are generally vast countries. A rugged terrain country called Mongolia separates the two countries. Both countries are wide. So the distance from one station in one country to another is usually long. That is why shipping goods between China and Russia will take a long through the railway system. The two countries have a strong railway transport services network that serves various cities.

Besides, these two countries have many railway networks connecting them to various points. Next, we'll discuss the significant railway shipping networks that are known for transporting Sino-Russia bulk cargo.
Trans-Mongolian Line
This line connects China to Russia via Mongolia. Its main route is Beijing, China -Ulaanbaatar, Mongolia -Ulan Ade, Russia, then it joins the Trans-Siberian railway.
The construction of this line ended in 1961, and it is the shortest line between Beijing and Trans-Siberian Railway.

A significant benefit of this route is that it helps develop trading opportunities between the two nations. Also, it serves Mongolia, a landlocked country. Its shortcoming is that it has limited capacity since it is single-track.
China-Kazakhstan-Russia Railway Line This line is another best-known railway route for shipping Sino-Russia cargo. Ideally, the initiative for constructing this line began in the 1950s. Russia and China had to build their lines and connect them to Kazakhstan/Xinjiang border. However, because of political instability in the Soviet, the Chinese side stopped constructing the line. Then, several smaller lines were built to connect these two countries via Kazakhstan.
This corridor is a little complicated due to various line constructions that link it to many other lines. In the meantime, it helps in the smooth movement of Sino-Russia cargo. It also benefits the cities along the line.

The disadvantage is that it passes through different border points in different countries, causing a few delays at customs.
New Eurasian Land Bridge It is arguably one of the most momentous railway transport services networks that offer efficient shipping of goods from China to Russia. We won't explain much about it here since we covered its fundamental elements in the earlier sections of this chapter. It is significant to know that it is an initiative fronted by the Chinese government.
It also has quite many feeder lines from various cities within China. This line serves Russia from Lianyungang, China, uninterrupted to Almaty in Kazakhstan. It extends to Russia to connect with the Trans-Siberian Railway which in turn goes up to Moscow.

It is a reliable and transnational line, with a few cases of delay happening on this railway line. It is still a far-reaching route because it promotes easy transportation of bulk cargo from China to Russia and even to Western Europe, even though it is relatively slow and hence unsuitable for highly perishable products.

*Some of the common goods JIKEship ships from China to Russia shipped via this railway line include Coal, textiles, medical apparatus, computer devices, furniture, etc.
Railway shipping from China to Central Asia
If there's anything that is playing a key role in expanding trade and boosting the economy of Central Asia, then it has to be railway shipping from China.

As we know, most Central Asian countries have been in political turmoil for a long time. So the economies have been stagnant since no meaningful activity has taken place, especially with their neighbors.

However, railway shipping from China to Central Asia is expanding the economy in multifold. Chinese market product most of the import products within the Central Asia area.

For now, let's find out the aspects regarding railway shipping from China to the central Asia region.
New Eurasian Land Bridge (Southern Corridor)
It is arguably the main corridor for shipping goods by train from China.
Concerns about making Central Asia an economic hub have been in process for a long time. The challenge, however, was the modes of transporting goods from China in bulk but in an affordable way. And the concept of creating the New Silk Road railway transport services route became alive.

The line that serves central Asia is the Southern corridor which essentially runs from Western China to West Europe around Turkey via central Asian countries.

The construction of the line was initially limited to Almaty, the capital of Kazakhstan. After an inter-governmental agreement, Lianyungang Port serves the Kazakh exports/imports needs. However, the New Silk Road initiative saw it ideal to widen the route and provide passage to West Europe.

Its route is Almaty in Kazakhstan – Tashkent, and Samarkand, both in Uzbekistan-Tejen, Turkmenistan-Ashgabat, Turkmenistan- Turkmenbaşy, a port town of the Caspian Sea.
But in this case, cargoes should be loaded, off-loaded, and shipped to the Georgia border port.

It is quite tasking. It consumes time and causes delays, especially for goods needed for the specified duration. So the construction of another line from Tejan began in 1996, passed through Iran at Serakhs, and reached the Persian Gulf. This branch stretches to Caucasus and Turkey. And in 2016, the first cargo train on this line from Yiwu to Teheran took 14 days.

This route also passes through Azerbaijan and Georgia, connecting with the European Railway Network.

So basically, this route develops all these central Asia corridors for better trading activities.

*Generally speaking, JIKEship uses this railway shipping network to ship medical appliances, textiles, footwear, motor vehicle, and automotive parts; others include plastics, furniture, computers, and their related devices, as well as electronics and electrical appliances.

One major disadvantage of this southern line is that it is still developing with a few activities.

Furthermore, it only operates on a need basis. So, importers from west Europe tend to use the northern corridor wing of the New Silk Road railway transport services network.

It also passes through different countries along with different customs border policies, derailing the movement of some items.

Or worse still:

It limits the genre of items to transport on this line because some products are unacceptable in certain countries within the range. Besides, it is also prone to different socio-political upheavals and hence can prevent the movement of products from China to other countries within the region.

Thus, it is not an inherently reliable route, given that it is yet to become fully operational.

However, it is ironic because even with the political conflicts that marred most of the countries it passes through, most governments approved it. To a great extent, it expands the economies of the countries within the region and expands trading activities.

So primarily, the railway network in China is one of its most significant assets when it comes to shipping goods to other countries within the region and abroad.

Several shipping solutions are possible regardless of the destination of the goods, as long as it is within Europe and Asia.

Therefore, you only need to ensure that you get the right freight forwarder that understands the dynamics of railway shipping from China. They are supposed to know the best routes suitable at a specific time for particular goods you're transporting.

Then, you can get the best results when shipping your cargo from China.

Hopefully, you now have a rough idea of the railway routes from China to Europe, Russia, and Central Asia. As long as you live within Europe, Central Asia, and Russia, where there are railway transport services, you can ship goods from China to your local town.

As we mentioned earlier, JIKEship will evaluate the situation and recommend if railway shipping is the best.
Part5.Which cities do the railway shipping network connects to China?
The Chinese railway network is one of the most extensive railway shipping networks worldwide, connecting to destinations across the Middle East, the Far East, Russia, and Europe.

The railway shipping network in China connects over twenty cities, which include Zhengzhou, Shanghai, Yiwu, Qingdao, Chengdu, Wuhan, Suzhou, Hebei, Chongqing, Suzhou, and many more.

To some extent, Yiwu is kind of like the main freight transportation hub in China.
Part6.Why Choose JIKEship as your China Railway Agent?
Competitive railway costs FCL/LCL Import/Export
Vast experience with regular shipments in railway shipping, especially for large out-of-gauge goods
30% of staff working in the logistics industry for more than TEN years, professional in railway shipping
Door-to-door railway transport services are available
Assistance in providing necessary documents
Guidance on loading and reinforcing the goods in the container balance, based on the requirements of the railway shipping
Fast quotation
We are proud to offer you our shipping experience from China to the world. No matter what you require, we will provide you with a suitable cargo solution – safe, flexible, and reliable.

For a free quote, contact our JIKEship experts! A timely response within 24 hours.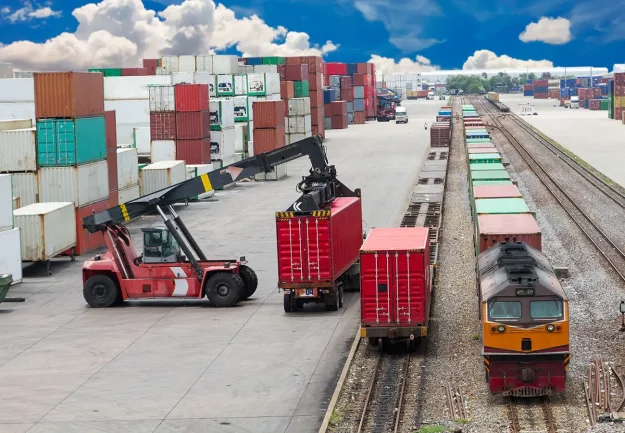 JIKEship, a China-based global company, is trusted by clients for its professionalism, experience and quality service.