What is China's relationship with New Zealand?

China is New Zealand's largest trading partner for products and second largest for services. In April 2008, a bilateral free trade agreement between New Zealand and China was agreed to be signed.
Time for shipping to New Zealand from China

The transit time for your shipment will depend on the location, the size of the shipment and the season. Use the times shown above to calculate the time for various modes of shipping to New Zealand from China, there may be some variation, but these are estimated delivery times unless something goes wrong.
Cost of shipping to New Zealand
If you're considering shipping to New Zealand by sea, you'll be pleased to know that it's by far the cheapest option - air freight costs 12-16 times as much. Overall, shipping costs to New Zealand are usually quite reasonable, but the final price will depend on the type of goods you're shipping, the destination, and the number of goods.
How do I calculate the cost of shipping?
The cost of shipping to New Zealand from China depends on several factors:
The nature of the item
The method of transit chosen
The weight of the goods
The size of the goods
Distance between the point of origin and the consignee
Type of service
Keep in mind that the price quoted for FCL shipping is usually stable for 2 weeks, while the price for LCL lasts for a month. This is why:
1) Get a quote specific to each shipment.
2) It is so important to act quickly after receiving a quote to place an order for a shipment.
How to get a quote for shipping to New Zealand
If you would like a more accurate idea of the cost of shipping to New Zealand, all you need to do is fill in this short form. After you have completed the form.
You will be asked to provide some details about the transport.
Our experts will then contact you with a quote.
You will then be able to compare quotes and choose the best deal for you.
The majority of our shipping suppliers will also be able to make the whole process smoother by delivering door-to-door, and by helping to prepare your goods for passage through New Zealand Customs.
Should you choose air or sea freight?
Both types of transport have pros and cons - you just need to figure out which one is best for your situation.
Benefits of Air Freight
Less risky to transport
Faster and takes less time
Save some packaging costs by not having to add too much packaging
Benefits of Sea Freight
Sea freight can transport more types of goods and huge quantities.
The amount of pollution discharged is low.
Affordable and cost effective.
Extensive global coverage
New Zealand International Airport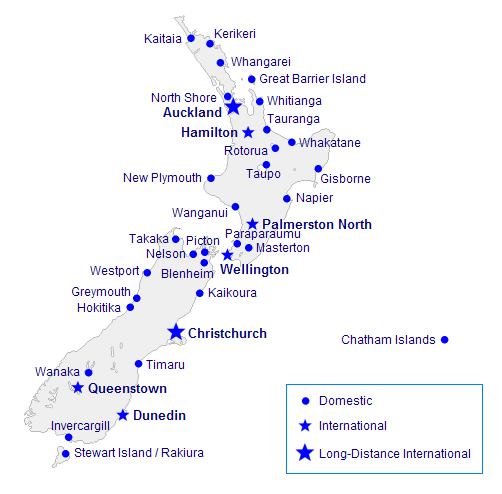 Auckland Airport - The largest and busiest facility in New Zealand, accounting for 75% of all international visitors to the country.
Christchurch Airport - it is the second largest airport in New Zealand. Air cargo services also land here, including Air Freight NZ, Airwork, and Qantas Freight.
Wellington International Airport - This airport is the third busiest in New Zealand with slightly over 6 million passengers in 2017.
Shipping Ports in New Zealand
Port of Tauranga – Handling over 20 million tonnes of cargo per year, including 41% of the country's exports, this is the largest port in New Zealand.
Port of Auckland - This is New Zealand's busiest port and home to the country's third-largest container terminal. It also hopes to one day be the greenest port - committing to zero emissions by 2040.
The Port of Wellington - its location at the southern end of the country, combined with its status as the capital of New Zealand, means that there is a high volume of traffic in and out of the port.
Port of Napier - Following the expansion of the port, the Port of Napier now boasts the fourth-largest container capacity in New Zealand.
Port of Lyttleton - As the largest port in southern New Zealand, Lyttleton is a crossroads for cruise ships and cargo carriers.
New Zealand Customs
New Zealand operates a very strict quarantine system, which means that almost all goods are subject to inspection by New Zealand Customs.
Duties and taxes in New Zealand
Cargo valued at NZ$1,000 or less (including freight).
For goods arriving through with a declared or assessed value of NZD$1,000 or less(including freight charges), there are generally no duties, taxes or fees at the border, unless they are tobacco and alcohol goods.
In addition, when goods are assessed for value, Customs may require you to provide evidence of the value of the goods.
Goods valued at more than NZD$1,000
If you import goods with a declared or assessed value of more than NZD$1,000, there will be a 15% import GST, the duty on which depends on the category of goods you are importing.
Note that an import declaration, packing list, and invoice will be required to process your goods and you will be advised by Customs of the amount to be paid when your good arrives at New Zealand Customs.
Required documents for shipping to New Zealand
Bill of Lading
Invoice
Certificate of Origin
Packing List
Test or Inspection Certificate
Insurance
Not all of these are necessary and documentation requirements vary depending on the mode of transport. Being fully aware of current regulations and consulting with your freight forwarder will help ensure that you always have the appropriate documentation for your shipment.
If you are unsure of what documentation you need or are confused when it comes to preparing it, please contact us. We offer free assistance in preparing the documentation for each of your shipments as well as import and export customs clearance.
What can't you ship to New Zealand?

In addition to the general prohibition on entry, the Ministry of Primary Industries (MPI) of New Zealand strictly prohibits the following items:
Eggs and egg products, dairy products, freshwater fish, bee products, maize, meat and meat products, rare plants and animals and their products, fresh fruit, medicinal animal teas (e.g. bird's nest, bear bile, deer antler)
For more prohibited and restricted items, you can consult our experts.