How to shipping to Poland
Poland is a Central European country bordering seven surrounding countries and is one of the most famous tourist destinations in the world, with 14 world cultural and natural heritage sites and very different urban landscapes. Poland is about 7,000 kilometers away from China, and bilateral economic and trade exchanges are mostly through air channels.

If you are importing goods from China shipping to Poland, it is important to know where the transportation is coming from, there are always many things to consider when arranging transportation by different means. In this blog post we will outline the process so that you can make an informed decision about your shipment
Poland Customs Clearance Guide
You are a busy businessman, it is more necessary to arrange an efficient and suitable mode of transportation for your goods.
You must try to import from China shipping to Poland.
Then, we will make your journey easy.
Part 1.Customs system in Poland
After entering the territory of Poland, the goods are subject to the supervision of the Polish Customs, including: inspection of goods, verification of documents, inspection of enterprise accounts, inspection of means of transport, carrying personal belongings, etc., administrative investigation in accordance with customs regulations, and measures for the supervision of goods if necessary.Both those directly or indirectly involved in the trade process must provide the required documents and necessary assistance within the time frame set by Customs. All kinds of documents are kept for a minimum period of 3 years in order to be ready for inspection by customs.
What are the import duties on polish customs goods?
Poland is required to pay taxes on goods imported from non-intended EU countries, regardless of whether the individual or business entity is engaged in importing goods in Poland. Taxes are calculated based on the value of the shipment, and the tax rate is generally around 17%.
Books, for example, are not taxed. Laptop computers, cell phones, digital cameras and game consoles are exempt from customs duties. Certain goods may be subject to additional taxes, calculated according to the country of origin, such as bicycles made in China are subject to an additional 48.5% anti-dumping duties.
The threshold for Polish taxes and fees is 150 euros, if the value of goods (FOB) does not exceed 150 euros, duty exemption; Vat is exempt if it does not exceed 22 euros; The sum of import duties and VAT does not exceed 10 euros and is exempt from customs duties and VAT.
If the declared value is €22 or more, the consignee EORI code must be provided in the invoice and additional costs such as customs duties will be incurred, and the customs clearance time will be extended.
Specific Polish VAT calculation method: Polish VAT = standard VAT rate of 23% × (CIF price import duties). Imported goods through customs, still subject to additional customs duties, is the cost of inspection and testing must be carried out.
Poland as one of the countries of the European Union, so the tax threshold for imported goods is also relatively low, your goods are also relatively easy to be taxed, And so if you want to avoid tariffs, you can find tax lines in Poland so that you don't have to worry too much about tariffs on your goods. But it is also necessary to see if the tax line is suitable according to the actual situation of your goods, after all, the cost increases and the transportation cost increases accordingly.
Import certificates required for Polish tariffs
(1) Commercial invoice (3 copies);
(2) Sanitary quarantine certificate and analytical certificate for food and plants;
(3) Certificate of Origin (2 copies);
(4) Provide quality certificates for household appliances, automobiles, heating equipment and electronic products;
In addition, we should know that Poland restricts the import of finished medicines, so we must be careful to avoid such products to avoid problems such as seizure of goods.
How long does it take to clear customs in Poland
Normally 1 day is enough for fast customs clearance. Before the goods arrive at the destination, they will be pre-cleared, and if it goes well, no special clearance is required and they will be released directly upon arrival at the location. If it does not pass pre-clearance, the exact time of customs clearance depends on the speed of cooperation of the consignee. Some 1-2 days, some 4-7 days. This is uncertain.
Part 2.Sea Freight From China shipping to Poland
The total length of Poland's inland waterways is 3,659 km, with a river cargo throughput of 4,579,000 tons and a passenger throughput of 1,515,000. There are 110 sea vessels, 3.045 million dwt, 7.476 million tons of cargo and 642,000 passengers; 6 maritime commercial ports with a cargo throughput of 58.825 million tons, and the main seaports are Gdansk, Gdynia, Szczecin, Sivino Usice, etc.
In addition to the above-mentioned seaports, there are other seaports available to you in the Poland.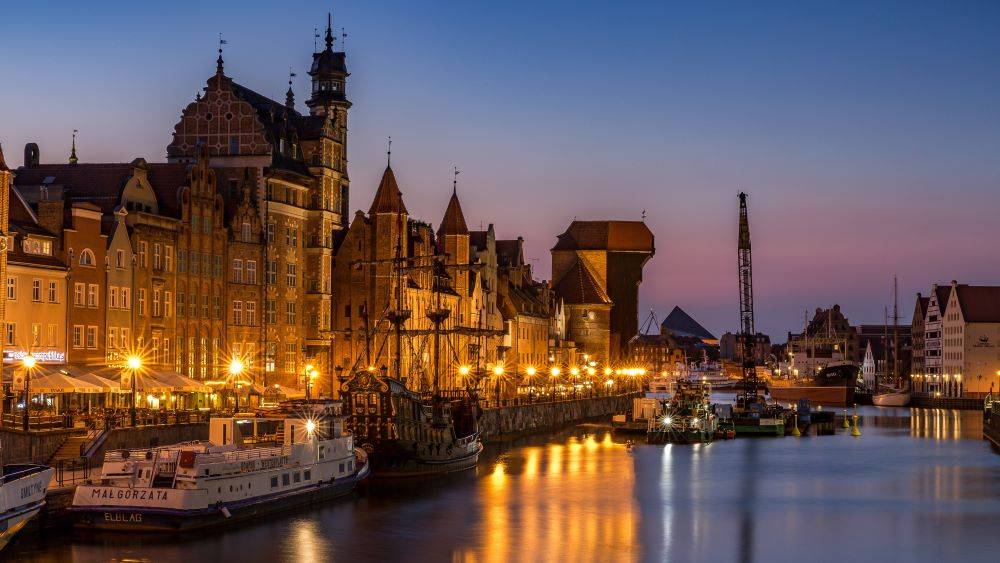 Other seaports in Poland are listed below:
| Seaport | Port code |
| --- | --- |
| bydgoszcz | PLBYD |
| darlowo | PLDAR |
| katowice | PLKAT |
| kolobrzeg | PLKOL |
| kracow | PLKRW |
| krakow | PLKKW |
| lodz | PLLDZ |
| lublin | PLLUB |
China to Poland FCL or LCL service
a) Less Container Load (LCL)
This type of shipment is used when the importer imports very small quantities of goods.
Thus, the goods are shipped together with other packages destined for the same destination and packed until the container is filled.
The cost of transportation is shared by the owner of the goods in the container, depending on the volume occupied by the goods.
This is the more cost effective way and can be chosen when one imports very small quantities, the disadvantage is that it will be slower and take longer compared to a full container.
The long time is due to the fact that all small quantities need to be consolidated to ensure that the container is full.
Likewise, it takes time to clear the container of individual packages.
b) Full Container Load (FCL)
With FCL, the container contains only one person's merchandise and all tracking is done as a separate individual.
Therefore, the container/booking number can easily be used for tracking as soon as the container leaves.
Full container shipments are charged at a flat rate.
It is the opposite of the consolidation method, which charges for individual packages within a container.
The 3 most commonly used containers are 20ft, 40ft and 40ft high cube containers.
All these must have the maximum weight being 28 tonnes.
FCL is a little safer than LCL, after all, there are no other different packages to mix together.
The difference between the cost of LCL and FCL
The cost consists of centralized costs: sea port miscellaneous charges, storage fees, loading fees; some cargoes have additional direct loading fees, reinforcement fees and other costs.
LCL generally includes three kinds of fees, ocean freight, local fees, warehouse fees.
LOCAL fee is paid to the agent by the consignee of the destination port, the fee is different for each port, and the fee charged by each agent is also different, so it is necessary to confirm with the freight forwarder company in advance.
Full container shipments reduce the formalities of shipping companies, so some shipping associations offer some freight discounts for full container shipments. On the contrary for LCL cargo, shipping associations also charge some container freight terminal service fee.
Part 3.Air shipping to Poland from China
Poland is located in the middle of the European continent, in the northeastern part of Central Europe. It is bordered by Ukraine and Belarus to the east, Lithuania and the Russian enclave of Kaliningrad Oblast to the northeast, Germany to the west, the Czech Republic and Slovakia to the south, and the Baltic Sea
So far, there have been 6 CEB trains passing through or terminating in Poland. The main international airport in Poland is Warsaw Chopin International Airport, and the main seaports are Gdańsk, Gdynia, Chinołosice, Szczecin, etc.
Major airports in Poland include Kraków International Airport, Katowice International Airport, Warsaw Chopin Airport, Frederikowa Airport, Gdańsk Airport, etc.
Krakow International Airport
Kraków Airport (Polish: Kraków Airport) is located in Krakow, southern Poland. The airport was established in 1964. The English name is John Paul II International Airport, and the three-character code is KRK and the four-character code is EPKK. The main building of the airport's terminal is being expanded to meet the growing demand for passenger traffic at the airport over the past two years.
Katowice International Airport
Katowice International Airport is a civilian airport situated 30 km north of the Polish city of Katowice, owned and operated by the Upper Silesian Airlines Group of companies, offering air services to the city of Katowice and its environs.
Katowice International Airport operates scheduled and charter services for domestic, regional and international passengers and goods throughout Europe, the Middle East and North America. Airlines serving the airport includes Lufthansa, Germanwings, KD, Polish Polish Airlines, Ryanair and WITS. it is the fourth biggest airport in Poland.
Part 4.Rail freight service from China shipping to Poland
Polish Railways, the rail transport from China to Poland, can be seen on the map as the closest to China,from China to Europe is to Poland Malaszewicz / Warsaw / Lodz, from China to Poland railway takes an average of only 15 days. Because of Poland's unique geographic conditions, goods from countries close to Poland choose to transit through Poland directly.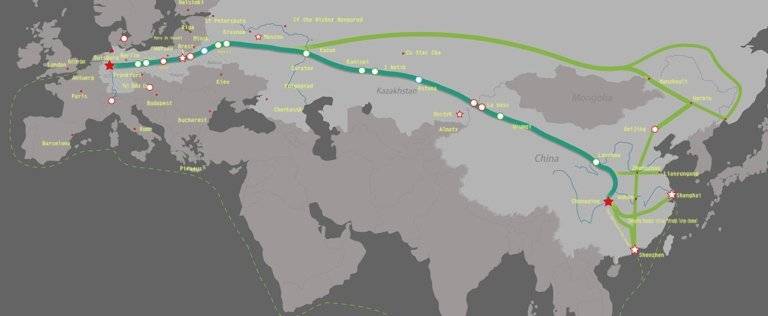 The China-Europe train passes through Poland
Rongzhou-Chengdu is the first time to Poland from Chengdu, with a transit time of about 18 days
YuXinOu departs from Chongqing to Poland with a transit time of about 17 days
Shaanxi New Usan to Poland with transit time about 15 days
Hopewell New Europe Hefei train transportation to Poland, transit time about 16 days
From Xiamen to Poland, the transit time is about 20 days
Hanxin Europe from Wuhan to Poland, transit time about 17 days
Yixin Europe from Yiwu, Zhejiang to Poland, transit time about 18 days
Transit time from Zhengzhou-Europe railroad to Poland is about 15 days
Transit time from Suzhou to Poland via Manzhouli is about 17 days
Shenmanu from Shenyang to Poland:transit time about 13 days
Part 5.Cost of Shipping from China to Poland
Cost of Shipping via Ocean
What may impress you about sea freight is its relatively cheap cost.
Not only is sea freight cheaper than other forms of transportation, but it can also be loaded with bulk cargo.
However, when we talk about costs, as an importer you need to understand what this cost makes up.
You may find that some of the factors you are responsible for are very simple.
However, it is inevitable that certain factors will lead to changes in costs during your shipping to Poland.
As an importer, it is extremely important that you minimize your import costs.
One of the first ways to do this is to reduce shipping costs.
But what are some ways to do this?
① Buy different offers from different shipping companies
Being good at getting quotes from different shipping companies to compare will give you a better idea of the best company to work with.
Let's talk about the cost and the services they provide.
You can even negotiate the best shipping rates.
②It is best to limit your packaging to the required standard.
Since shipping costs are calculated based on the weight weighed, you certainly don't want to add extra weight to your shipment.
This is achieved by using unnecessary packages.
Avoid using the specifications of the packing materials supplied by the airline.
③ For the freight charges included in the cost of your goods.
If your business is importing for sales purposes, it is better not to bear excessive cost burden
Instead, pass it on to the buyer.
This will make your shipping cost savings to the maximum, cheaper and more convenient.
④ Avoid parts shipping.
You will find that one of the reasons for the high cost of shipping is that you have destroyed the goods that you are going to ship.
You can prevent this by scheduling all shipments in one direction.
This will reduce your shipping costs.
The price of shipping to Poland fluctuates
The price of transportation from China to Poland fluctuates depending on the type of cargo, such as
The type of product: Different products may have different transportation needs. e.g. Valuable or perishable cargos will generally require special packaging or enhanced security measures or the like.
The size and weight of your parcel: This is perhaps the most important factor when it comes to price.
As stated above, the larger the package, the higher the price. On the contrary, for smaller shipments, using air freight can be more economical.
For items under 100kg if you use air freight it will be cheaper by weight, besides that you can add extra value by courier.
Of course, compared to sea freight, air freight is still more expensive.
Restrictions and contraband in Poland
You may not bring (unless specifically permitted) the following prohibited items:
● Unlicensed drugs (e.g., heroin, morphine, cocaine, marijuana, etc.)
● Offensive weapons (e.g., firearms, spring knives, knuckle rings, swords, etc.)
● Obscene material directed at children and other pornographic material considered illegal in EU countries.
● Counterfeit and patent-infringing products (e.g., watches, CDs, etc.)
Part 7.FAQ with shipping from China to Poland
FAQ
Q: How long does it take to ship my cargo from China shipping to Poland?
A:Even though most companies do not give you an exact date for the arrival of your cargo, they do provide an approximate date.In most cases these dates are reliable.But yet again it depends on the method of shipment and the frequency of the shipping company to your destination.
Q:My supplier has no right to export. Can you help me export the goods?
A: Yes, we can. We can buy the export license, do the customs declarationand ship the goods out to you.