AIR FREIGHT
We match the right solution to your unique requirements.
Air cargo services are feasible for all kinds of products, from the most fragile to the heaviest. JIKEship offers air cargo services from China to any other country. Even at long distances, your cargo will be in the best hands. We will strategically select air shipping companies based on their carrying capacity and flight frequency, offering tailored air shipping options that balance speed and cost to ensure your items arrive on time. Through close cooperation with several airlines, JIKE's air cargo services ensure the best air shipping with the combination of space allocation and competitive prices for our customers.
Yearly contracts with a wide range of airlines (e.g., CA, CZ, MU, HU, CX, CI, QR, EK, KE, LH, TK, SQ, RU, UA, AA, 5Y, NH, BA, AF, PO, AC, KL, OZ, etc.,) forges our professionalism and competitiveness.
Part1. Air shipping
When emergencies or safety issues are the primary consideration, air shipping is the most advantageous mode of transportation. The reason is that according to the unique requirements of each freight, freight forwarders can provide customized services. Naturally, it comes for a price.
Advantages of Air shipping
1. Fast Transit Time
The typical cruising airspeed for an airliner is approximately 500 knots or 575 mph, while the average speed of a slow streaming sea freight liner is 20 knots or 23 mph. Airplanes travel 25 times faster than container shipping.
A rough estimate of transit time is 1-3 days by express air service, 5-10 days by any other air service, and 20-45 days by sea freight. Customs clearance and cargo examination at airports are also faster than at seaports. It is one of the many reasons why air transportation is sometimes preferable to sea or land transportation.
2. Security
Airlines and airports exercise strict control over cargo, significantly reducing the risk of theft and damage.
3. Coverage
Airlines provide extensive coverage with flights to and from most destinations in the world. Furthermore, air cargo services might be the only available option for shipments to and from landlocked countries.
4. Lower insurance risks
With the added rigorous packing requirements of air transportation, the Insurance underwriters take a lesser risk in insuring air shipment.
Disadvantages of air cargo services
1. Cost
Shipping by air costs more than transporting by sea or road---not only for the delivery itself but also for import duty and VAT, which calculate as a percentage of goods' value plus shipping costs.
2. Size limitation
As we know, planes are not as large as ships and cannot load as much weight. Therefore, it is not ideal for the carriage of voluminous and cheaper materials.
3. Environment
2% of flights might cancel due to bad weather. It can indicate a problem. Even though every form of transportation is affected by the weather, this is still a disadvantage for air cargo services. A few days' delays would not be disastrous, but they are not always desirable. It is especially true if the delivery deadline is critical.
Air shipping object
Air shipping can be a valuable option for cargoes with high added value, high density, or small volume.
If merchandisers want to transport their products quickly, shipping by air is the preferred option. When it comes to overseas shipping, air service is the only option for fast and easy shipments. Air shipping is especially important for temperature-controlled goods, perishable cargo, or live animals where time is of the essence.
Specifically, air service is for cargoes that fall into these few categories:
1、Perishable items/Live animals that have a limited lifespan
2、Items with an ultra-high value that requires additional security
3、Items in small quantities or small volume metric weight
4、Items with utmost priority in delivery urgency
Air shipping Process
The procedure is straightforward:
1、Booking the flight via your freight forwarder
2、Goods pick-up at factory and delivery at the designated airport
3、Documents provision and confirmation
4、Customs declaration
5、Flight departure and arrival
6、Customs clearance (Duty and VAT)
7、Delivery to your address
Necessary documents
1、Airway Bill (AWB)
Evidence of Contract of Carriage/Non-Transferrable/Non-Negotiable/Document of Title.
The air waybill is not a Document of Title and cannot transfer by endorsement. It is only equivalent to a certificate of transportation and delivery, that is, a cargo receipt issued to the shipper after the carrier (airline) receives the cargo and accepts the air transportation requirements and proof of shipper. The consignee at the destination airport picks up the goods not based on the Air Waybill but on the Arrival Notice issued by the airline.
It is a bill carrying details of the cargo that issues on completion of the export customs process. The AWB can provide details to the carrier, shipper (exporter), and consignee (importer).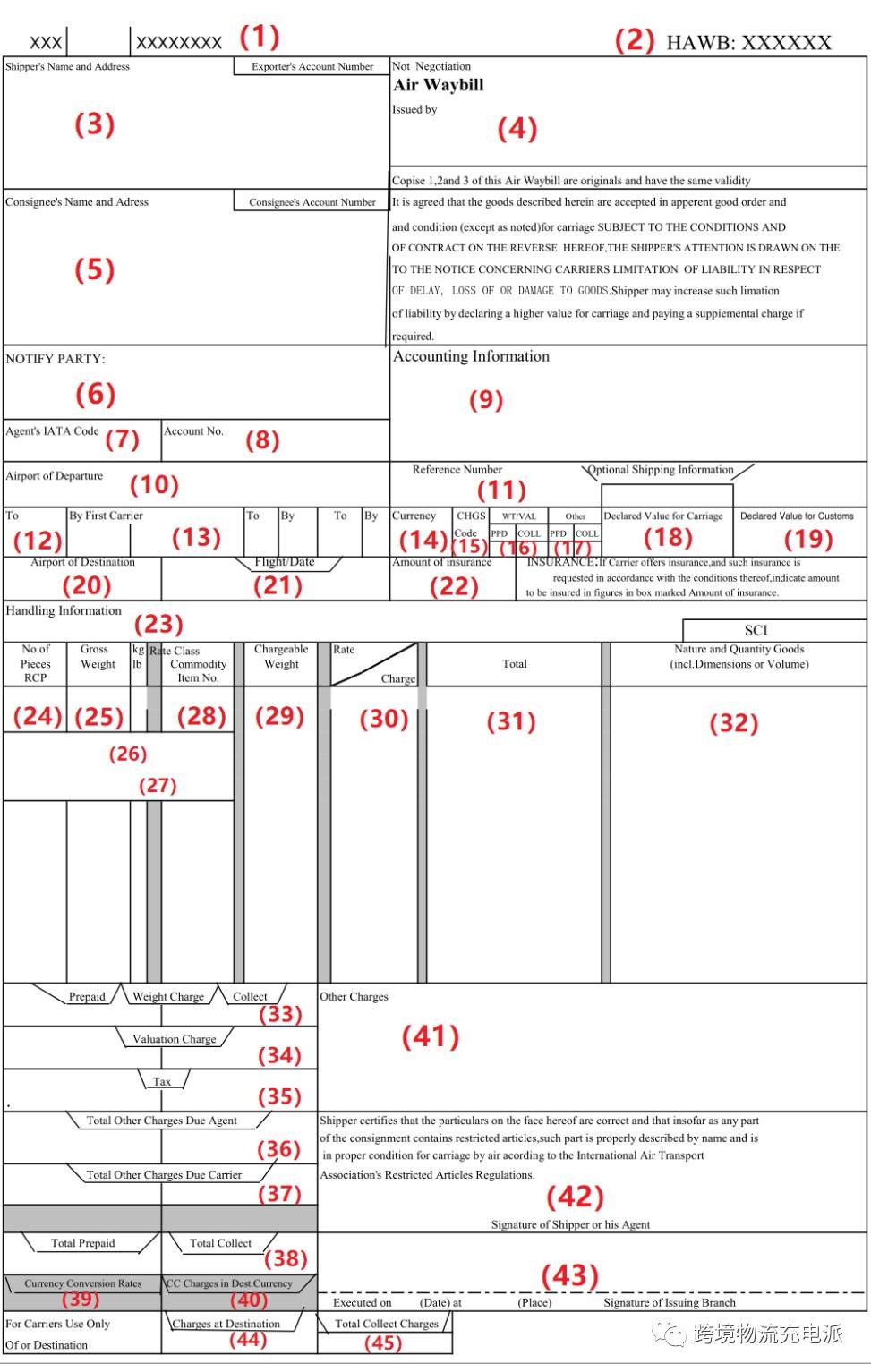 2、Shipper Letter of Instruction (SLI)
A Letter of Instruction or SLI is an indispensable document prepared by the shipper to preempt the logistics service provider of a shipping instruction. (An SLI is a working document for airliners to acknowledge and accept the cargo to ship. And it also offers needed information to calculate freight charges and issue air waybills.)
Part2. Air shipping Calculation
How is Air shipping calculated?
You can take it for reference when you want to ship by air.
1.Gross weight
Gross weight is the actual weight of the goods.
2. Volumetric weight
Volumetric weight is also called dimensional weight. It can calculate by using two different methods.
①Volumetric/Dimensional weight = Volume (CBM) x 167
②Volumetric/Dimensional weight = L (cm) x W (cm) x H (cm)/6000
After calculation, if the Gross weight ≥Volumetric weight, then Gross weight will be the final chargeable weight; if not, Volumetric weight will be the chargeable weight.
Note: Because an Airbus or a Boeing owns a limited loading space, weight is not the only parameter to consider. As for low-density cargo, the cost will charge according to the volume rather than the weight.
Additional charges in air cargo services
Air shipping additional fees occur in addition to the standard shipping costs due to the consignment needing special needs during the shipment. Grasping these fees will give you a better understanding of the actual air shipping costs.
Apart from freight, shipping by air usually involves below expenses:
1、Fuel surcharge
2、Security surcharges
3、Warehousing charge
4、Terminal handling fees
5、Airport transfer fee
6、Documentation fees
When choosing door-to-door service, the upcoming services are:
1、Customs Brokerage
2、Pickup and delivery
3、Cargo insurance
4、Above mentioned additional charges
Part3. Why choose JIKEship as your air cargo services provider
With JIKEship as your air shipping forwarding, your business shall gain access to a seamlessly broad network that shall not just fulfill all your requirements but shall be able to deliver it all with cost efficiency and speed. Combining a growing list of worldwide partners and services with attractive air shipping charges, JIKEship is here to work with you to meet and exceed your expectations.
Strong logistics networks
We have close cooperation with global agents in the logistics industry in more than 150 countries and regions, steadily building a complete and far-reached logistics network. That is why our air cargo services can pick up your shipment directly from the supplier to the doorsteps of your warehouse or office.
Innovative technology
We have a permanent tracking system, which will allow you to track your shipment and ensure that it arrives safely and on time. Besides, we utilize modern management methods and information processing technology.Innovative technology ensures effective communication and cooperation with cargo owners, customs, and carriers, providing customers with a smooth international logistics transportation experience.
Professional experts
With 30% of staff working in the logistics industry for more than ten years, we take pride in the exceptional team of highly-experienced freight forwarders, who are well-versed in delivering world-class shipping solutions across a wide range of goods.
Air shipping is a great solution to ship items from one place to another. You can opt for this service to ship items that are large or heavy, as well as delicate items that need special care. When you use this service, our air cargo services will have the option to track your shipment and ensure that it arrives safely and without any delay. You can also ask for additional services, such as cargo insurance. It will help protect your shipment against loss or damage in transit.
TIPS
With JIKEship, our services will provide you a final delivery of your cargo within a week, as for door-to-door requests between China and your country.
For further details on this topic or an air shipping quote between China and the country of your choice, contact JIKEship right now!
Part4. FAQ
Do you offer part charter?
JIKEship has a charter flight service from China. If you cannot have enough cargo volume to fill an aircraft on a full charter basis, we also offer part-charter options where it is more
Are there particular restrictions that I should know?
Yes. The International Air Transport Association (IATA) imposed restrictions on shipments containing lithium batteries, like most electronic devices. For further information on Air shipping rules, please visit the IATA website or contact our team for more detailed information.
Should I use Air shipping?
Three key factors should take into account in whether air cargo services are the best mode of transportation:
1、Shipments time
2、Shipping density
3、Shipment value
The best cargo for air transportation = urgent shipment + small size + light weight + high value.
You can take it for reference when you want to ship by air.

We are proud to offer you our shipping experience from China to the world. No matter what you require, we will provide you with a suitable cargo solution – safe, flexible, and reliable.
For a free quote, contact our JIKEship experts! A timely response within 24 hours.