SEA FREIGHT
Your dedicated account manager provides 24/7 service coverage, working with you each step of the way. You are our top priority.
Jikeship provides sea freight service from China to the world. In recent years, our ocean transport business has grown considerably. We take seriously to each shipment, either small or big. Thanks to our patience, professionalism, and honesty, clients gradually have confidence in us and their businesses, although some of them started the business with us in small shipments.
We promise we will take good care of every shipment.
However, sea freight is a bit difficult for beginners. So, we summarize some basic knowledge and answer some frequently asked questions. Hope it will help.
What is Sea Freight Service or Ocean Transport?
Ocean shipping or ocean transport is the transport of goods by ship, boat, sailboat, and inland vessel, over all distances that vessels can travel over water, such as oceans, canals, rivers, or lakes.
While more and more people are now opting for air freight, sea freight service remains popular. It remains a cheap and popular method of long-distance freight, accounting for about 80% of international goods exports.
To get a clear picture of the total cost of shipment by sea, you must consider the following
Cargo weight, packing dimension, and cargo types (to choose a container in the correct size)
Port information
Transit time
Incoterms
In this article,you will learn something important about sea freight service from China.
Part1. The different types of cargo in Sea Freight Service
Theoretically, any type of goods via sea freight service can be divided into the following categories:
1. Container Cargo
Items shipped through FCL or LCL include computers, televisions, meat, clothing/textiles, toys, etc. The container has walls that offer protection against extreme temperatures, moisture, and weather conditions. Containers shipped by sea also fit on barges, rail cars, and trucks, which is helpful for subsequent transport.

Container cargo is loaded and transported in two ways, by FCL and LCL.
1.1 FULL CONTAINER LOAD (FCL)
FCL (Full Container Load) - is a mode of ocean transport, where the entire container is prepared for one supplier and occupies a full container (regardless of size.) FCL transport can be loaded directly at the warehouse of the supplier and delivered to the container yard (container cargo station at the port). The container can be unloaded at the port of destination and delivered by courier to the consignee's warehouse.

If you want to know the Size / Dimension of the different containers, please Click Here!
Advantages over other modes of shipping
More opportunities for computerizing the management of the process of shipment
Shipment can be once loaded into the container at the sender and unloaded at the recipient in the warehouse
Requires fewer packaging costs
The pace of loading & unloading is accelerating
Transport documents and forwarding operations have been simplified and unified
Goods can be well stored
Delivery times is reduced
Disadvantages over other types of shipping
The main disadvantage of FCL is that it is not suitable for goods in small volume, which is expensive and space-wasting.
FCL Ocean Transport of JIKEship
FCL means all the goods in one container belong to you, if the volume of goods is more than 20CBM, it is better to use FCL. it can reduce transportation costs compared with LCL. Besides professional air and railway service, JIKEship can also provide the best container-loading solution.

Here is a brief introduction to our FLC service.
Competitive ocean freight rates from China to anywhere you want to go.
Guidance on using 20ft or 40ft depending on the size and gross weight of your package.
Guidance on how to efficiently load cargo into containers to save space and money.
Container loading supervision service.
Guidance on how to reinforce the cargo in the container.
Provide port-to-port, port-to-door, door-to-port, and door-to-door services.
Under FOB terms, we charge shippers a reasonable local fee to save their costs.
If you have several suppliers in China, we can provide a 7-day-free warehouse service.
What can we promise you?
1.Tailor-made shipping plans
We offer personalized and fully customized China shipping solutions to meet your requirements. Whether you have unique shipping requirements or complex delivery plans, we utilize our extensive network of carriers to provide shipping solutions that exceed your expectations.
2.Reliable and Trustworthy Carriers
We work with only the most capable ocean carriers to transport your China FCL shipments. The carriers we work with are companies that have a long history in the industry. It has consistently satisfied our customers, time and time again.
3.Competitive Rates
Thanks to our high China ocean freight volume, we are capable to negotiate most of the lowest contract rates in the industry and pass those savings on to our customers. By focusing on technology and innovation, we can maintain some of the most competitive rates in the industry. This is what makes us one of the leading China freight forwarders.
1.2 Less than Container Load(LCL)
LCL means that your cargo (generally from 1m³ - 15m³) is shipped in a common container with other customers, which implies you will not overpay for shipping costs. It is considered the most economical way to deliver small quantities of goods by sea.

In LCL, you will share a container with other customers who have cargoes to the same destination at the same time. If your cargo does not fill the entire container, consolidation is a prime option for small businesses to start with.
LCL Ocean transport of JIKEship
If there is not enough cargo to fill an entire 20 feet container, we recommend considering LCL when shipping. please note the following points. Make sure your packaging will secure the shipped cargo as you will be sharing container space with others and confirm destination charges for consolidation shipments before shipping your cargo.

Here is a brief introduction to our LCL service.
Offer competitive rates for shipping from China.
Destination charges are lower than market rates.
Under FOB terms, we charge shippers a reasonable local rate to avoid their complaints.
Free warehouse service.
Receive loading pictures at any time.
Choose direct service from port to port to secure your cargo.
What can we promise you?
1.World-class Communication
When sharing a container, communication with the shipper is the key to seamless shipping. We pride ourselves on prompt and considerate communication with our customers.

2.Dynamic Transportation Planning
In China LCL shipping, there are always uncontrollable variables. To address this, we offer progressive shipping plans to eliminate delays and secure solutions.

3.Technology-Driven Oversight
We utilize artificial intelligence to assist in the shipping review process by systematically matching shipments, which greatly reduces customs inspections and delays.
1.3 FCL or LCL, which one should I opt for?
2. Liquid Bulk Cargo
Most dangerous cargoes belong to the liquid bulk category, such as gasoline, and crude oil. These cargoes are transported in large tankers, and tankers transporting petroleum products are distinguished from those transporting chemical and food industry products. This industry specializes in fast and multimodal transportation, where vessels and storage facilities must meet specific environmental and safety requirements.
3. Dry cargo
The dry cargo includes sand, cement, iron ore, coal, salt, sugar, and grain. This can be divided into two sub-categories: small bulk products such as fertilizers, minerals, and cement, and large bulk products such as iron ore and coal. Some cargoes such as zinc and nickel concentrates, coal, and nickel ore can liquefy during transport, creating a safety hazard that requires extraordinary visual and moisture control measures.
4. Breakbulk Cargo
Breakbulk refers to personal or general cargo such as household goods, automotive parts, and agricultural machinery. Such items are usually packed into crates, barrels, weatherproof crates, and military material boxes.
* Ocean transport of Breakbulk Cargo by JIKEship
For some large-size and overweight cargoes, it is recommended to use bulk carriers for transportation. JIKEship has extensive experience in such services and we guarantee safe transportation from China to their final destination.
The best solution according to cargo information.
Competitive freight rates for bulk carriers.
Extensive experience in bulk cargo loading port ground services.
Loading supervision services
5.Roll-on / Roll-off (RORO, or vehicles and wheeled cargo)
As for Roll-on / Roll-off, we also call it RoRo-shipping, which means cargo driven on and off a shipping vessel, independently, without being lifted on board, such as vehicles with large dimensions and heavyweights.
* Roll-On Roll-Off Sea freight service of JIKEship
It is safe to ship vehicles via roll-on/roll-off services. JIKEship is a roll-on/roll-off transport specialist from China.
Competitive price because of a close relationship with carriers.
Rich experience because we have operated many cargoes.
Space available
6.LOLO (lift-on, lift-off)
As for LOLO (lift-on, lift-off) shipping, it is often used to ship large and heavy cargoes in bulk quantity. In contrast to RORO ships, its ships are equipped with onboard cranes and assisted by dockside cranes to load/offload goods. It is the most cost-efficient way and sometimes the only way for large and heavy cargo, although it is slower but more eco-friendly.
7.Reefer cargo
Reefer cargo, such as flowers, foods, and pharmaceutics, needs to stay fresh and cool, from the moment of loading to the moment it is delivered
During container shipping, cargo is loaded in full or consolidated containers. From standard 20-foot, 40-foot, and 40-foot-tall cube shipping containers to open-top and flat racks, there are many sizes of shipping containers available for the desired ocean cargo.

Since not all cargo fits in a standard container, JIKEship offers smart, safe, and reliable solutions for oversized shipments. We can reserve space or containers for your cargo and take care of loading the cargo onto the ship at the port of origin and shipping it overseas to the importer at the port of destination. We can adapt the itinerary to multiple modes: door-to-port, port-to-door, port-to-port, and D2D including inland transportation solutions, such as pick-up service by truck.
Part2. The different sea container types and dimensions
Whether you have a full container load (FCL), less than container load (LCL), or non-containerized load, we have containers you need for sea freight service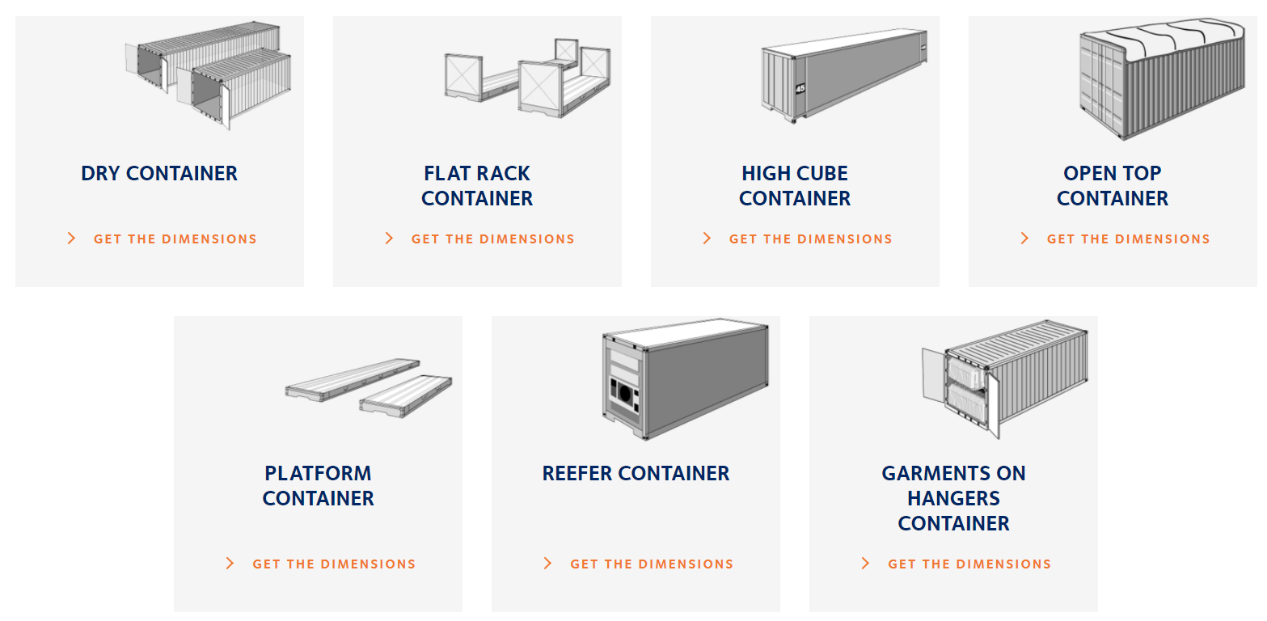 Dry Container
Dry containers (DC) are the most used type of container in the world: 90% of goods transported by sea are carried in dry containers. 20ft and 40ft cargo containers are made of aluminum or steel and are suitable for all types of cargo. Aluminum containers have a slightly larger payload than steel ones, while steel dry cargo containers have a slightly larger internal cube.

Dry container size and capacity (FYI): The exact size and capacity of a dry container may vary depending on the container manufacturer, the age of the container, and the owner.

The specifications listed below are representative of most containers.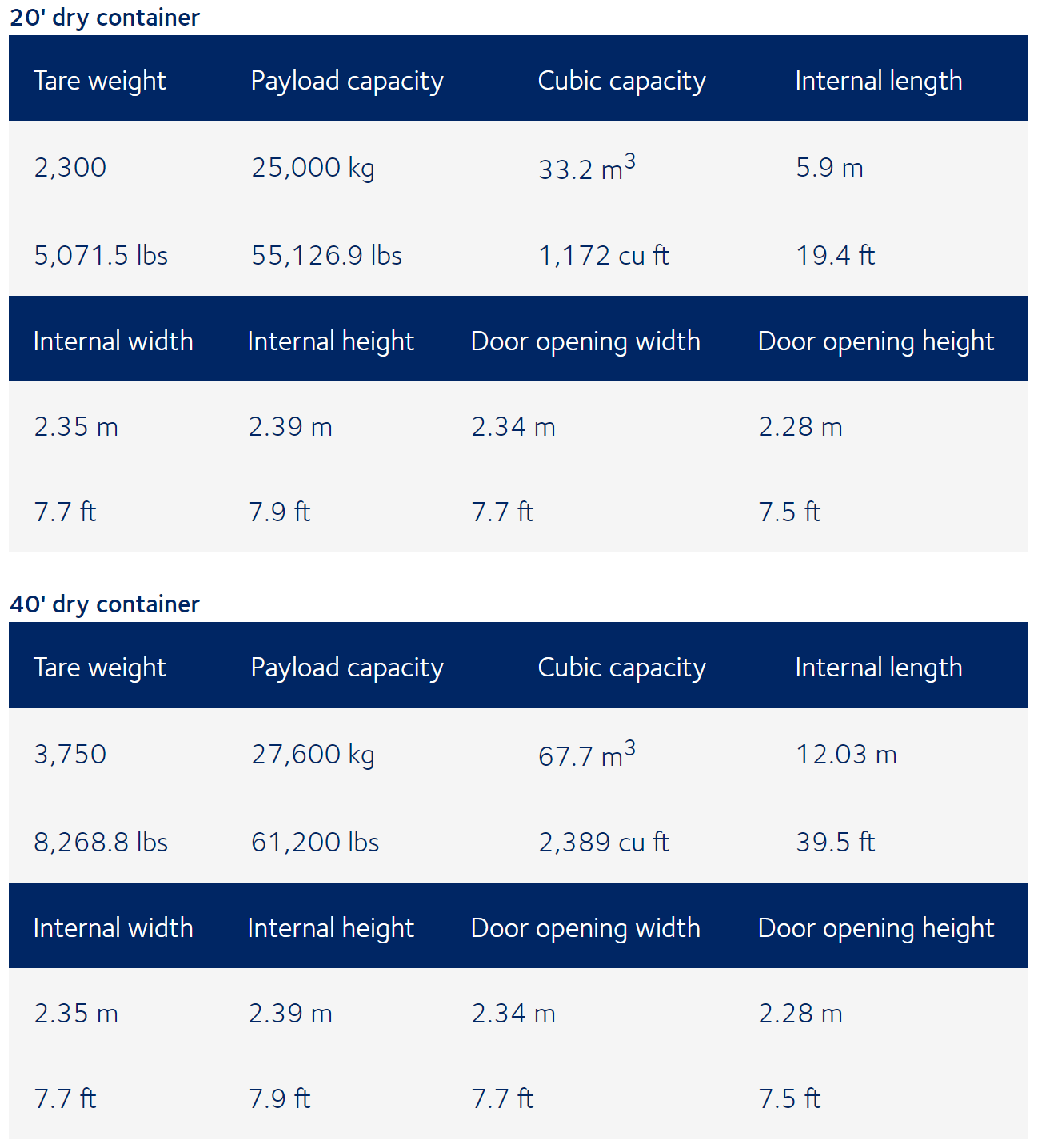 Flat rack container (FR container)
Flat rack containers are especially suitable for cargo that is too large for a standard container. They are transported on container ships and allow oversized cargo to move to destinations where RORO and bulk cargo vessels are not necessarily available.

Flat rack container dimensions (FYI): The exact size and capacity of flat rack containers may vary depending on the container manufacturer, the age of the container, and the owner.

The specifications listed below are representative of most containers.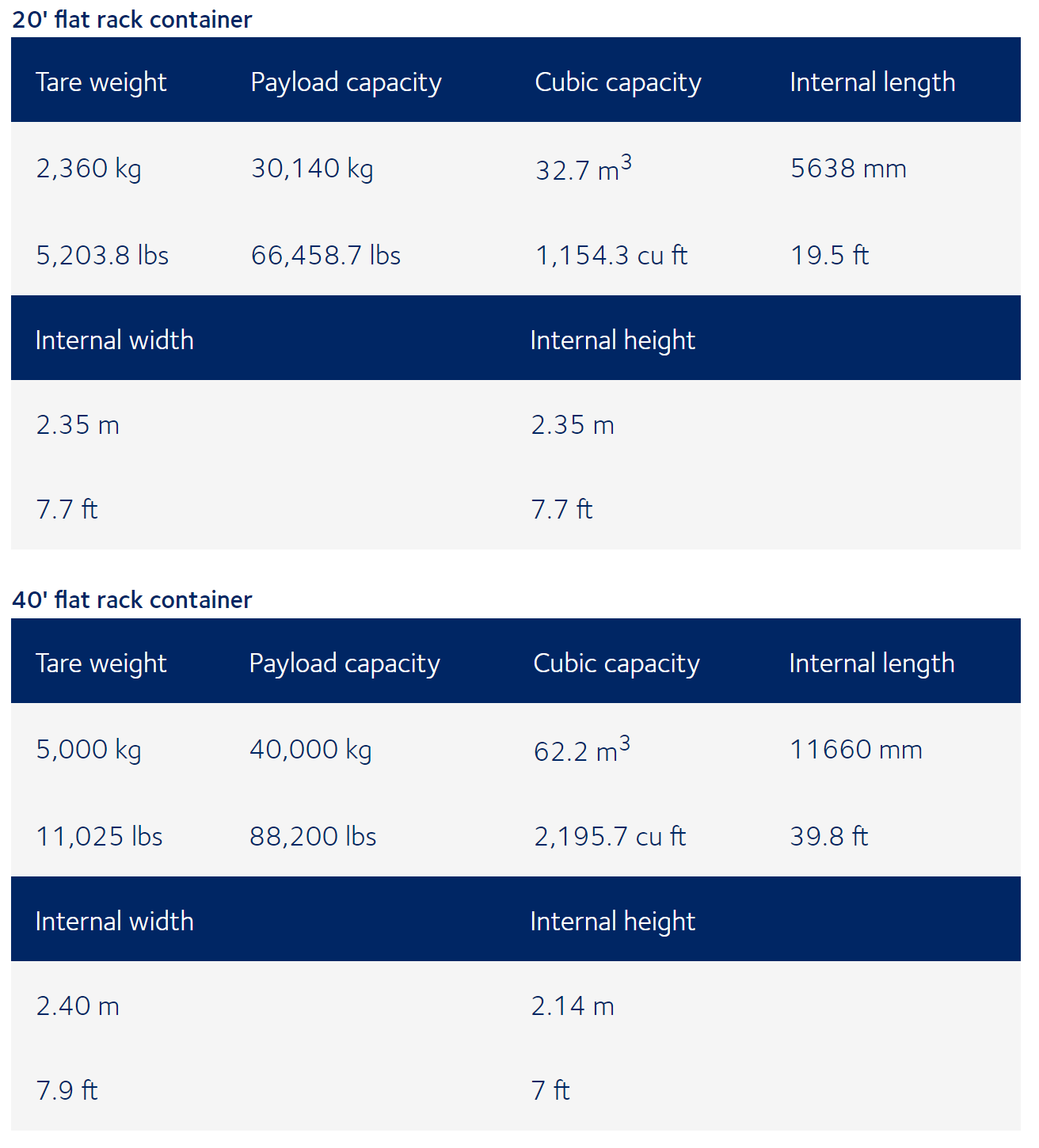 High cube container
High-cube containers ensure that you gain an extra foot (30cm, about 12 inches) in height compared with normal dry containers. They are ideal for light, large-volume, or bulky cargo. These oversized containers are available in 40' and 45' sizes.

High cube dry container dimensions (FYI): Specific dimensions and capacity of high cube dry containers may vary depending on the container manufacturer, the age of the container, and the owner.

The specifications listed below are representative of most containers.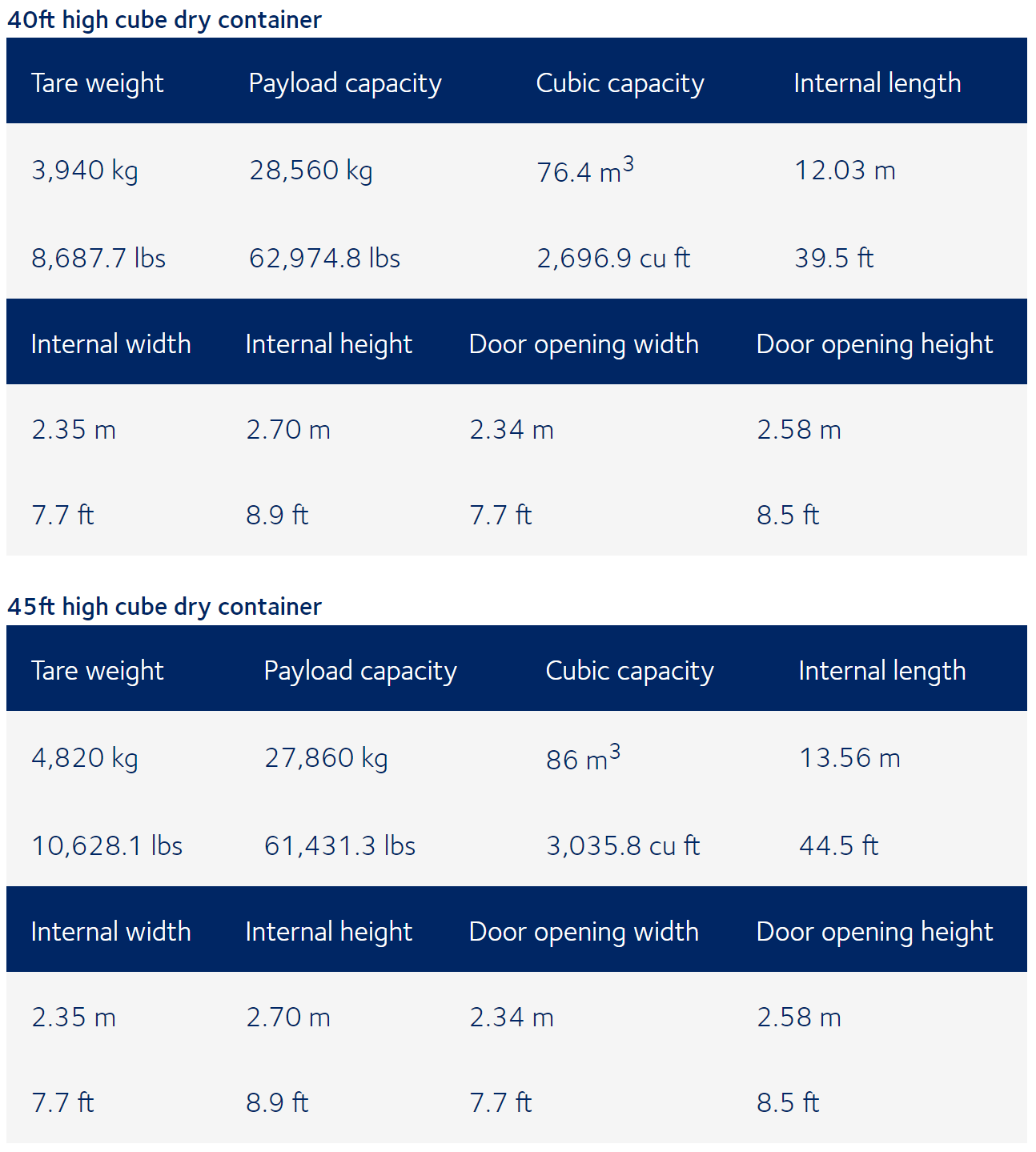 Open top container (OT container)
As the name suggests, open-top containers have an open top covered by a tarpaulin rather than a solid roof. This allows oversized goods such as timber and scrap metal to be loaded from the top. Open-top containers also usually have end doors, just like closed containers, to provide flexibility in loading and unloading.

Open top container specifications (FYI): Specific dimensions and capacity of open-top containers may vary depending on the container manufacturer, the age of the container, and the owner.

The specifications listed below are representative of most containers.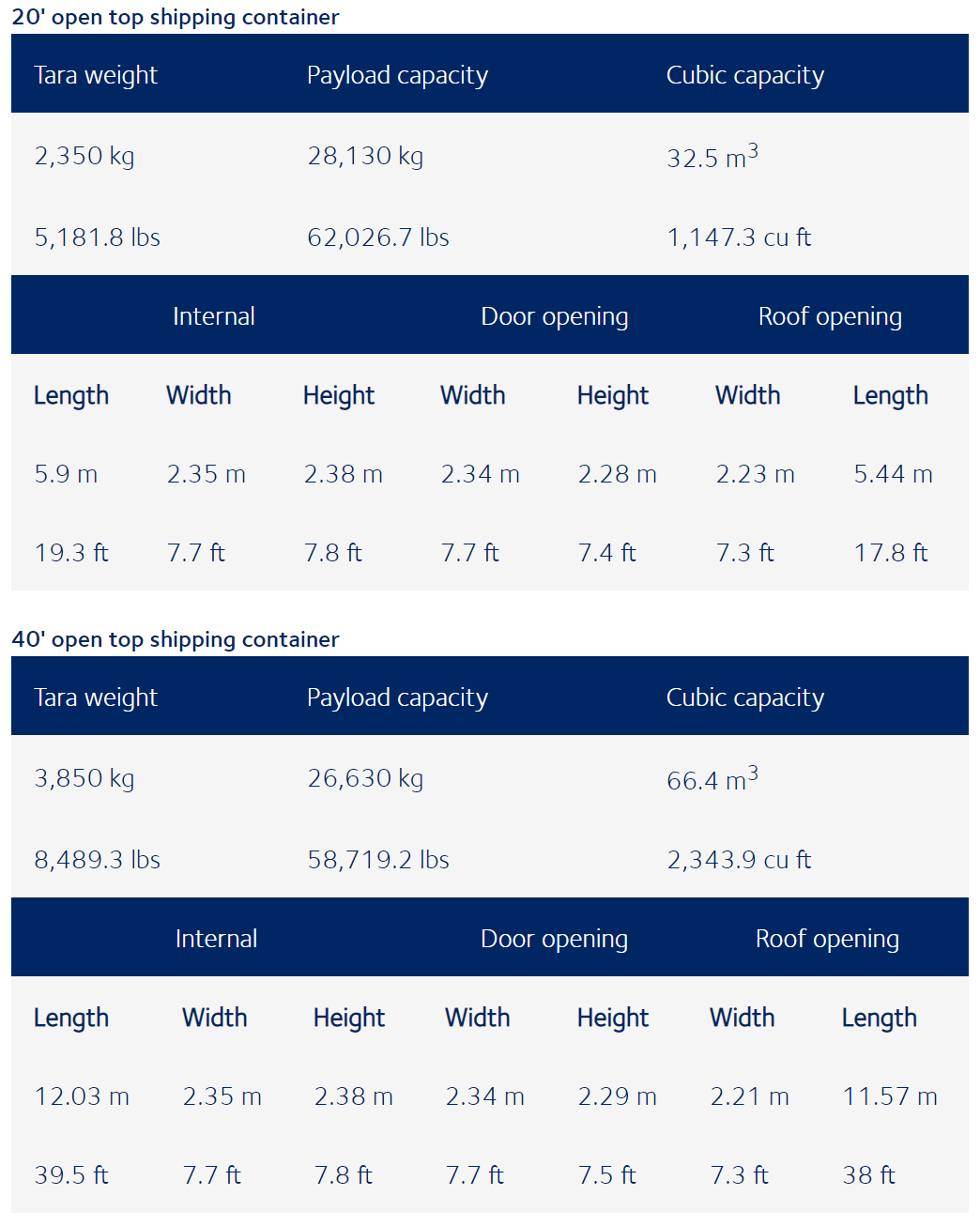 Platform container
A platform container is a container without sides, ends, or a roof, which is used to carry odd-sized goods that do not fit inside any other type of container.

Platform container dimensions (FYI):
Specific dimensions and capacity of platform containers may vary depending on the container manufacturer, the age of the container, and the owner.

The specifications listed below are representative of most containers.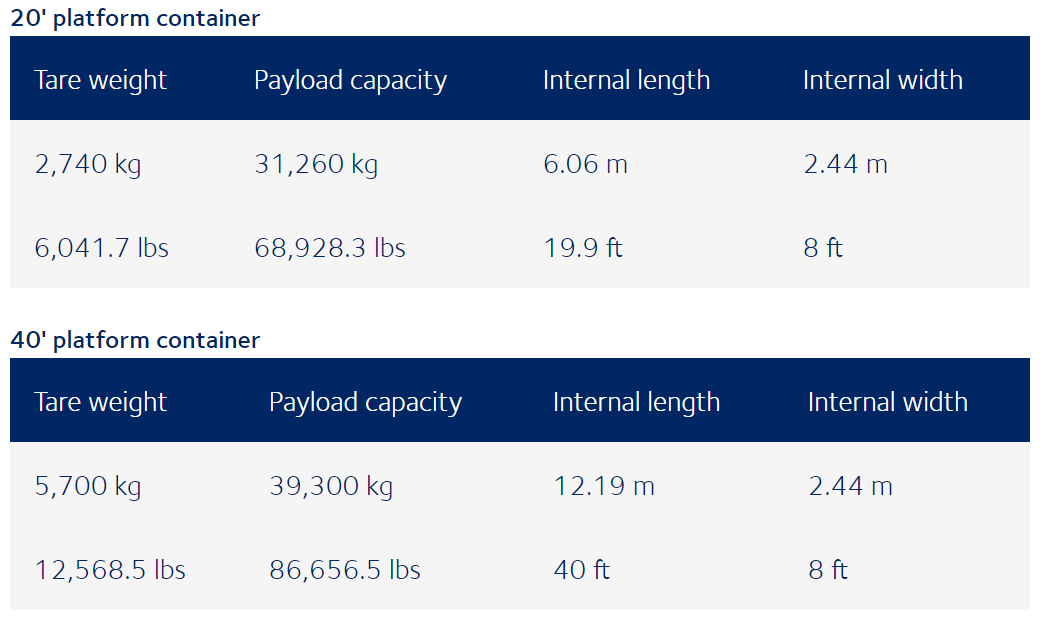 Reefer container
Reefer containers or refrigerated containers are used to ship goods that require temperature-controlled conditions during transport. Products such as vegetables, dairy products, fruit, and meat are typical goods that are transported in such shipping containers. Reefer containers are equipped with a refrigeration unit that is connected to the electrical supply on board.

Reefer container dimensions (FYI):
Specific dimensions and capacity of reefer containers may vary depending on the container manufacturer, the age of the container, and the owner.

The specifications listed below are representative of most containers.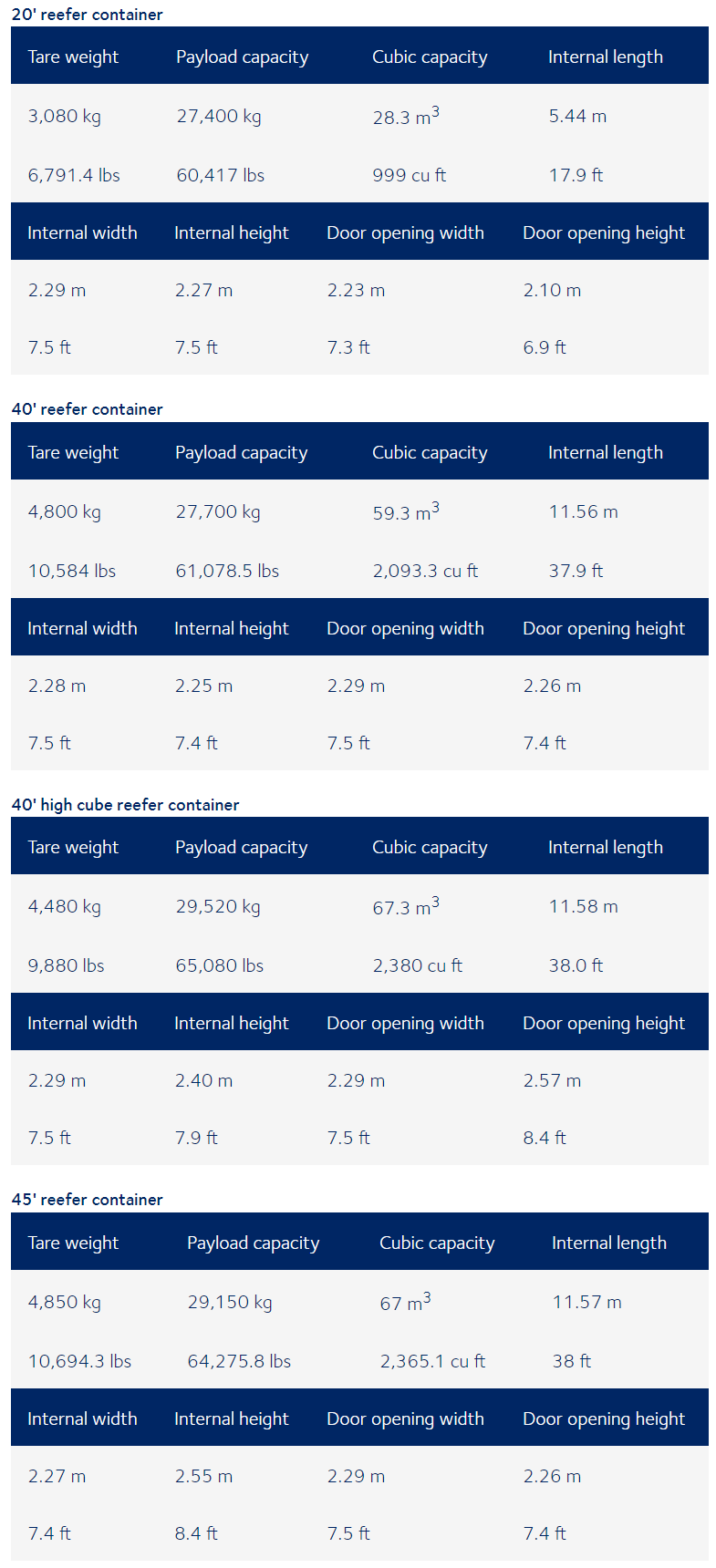 Garments on hangers container
Garments on hangers (GOH) containers are used to transport high-quality garments. These containers give customers the option of using a rope or bar system or a combination of both. GOH containers offer greater flexibility, greater internal load capacity, and savings in transport and handling costs. GOH containers are available in 20ft and 40ft sizes.

GOH container dimensions and specifications (FYI):
Specific dimensions and capacity of GOH containers may vary depending on the container manufacturer, the age of the container, and the owner.

The specifications listed below are representative of most containers.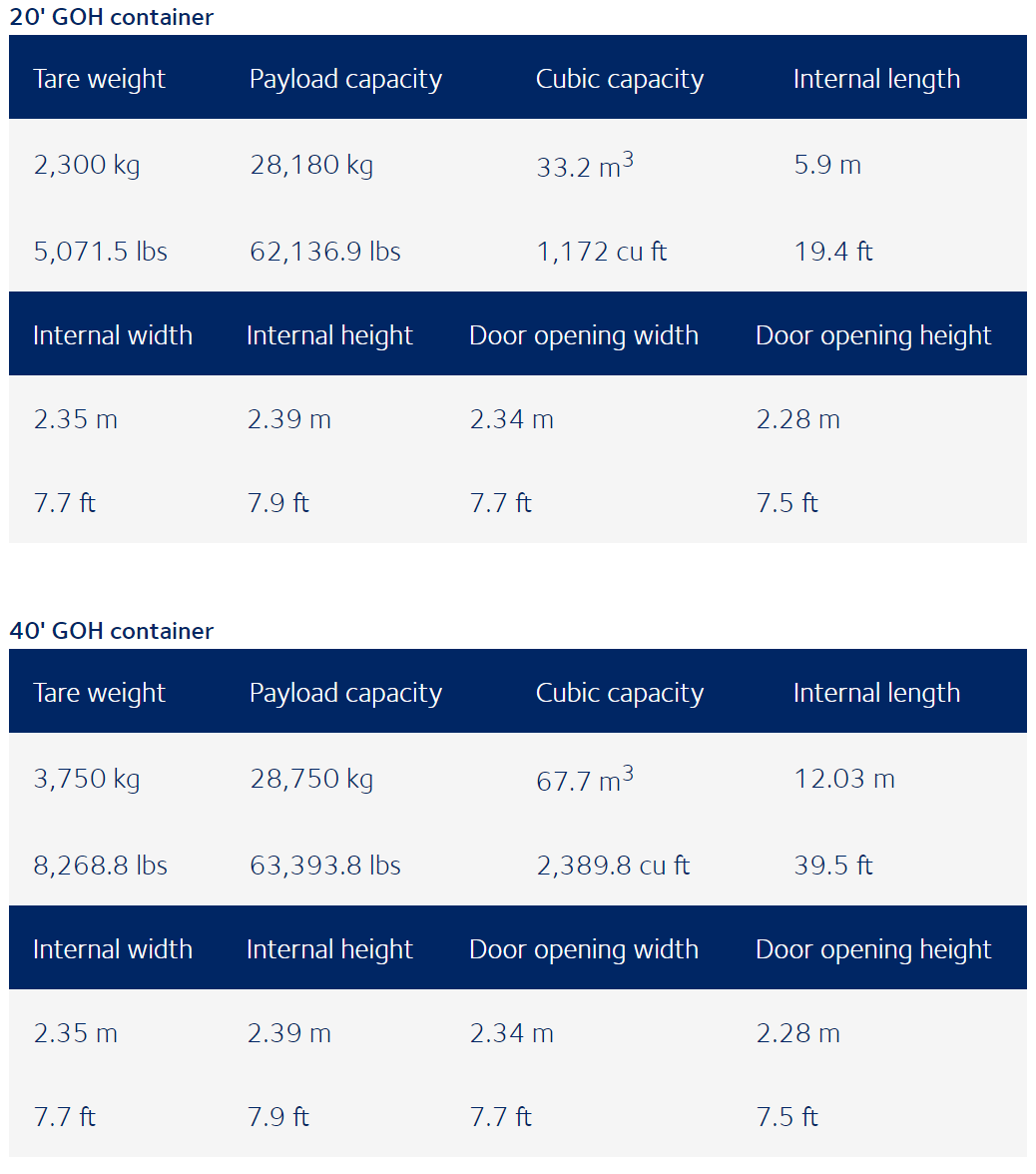 Standard Shipping Container Sizes/Dimension
40' and 20' Standard, 45' and 40' High Cubes, and 40' Open-Top are Standard shipping container sizes.
20 Feet Standard Shipping Container-External Internal Dimensions Size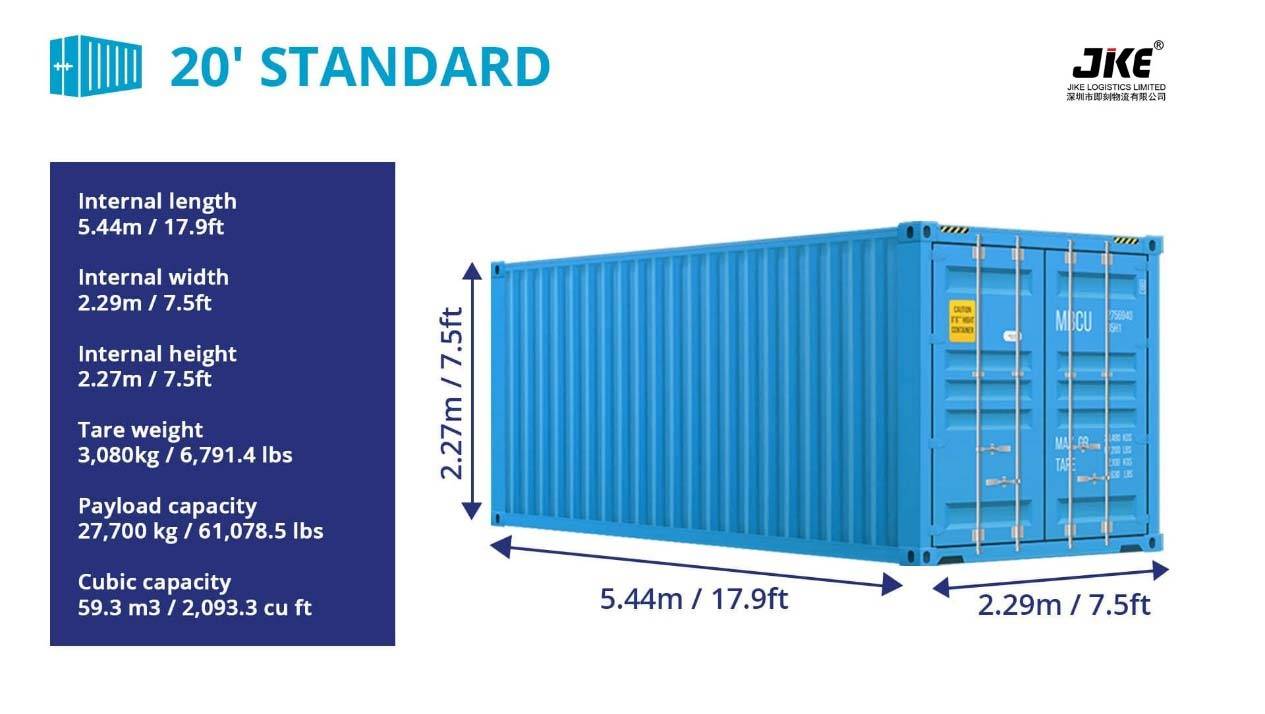 40' Standard Shipping Container-External Internal Dimensions Size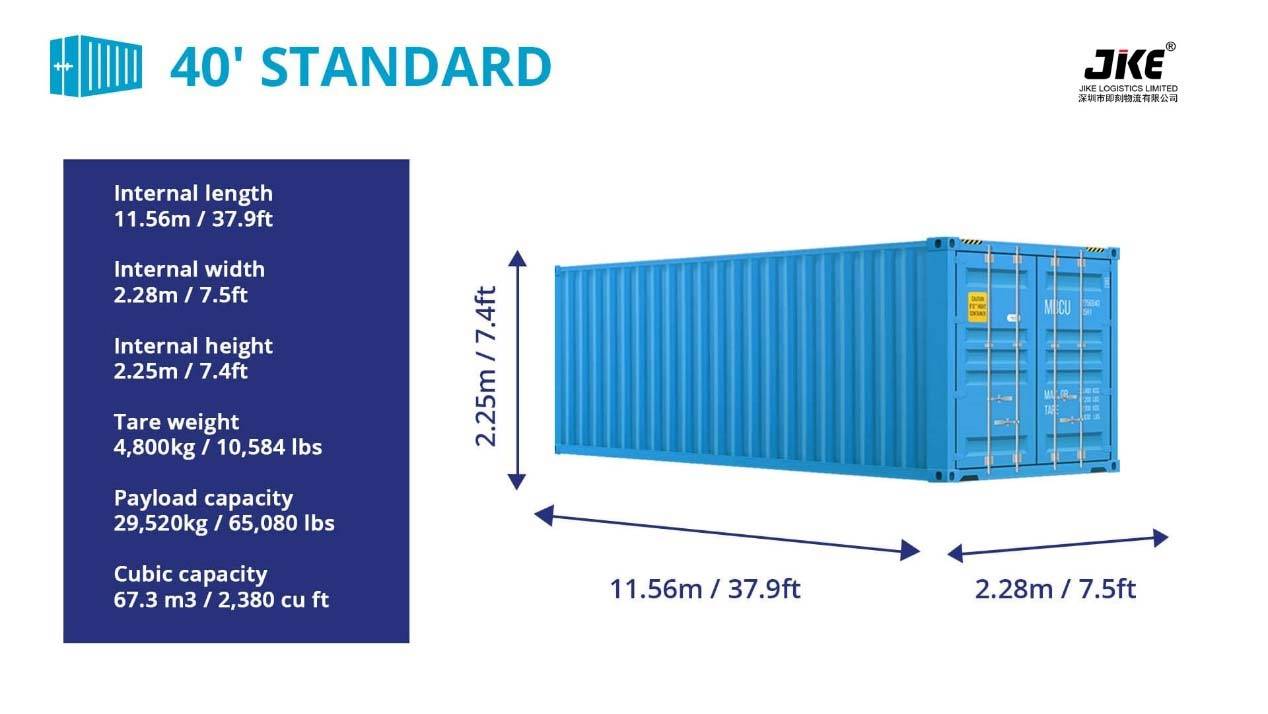 40' High Cube Shipping Container-Internal External Dimensions Size
45' High Cube Shipping Container- Internal External Dimensions Size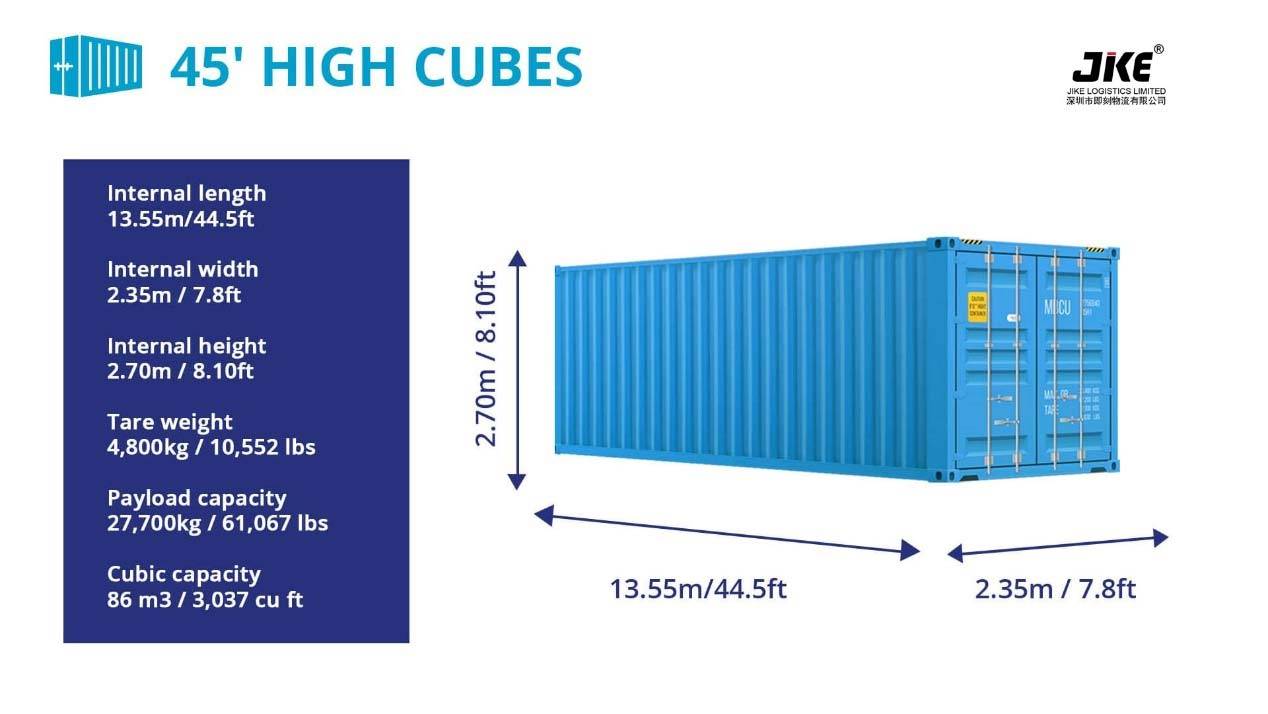 40' High Open-Top Shipping Container- Internal External Dimensions Size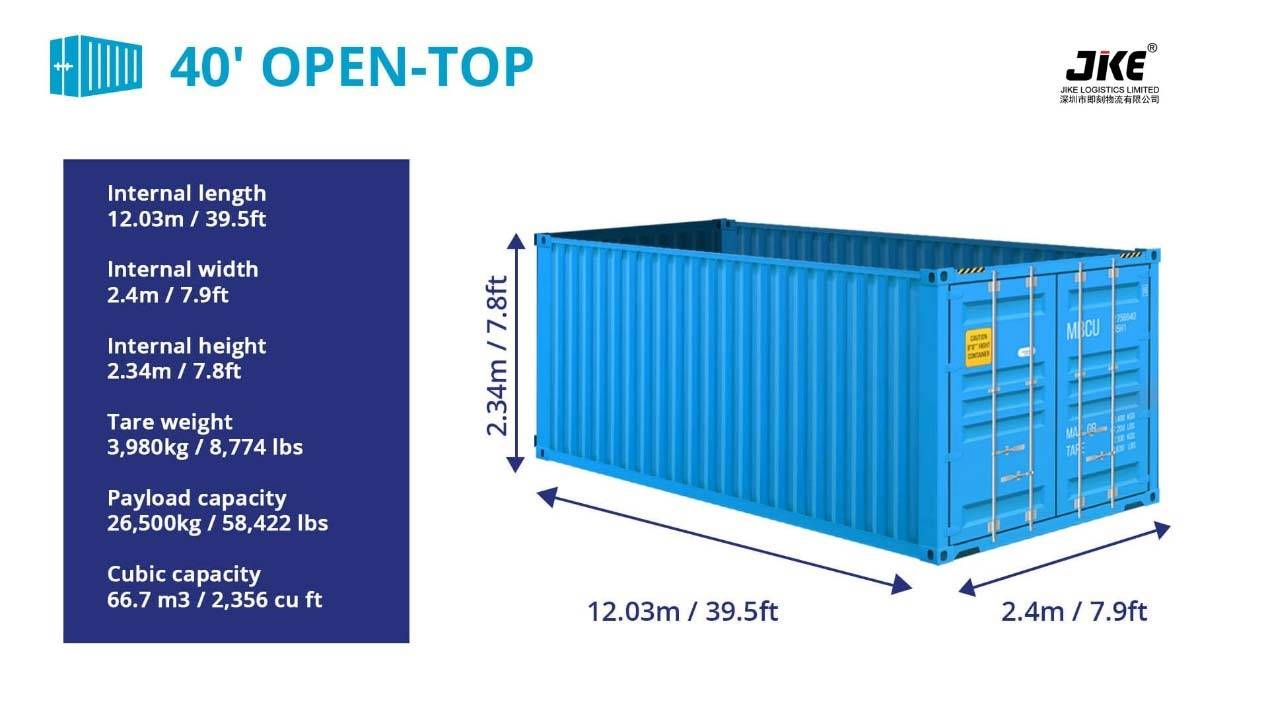 Part3. Sea freight service Process/ocean transport flow chart
FCL Flow Chart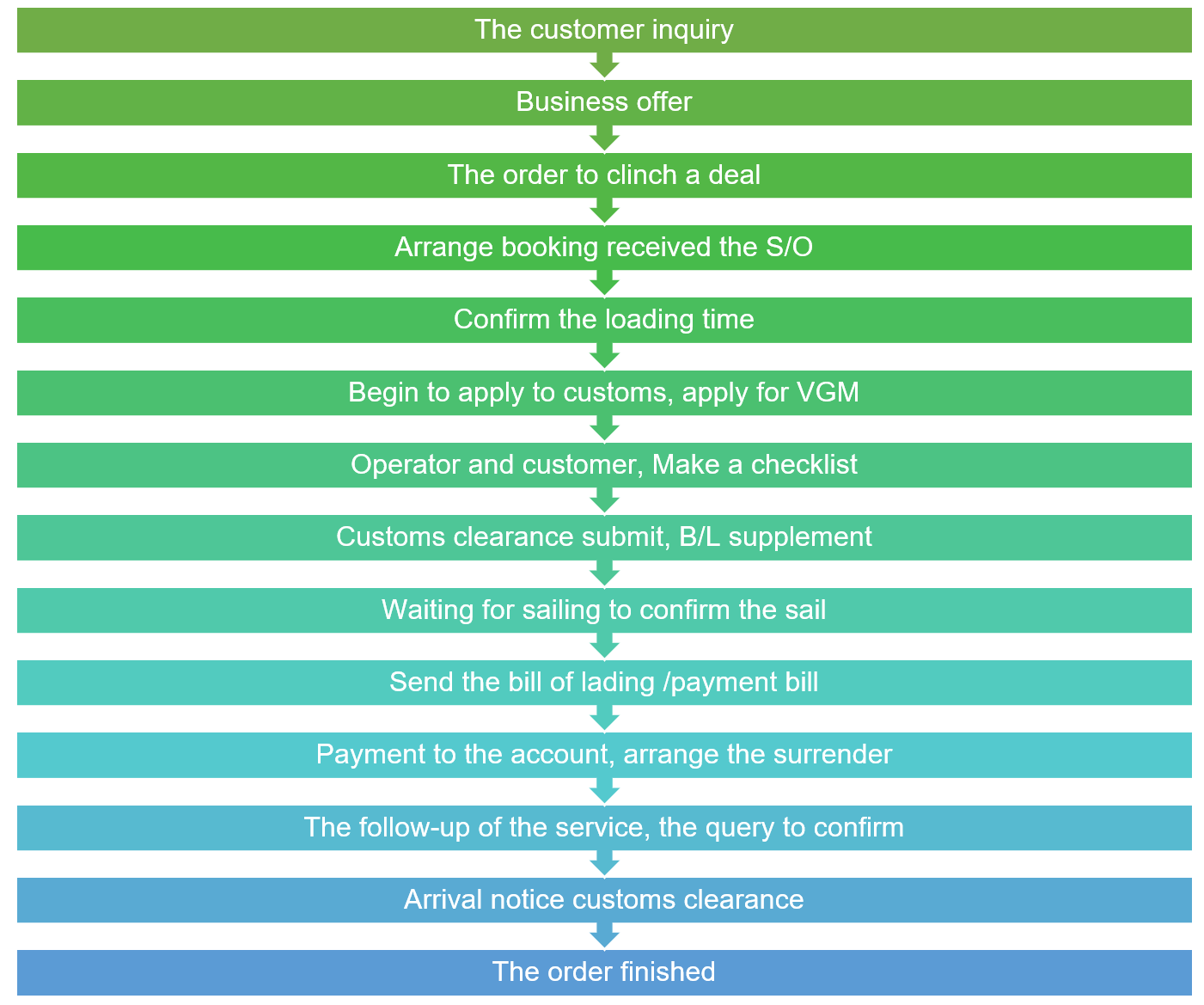 LCL Flow Chart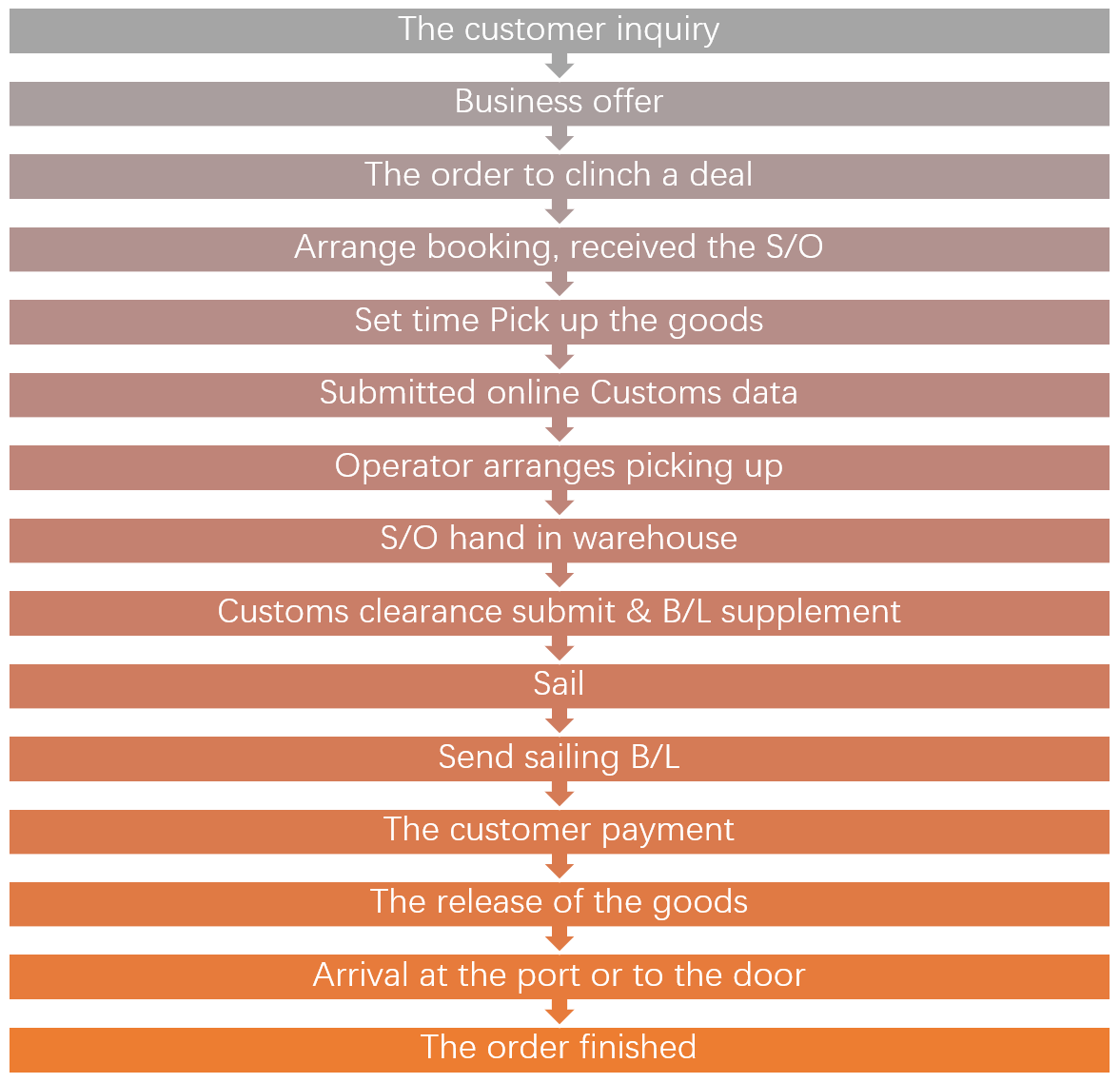 Part4. Main Sea Ports in China – Know the eight major seaports you want to Ship from China
Sea freight services are mainly shipped from ports such as Shanghai, Shenzhen, Qingdao, Dalian, Xiamen, Tianjin, Ningbo, and Guangzhou to destinations around the world.

The following are the eight major seaports in China.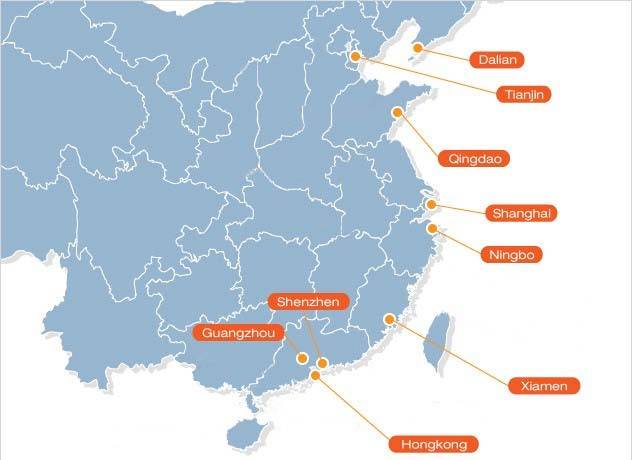 Port of Shanghai
Shanghai seaport is one of the largest and busiest seaports in China.

It is located in Shanghai, bordered by the East China Sea to the east and Hangzhou Bay to the south. The port handles a large volume of cargo, with records as of 2016 showing that it handled a historic 37 million TEU of cargo in that year alone. The port currently has an annual cargo tonnage capacity of approximately 514 million TEUs and a container capacity of 37.133 million TEUs.
Port of Guangzhou
Guangzhou is a very important economic city in China, which is the main trading center for the southern part of the country.

The city plays an important role in the development of the Chinese economy. As a seaport, Guangzhou is located in the city of Guangzhou in China's Guangdong province. Its maritime trade reaches more than 300 ports in over 80 destinations worldwide.

Note that the port is also a major economic and transport hub for Guangdong and the Pearl River Delta region. Numerous industries in Guangzhou and the surrounding towns, namely Hubei, Hunan, Guizhou, Yunnan, and Sichuan, also rely on this seaport for transportation among other trade-related activities.
Port of Tianjin
Tianjin seaport is the largest port in northern China. It is located on the western shore of Bohai Bay, centered on the mouth of the Haihe River, 170 km away from southeast of Beijing. It covers 121 square kilometers of land surface and has over 31.9 kilometers of quay shoreline.

The Port of Tianjin remains the largest man-made seaport in mainland China and one of the ten largest in the world. Rated as the fourth largest seaport in the world in terms of cargo throughput, Tianjin Port is a major trading center in northern mainland China.

Starting as a small port, Tianjin has rapidly grown to become one of the largest and busiest seaports in the world. The port is connected to over 600 ports in more than 180 countries around the world. This reference gateway underlines its strategic importance for Beijing.
Port of Xiamen
The port of Xiamen is located in Fujian Province, on the southern coast of China. This port can handle sixth-generation large container ships and connects 68 routes to over 50 countries worldwide.

It is an important port as some of the world's top shipping companies have established their hubs and routes here.

Owned and operated by the Xiamen Port Authority, the port has a cargo handling capacity of over 1.3 million containers TEUs.
Port of Ningbo-Zhou Shan
This is a deep-sea port with modern infrastructure and other developments. The port is located in Ningbo and Zhoushan on the shores of the East China Sea.

Ningbo and Zhoushan are located south of Hangzhou Bay in Zhejiang Province, across the bay from Jiaxing and Shanghai. Ningbo's excellent hinterland and natural conditions as well as Zhoushan's industrial advantages make this port a rather attractive one.

The continuous development of this port continues to increase its demand in terms of cargo transportation. The port can currently handle over 100 million tons of cargo per year. It also serves more than 560 ports in over 90 countries worldwide.
Port of Shenzhen
The Port of Shenzhen is growing, with annual container throughput exceeding the 25 million TEU mark.

The port is spread over 260 kilometers of coastline in Shenzhen, Guangdong Province, China. Unlike the other ports we have mentioned above, the Port of Shenzhen is not a single port. It is an umbrella term for the various ports located along the Shenzhen coastline.

The goods transported through the port of Shenzhen mainly include fertilizers, coal, oil, ores, sugar, steel, cement, grains, etc.

This port is one of the fastest-growing ports, with an annual growth rate of over 20% in both cargo and container throughput.

Nowadays, Shenzhen port is deemed globally as one of the largest and busiest seaports in the world.
Port of Qingdao
The Port of Qingdao is large and busy in China.

Like Shenzhen, Qingdao was formed by the merger of three ports and is now one of the largest shipping and logistics centers in North East Asia. This port includes 15 terminals with 73 birthplaces and it is mainly engaged in the transportation of coal, crude oil, ores, and other types of cargo.

The port has many shipping companies established here. It operates routes serving more than 450 ports in over 130 countries and territories around the world.
Port of Dalian
Dalian seaport is mainly engaged in the transportation of crude oil, containers, refined oil products, coal, grains, bulk minerals, chemical products, and many other cargoes.

This port in Liaoning Province, China is considered to be one of the most northern ice-free ports in China. The port of Dalian is the main gateway to the Pacific Northwest, serving routes across South, South, and East Asia, North America, and Europe.

It is also the largest container transshipment center in mainland China. This seaport is quite large as it has a water area of approximately 346 square kilometers and a land area of approximately 15 square kilometers.

The port has a considerable number of loading and unloading facilities. It also has around 80 modern berths in production. Thirty-eight of these are deep-water berths for vessels with a deadweight of over 10,000 tons.
In a nutshell, the top 8 Chinese ports in terms of traffic are located on the east coast of the country, from Shenzhen to Dalian in the northern part. If you have no idea which port to choose. Please contact JIKEship now, we can help you choose the correct seaport, to save time and costs!
Part5. International Shipping Incoterms
Sea Freight Service Incoterms
Incoterms or International Commercial Terms are terms mentioned in the international trading rulebook. These terms can be a little confusing and overwhelming for those who know little or nothing about the shipping process.

Each Incoterm relates to a specific set of responsibilities and rules that every interested party internationally needs to comply with. These Incoterms have an impact on the cost of your insurance. We use these Incoterms to set out the details of the transport agreement.

The picture below VIVIDLY shows risks and costs borne in incoterms between sellers and buyers. We recommend you save it for future use.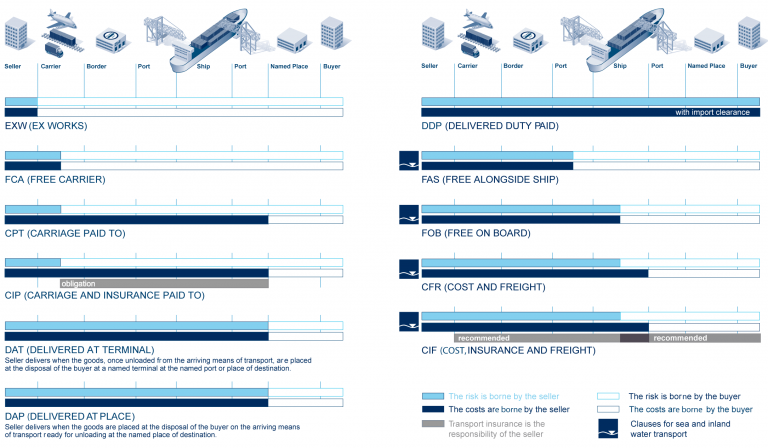 EXW(Ex Works)
The seller is responsible for making the goods available and ready for dispatch when coming out of the factory. The buyer is responsible for the shipment from the reception of the goods outside of the factory to the final delivery location.
FOB(Free on Board)
Under these terms, the seller has to bear all the costs and risks up to the point where the goods are loaded onto the vessel and arrange for export clearance as well. After that, the responsibility is transferred to the freight forwarder, until the final delivery location.
CFR [Cost and Freight]
The seller is required to pay for the carriage of goods up to the designated port, which means origin costs, freight costs, and also export clearance should be taken care of by him. Its risk passes to the buyer after the goods are loaded on the container in the port of departure.
CIF [Cost, Insurance, and Freight]
CIF is almost similar to CFR. The only difference is that the seller is required to cover insurance for goods being shipped. At JIKEship, we will insure the goods for 110 percent of the contract value per standard norms. Release clients' worries.
Part6. Documents needed when shipping from China by sea
It has a lot of documents that clients must fill in appropriately. Besides, clients must submit them to the correct authorities before the shipping of goods commences. The amount of paperwork needed in ocean freight service is quite a lot. Clients should be very careful when filing each of these documents.

*Don't worry! JIKEship can help you with the paper filing process.

So, it is not suggested to leave everything to the freight forwarder you choose. Clients are supposed to be part of this process. Knowing what and how documents to fill in, and what the freight forwarder is doing will also help you to ensure that everything in the transportation process is running smoothly.
1. Bill of Lading (B/L)
It shows the name of the consignor, the consignee's name, the ship owner's name, the name of departure, port, freight price, marks, and the number of the goods shipped.
A written certification is given by the shipping company to the consignee.
The evidence of a contract between a shipping carrier and shipper.
It reflects that the shipping carrier has received goods from a particular seller for shipping to a designed destination.
2. Commercial Invoice (CI)
When purchasing goods in China for importation, the seller will give clients a commercial invoice, to show that client has purchased a certain type and amount of goods from him/her. It details the agreement between the seller and the buyer, including the terms involved in the sale and purchase of the goods.
3. Packing List (PL)
It is a list of items included in a particular shipment, such as the type of goods, weight, packaging material, etc.

A packing list is also an importation document in the verification of goods during loading, offloading, and customs clearance.
4. Certificate of Origin (C/O)
A Certificate of Origin is a document detailing the location of the origin of the item being transported. It is often requested for trade and customs requirements and is also used as a document to assess tariff treatment.

Some countries require the importer to provide this document so that the goods can be verified by customs/trade authorities.

Therefore, when shipping from China, always check with your local customs department to find out if you require a C/O. If so, then ensure that your supplier in China applies for the appropriate one for you.

Tips: JIKEship can help you arrange C/O
5. Insurance Certificate
If the goods you are shipping from China are insured, then a certificate of insurance will be issued to you.

This is to assure you that if the goods are lost or damaged in transit, compensation will take place. The insurance certificate guarantees compensation for the full value of the goods lost, stolen, or damaged.

Tips: JIKEship provides you with Insurance service
Part7. FAQ | Most Frequently Asked Questions
How much does Sea Freight Service cost?
Freight rates are not fixed. They are dependent on several factors.
Weight, size, and type of goods to be shipped (containers you choose)
Shipping route: departure and destination
Ship carrier you choose
slack season and peak season
You can always contact the JIKEship team and request a quote to receive a detailed freight cost breakup!
How long does Ocean Transport take?
As we know, ocean shipping is one of the slowest means of transport. JIKEship can provide an estimated time of arrival when shipping your order from China ports to different places.
From China to Europe: 25-28 days
From China to USA and Canada: 20-35 days
From China to South America: 30-45 days
From China to Africa: 30-45 days
From China to India: Due to proximity, goods from China get delivered within 15 days
From China to Australia: 15 days
From China to Southeast Asia: 9 days
From China to South Korea: 4 days
JIKEship will provide you with an estimate of the transit time based on your freight order. Like any other form of international shipping, ocean transport has its own set of challenges. Sometimes, delays become inevitable. The common reasons for the delay are the following:
-Bad weather affecting the traffic
-Congestion at the ports
-Holidays affect export schedules from China
-Issues with customs clearance
-Space insufficient in the vessel booked
-Covid-19 prevention and control policy
Which types of FCL containers are commonly used?
The most popular types of FCL containers available are 20 feet, 40 feet, 40 feet, and 45 feet. For details such as dimension and capacity, you can Click here to Check.
FCL or LCL, which one should I opt for?
You should choose FCL transport in the following cases
- When your cargo weighs more than 10 tons: in this case, the rate for FCL transport may be lower than for LCL transport.
- When your cargo is urgent. With FCL you can save the time required for consolidation.
- When you want your cargo to be safe. With FCL, you have the entire container to yourself, so you can minimize damage when your goods come into contact with other cargoes.
If your cargo is between 0 and 15 cubic meters in volume, consolidation (LCL) is better and cheaper. Please contact JIKEship for more information.
Can I transport cargo from different cities in China in ONE shipment?
Definitely yes! You can contact JIKEship with the addresses of where you've bought the cargo. Then we will collect them for you. Even if you've bought goods in Yiwu, Shenzhen, Shanghai, etc., we can gather all the items, load them in containers and transport them to your place.
How to transport OOG, Projects, Oversized and Heavy Cargo from China?
You can trust us to transport OOG cargo from China. We can deal with not only dry cargo, but also any heavy, oversized, or irregularly shaped cargo. OOG cargo is always loaded on open-top (OT) or flat rack containers (FR). For OOG cargoes we will select the best carrier according to the strengths of each shipping carrier.
√Competitive ocean freight rates.
√Guidance on how to properly consolidate the cargo in the container.
√Supervision the loading of each OOG shipment.
√Extensive experience in handling OOG cargoes with the best ocean transport solutions.
If you are looking to transport oversized and heavy cargo from China or looking for solutions to transport bulk cargoes such as RORO and LOLO, please contact JIKEship and request a freight quote.
Why choose JIKEship as your Sea Freight Forwarder in China
We operate ocean transport from China to the world and release clients' worries worldwide. We will offer customized service according to the goods' situation, taking the shipment's production and delivery dates into account and giving clients the most efficient ocean transport solutions.

We provide clients with the following ocean transport solutions:
LCL (Less than Container Load): Exports and Imports;
FCL (Full Container Load): Exports and Imports;
LCL-FCL: various shipments consolidated together and then shipped and delivered as FCL;
FCL– LCL: cargo loaded in a container at agreed location but delivered to multiple addresses at the destination.

Features of our Ocean transport
Our Ocean transport stands for reliability, flexibility, and transparency. JIKEship's team of sea freight specialists simplifies the logistics and saves costs for you. Features of our sea freight service can list as follows:
Several sailings per week;
The presence of the Space Protection Program;
Timely and accurate information;
Transparent (CFS) charges;
Additional handling services tailored to your expectations.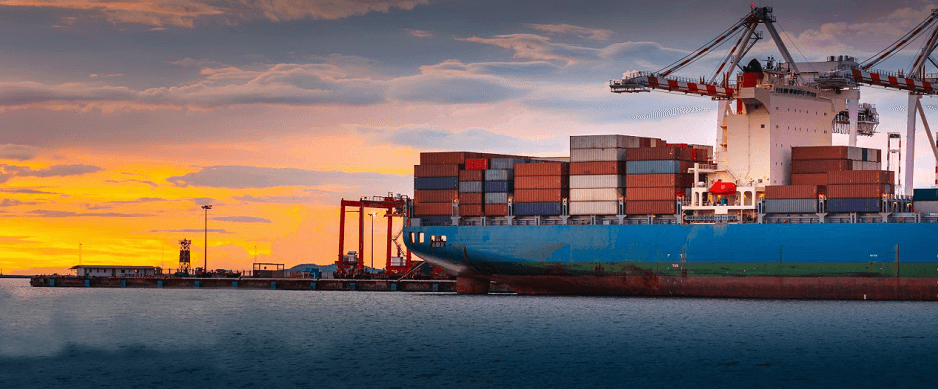 A professional, steady and reliable service Despite volatile market conditions in ocean transport, we strive to offer clients a reliable service. We continuously negotiate with selected carriers (APL, CIMC, CMA, COSCO, EMC, HMM, HPL, MISC, MSC, MSK ONE, PIL, WHL, YML, ZIM, etc.) on market-based rates and availability of space. As a result, our customers receive an excellent ocean transport service and do not worry about the market situation.

In a nutshell, JIKEship is the very freight forwarder whom you can rely on!