Shipping to Morocco from China
JIKE is an established company with more than 10 years of experience and we are committed to one thing: service! We can arrange shipping to Morocco, airports in Morocco and other countries.

Bilateral trade between Morocco and China has grown rapidly in the last five years, mainly due to the fact that Moroccan imports have almost doubled in the last five years. Bilateral economic cooperation has achieved remarkable results in many areas, particularly in commerce, fisheries, agriculture, mining and energy.
Guide to Shipping in Morocco
I guess you want to buy goods from China and ship them to Morocco, so this guide is just what you want, we will show you the different ways of shipping to Morocco and the problems you will encounter on the way. In this guide, you will also get an idea of the costs involved or some customs issues.
Part 1.Customs system in Morocco
The Moroccan Customs Service is part of the Ministry of Finance and, together with the Domestic Indirect Tax Service, forms the Customs and Indirect Taxes Department, which participates in the formulation of customs policy and has the following tasks: investment promotion, consumer protection, protection of the national economy and tax collection.
Customs duties, advance import duties and VAT
In order to stimulate domestic production, protect the development of the national economy, accelerate its integration into the WTO and bring the Moroccan economy into line with the international economy, Morocco has made important adjustments to its customs tariffs since 4 June 1993 and has since adjusted several tariff lines.
The three main types of taxes levied on imports in Morocco are customs duties, import advance taxes and VAT. The customs tariff is divided into 10 bands of 0%, 2.5%, 7.5%, 12.5%, 17.5%, 25%, 30%, 35%, 40% and 45%; the import levy is always 12.5%; and the VAT is divided into three bands of 7%, 14% and 19%. Both customs duty and import advance tax are calculated cumulatively on the value of imported goods, while VAT is calculated again on the value of goods after the first two taxes have been levied. For example, a 45% customs tariff on imported goods, plus import pre-tax, plus VAT at 7%, could result in a final cumulative tax rate of 68.52%, or 79.55% if the VAT rate is 14%, or 87.42% if the VAT rate is 19%.
  Moroccan tariff exemptions are granted for products in three main areas: industrial equipment that cannot be produced in Morocco for use in factories outside the city of Casa, equipment for agricultural use; products that are imported and processed for re-export; and products from favoured countries according to international agreements, such as those between the Maghreb countries, and between Arab countries. 
1. Be aware of the consignee's situation.
→ Proof of identity for the importation of personal effects: The Moroccan customs agency requires proof of identity of the consignee for each imported shipment.
→ Authorisation for customs clearance for the importation of personal effects: the courier will request that the consignee be asked to complete and sign a letter authorising customs clearance. Note: If the shipper has pre-selected the option to pay customs duties, VAT and other customs related fees (i.e., duty prepaid shipments are exempt from this type of clearance authorisation process), no clearance authorisation is required.
2.Two payment options.
Consignor Payment, i.e. Duty Prepaid Service
-Nowadays, if you (on behalf of your customer/consignee) pre-select to pay DHL/Courier all relevant charges when booking the delivery service, the courier will pay the customs duties and VAT and refund the remaining charges (if applicable, together with any other charges required for customs clearance) after settlement. This way there is no charge to the customer/consignee in Morocco.
Payment by the consignee
This means that customs duties, VAT and other charges required for customs clearance will be charged to the consignee in Morocco. Final delivery of the goods will not take place until the consignee has paid the customs duties, VAT and other fees required for customs clearance.
Bill of lading requirements
A 4-digit HS code must be shown in the cargo description.
From 1 March 2019 (arrival date at the port of destination), for all shipments to Morocco, the consignee and notifier must provide the ICE NO. (15 digits) and must be shown on the bill of lading.
The mode of transport must be CY-FO.
Customs clearance documentation requirements
Commercial invoice

Packing list

Bill of Lading

Import Declaration Form (IDF Form C-61)

Customs Declaration of Value (Form C-52)

Commercial Inspection Certificate (Certificate of Compliance), for animals, animal products and plant products, a health quarantine certificate is required
7)Import Licence Certificate required if approval is required
Certificate of Origin
(9) Foodstuffs, with a certificate of analysis of ingredients
As different countries have different import requirements and adjust them from time to time, we recommend that the sender consult with the local recipient before exporting the shipment to ensure normal transit, customs clearance and delivery of the shipment. Please refer to the local customs requirements, this article is for reference only.
Part 2.Sea freight from China shipping to Morocco
Morocco's main ports include: Agadir, Casablanca, Jadida, Essaouira and a dozen others, with Casablanca being the largest port city in Morocco.
Casablanca/Darbeida
Located on the northwest coast of Morocco, about 88km northeast of the capital Rabat, on the eastern side of the Atlantic Ocean. It is also known as Dar El Beida and is the largest port in Morocco.It was founded in 1770 and developed into a maritime trading centre at the end of the 19th century.
Agadir
Located on the north-eastern shore of the Gulf of Agadir, on the south-west coast of Morocco, on the eastern side of the Atlantic Ocean, it is Morocco's iron ore export port and one of the main fishing ports. The port was damaged by an earthquake in 19960 and now consists of the ruins of the castle and the new town to the east of the port and an industrial area to the south east of the new town. The port also has a sheltered anchorage, which provides shelter from the north-easterly and easterly winds. The port is approximately 9km from Inezgan International Airport and is served by regular flights.
Freight rates for containers are commonly charged as follows.
1.By specifying a minimum shipping cost
Specify the minimum freight level. For example, COSCO has set a minimum charge of seven categories of cargo, and all cargoes below seven categories are charged at seven categories.
Specifying the minimum freight tonnage. For example, Far East Shipping Company stipulates that the minimum freight tonnage for 20-foot container is 17.5 tons for solid weight cargo, 21.5 cubic meters for size cargo and 21.5 freight tons for W/M/. Minimum box load utilisation is specified. Cargoes not above this cargo class are charged at the specified maximum billing class.
2.Charges by specifying the maximum freight rate
Specify the highest billing tonnage: If the volume of the cargo exceeds the usual volume of the container, it is still charged according to the standard volume. If the container is billed at the rate of the grade package, and the grade of the container is different, the freight of the lower cargo grade can be exempted.
Container transport cost composition
1、Full container/full container: loading port haulage fee + terminal operation fee + freight + unloading port terminal operation fee + haulage fee.
2、Full container / LCL: haulage fee provided by shipping company + terminal operation fee + freight + unloading fee.
3、LCL/FPL: Packing fee + freight + unpacking fee.
4、LCL/ FCL: packing fee + freight + terminal handling fee + towing fee provided by shipping company.
Shipping to Morocco from Shenzhen to Morocco includes Casablanca and Agadir. The shipping companies that reach Morocco are HPL/MSC/EMC, which takes about 30 days.
Part 3.Air freight from China shipping to Morocco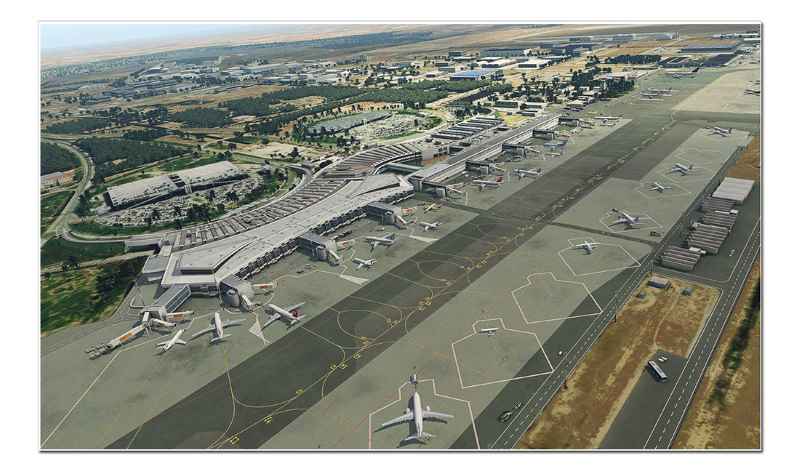 There are 27 airports in Morocco, including 11 international airports such as Casablanca Mohammed V Airport, Rabat-Salé Airport, Agadir Airport, Tangier Airport, etc.
Casablanca Airport
Casablanca (Mohammed V) International Airport, located 30 km south-east of Casablanca in the suburb of Nouasseur, is operated by the National Airports Authority and is the busiest airport in Morocco, with 6.2 million passengers in 2008. The airport is named after the late Sultan Mohammed V of Morocco.
Agadir Al Masirah Airport
This airport is an international airport serving the capital of the Souss-Massa region of Agadir, the main city in south-western Morocco. The airport saw a boom in Agadir and its tourism industry over the next few years, with new flights being introduced to AI Massira from new airports in the UK and Ireland
Guangzhou (CAN) → Morocco. Casablanca (CAS)
Guangzhou (CAN) - Riyadh/Jeddah (RUH/JED) - destination airport, information for the first leg: cargo plane/flight number SV979, flight week 147, type 747F; passenger plane/flight number SV885/SV883, flight daily, type B777-200. second leg flight week 23457, A/C773 wide-body passenger plane. Time limit around 5-7 days.
Guangzhou (CAN) - Istanbul (IST) - destination, first leg: Passenger/Flight No. TK0073, flight daily, departure time 23:00 - arrival time 05:25+1, type A340, freighter/Flight Week 47 (Flight No. TK6625/TK6517, departure time 02:50 - arrival time 12:35); Flight Week 5 (Flight No. TK6529, departure 05:30 - arrival 14:20), type A330F. 2 way daily A340+B738+A330F/D7. 3-5 days time limit.
Guangzhou (CAN) - Dubai (DWC/DXB) - destination, first leg: flight number EK9877/flight week 13, departure time 03:00 - arrival time 08:00, flight number EK9871/flight week 5, departure time 03:00 - arrival time 08:00, aircraft type B777F. time limit about 3-5 days.
Beijing (PEK) - Casablanca (CAS), transiting at ALG (Algiers), flight 15 weekly, AH3061 departure time 8:50, arrival time 14:20, flight 3 weekly, departure time 3:05, arrival time 8:35. 2 way flight information: B738, 135 continuation. A minimum charge of RMB 50 is levied for flights below 100K, and RMB 50 per ticket for the main European information. Time limit around 5 days.
Guangzhou (CAN) → Morocco. Casablanca (CMN)
Guangzhou (CAN) - Doha (DOH) - destination airport, information for the first flight: cargo/ flight QR8905, flight week 14 (departure time 03:25 - arrival time 07:20) week 6 (departure time 04:55 - arrival time 08:50), type A330-200F; passenger/ flight QR875, flight daily, departure time 00:30 - arrival time 04:00, type A330. The second flight is daily, type A332. 3-5 days.
Part 4.Express service from China to Morocco
There are often friends who need to send things from China to Morocco, but they don't quite understand what to pay attention to when sending things from China to Morocco, so here are some notes on sending things from China to Morocco.
First of all, we have to distinguish which category your products belong to, such as food liquid, paste, powder, electrically charged products, etc. are sensitive products, clothes and shoes belong to ordinary products, different types of products go through different channels, this can consult the relevant forwarding company or agent (that is, we).
We send parcels to Morocco (Morocco) mainly consider the price, time efficiency and reliability, the time efficiency of this channel is set, the same channel time efficiency is similar, the price of this difference is very large.
About the price
It is recommended that you find a forwarding company or agent, if you look directly for DHLUPS\FEXDE and other official channels that is very expensive, through the forwarding or agent company can get a very low discount price, there are other companies you can also refer to.
Check the tracking number of the logistics courier from China to Morocco
If you choose the international courier company is China Post, then you can check through the postal official.
If DHL will go to the DHL official website to inquire, and so on.
If you really will not also be able to serve you by asking us.
Customs duties
If you are worried about being taxed, you can ask your logistics company or forwarding company to give you a reasonable and legal reduction in the declared value of the goods, so that even if you are randomly checked, you will not be taxed. For example, if you have 100 mobile phone cases sent to Morocco, it may be considered as goods and taxed. If your customer gives feedback that it has taken a long time to arrive, then you need to check the parcel logistics tracking information and if it is taxed, then you need to consider paying the tax.
This varies from channel to channel, with different time limits. A few parcels with problems may be delayed.
Items prohibited or restricted for import by Morocco Customs (including but not limited to)
● Weapons, ammunition.
● Lighters using butane gas.
● Milk bottles.
● Ashes boxes
● Goods falsely marked as made in France or of French origin
● Human remains.
● Any article containing lead salt and jewellery imitating pearls made with this type of pearl.
● Live plants and animals.
● Goods whose measurement mark unit is contrary to French law
● Goods that are counterfeit and infringe intellectual property rights.
● Radioactive substances.
● Saccharin tablets or packets.
Part 5.FAQ with shipping from China to Morocco
FAQ
Q: How long does it take to ship my cargo from China shipping to Morocco?
A:Usually most companies will provide an approximate date when they do not know the exact date of arrival of your goods. In most cases, these dates are reliable. However, this in turn depends on the mode of transport and the efficiency of the shipping company in reaching the destination.
Q:My supplier has no right to export. Can you help me export the goods?
A: Yes, we will purchase the export licence and clear customs on your behalf and then send the goods to you.