Shipping to Vanuatu from China
JIKE offers competitive shipping services from any port in China to Vanuatu and provides the best shipping solutions for our customers. Airports in Vanuatu, shipping to Vanuatu, many problems solved for you. Feel free to call with your queries and our experts will get back to you within 24 hours.

The economic and trade between the two countries has been growing steadily since the establishment of diplomatic relations, and the total value of goods imported and exported between China and Vanuatu has shown growth and has been maintaining a rapid momentum of growth. Development. Overall, trade between the two countries is on an upward trend.
Guide to Shipping in Vanuatu
As a qualified businessman, it is important to know about shipping from China to Vanuatu and this guide responds to that very situation. This guide covers the various issues you may encounter when shipping to Vanuatu and you will then be able to handle them with ease and turn into a master in shipping.
Part 1.Customs system in Vanuatu
According to national customs regulations, any incoming goods need to be cleared before they can enter the country. Here we will give you a brief introduction to the import clearance process.
1.import for a single to the freight forwarder or shipping company for a D / O. (According to the hands of the bill of lading to determine where to change the bill of lading. HBL freight forwarder bill of lading MBL shipowner bill of lading)
2.customs electronic declaration a computer pre-recorded, review the single, sent, and customs contact / release.
3.inspection (three inspection) a electronic declaration of release, with a customs declaration of four in a link to the Commodity Inspection Bureau for quotation procedures, out of customs clearance or knock three inspection chapter.
4.Customs declaration a submit paper information (from 1 November 2014 [1], there are certain requirements for enterprise qualification).
5.Tax payment - Customs will assess the price and levy tax according to the tax rate under the corresponding code of the goods.
6.Inspection (if the Customs deems necessary) a Customs according to the regulatory conditions of the declared name of the goods, and the probability of inspection on the same day to give inspection, such as inspection will be issued a notice of inspection
7.release a customs release has the following steps: 1. a release 2. open a notice of inspection or no inspection directly 2 release 3. after inspection, do customs seal after release.
8.pick up a release, the consignee can pick up the goods to their own warehouse, sales, etc..
(1) Green channel: release within 45 minutes (for imports that do not pose a potential risk and do not contain prohibited and restricted substances).
(2) Yellow lane: release within 1 day (for imports that have incorrect tariff codes or require quarantine certificates or have a tendency to misrepresent the amount of duty).
(3) Red channel: release within 3 days (for imports that require immediate inspection or that present a high risk of fraud).
Vanuatu is in the process of implementing the WTO Customs Evaluation Agreement and therefore importers and exporters will need to contact Vanuatu Customs to confirm the new regulations prior to shipping. Vanuatu's tariff rates are based on the HS code system and are generally calculated on the basis of the CIF price of the goods, with rates ranging from 0-200%. Tariff rates for general commodities are maintained at 15-20%, with higher rates for luxury goods. No permits are required for imports, except for rice, flour, canned mackerel and tobacco products.
Individual commodities are prohibited from importation, such as fireworks. There are no restrictions on the export of goods, except for unprocessed shells and logs. Tariff rates range from 2% to 15%, with an average of around 3%. Exports of cultural artefacts are subject to approval by the Cultural Centre.
To protect the interests of domestic businesses, Vanuatu has high import duties, for example 230% on beer,
60% on paints, 82% on fruit juices and ice cream, 72% on fish products and furniture, 52% on cheese and 48% on vegetables.
Part 2.Sea freight from China shipping to Vanuatu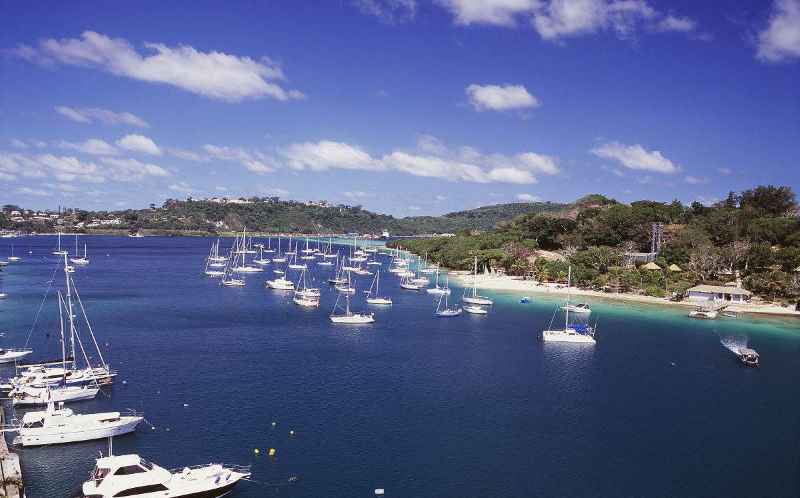 Vanuatu is located in the south-west of the Pacific Ocean and was founded in 1980 as an independent nation, consisting of more than 80 islands (68 inhabited), part of the Melanesian Archipelago, which has a tropical maritime climate throughout the year. There are three main ports in Vanuatu: Port Vila, Santo Island and Port Luganville.
PORT VILA
Port Vila has a tropical rainforest climate. The average annual temperature is around 22 to 27°C. The average rainfall is 2500mm throughout the year. The average rainfall throughout the year is 2,500mm, with a high tide difference of 1.2m and an average tide difference of 0.8m.
Port Vila is a good natural harbour, the main quay berth in the harbour is 213m long with a water depth of 10.6m. There is no large lifting equipment and loading and unloading is carried out by equipment on board. It can accommodate ro-ro vessels and can handle 20ft containers of 18 tonnes. The harbour is well sheltered against south-easterly winds and the anchorage is safe. The maximum berth capacity is 10,000 tonne ocean-going cargo vessels. The privately owned Adami Terminal can handle small LTL tankers and LPG vessels. There is a small tanker berth at the head of the Pare Bay oil terminal, which is restricted to small tankers and bunker barges.
Santo Island
Santo, Sanma Province, Vanuatu, sometimes called Santo Island, is the largest island in Vanuatu, with an area of 3955.5 km², and is part of the Sanma Province. The island is named after the Spanish word Espíritu Santo, which means "Holy Spirit". The capital of Sanma Province, Luganville, is located on the island.
Port of Luganville
Luganville is located on the island of Espíritu Santo in Vanuatu, the capital of Sanma Province, with a total population of 10,738. The port of Luganville is an important port in the country.
A LCL is called a consolidation because the cargoes of different shippers are put together in one container. This is used when the number of consignments from the owner is not enough to fill a full container. Sea freight LCL cargo classification, sorting, concentration, packing (unpacking), delivery and other work are in the carrier terminal container freight station or inland container transfer station.
1, CIF sea freight consolidation to the customer's designated port delivery, this situation is generally no direct agent in the local customer at the same time in order to allow the shipper to share the freight to disperse the risk of transport commonly used way.
2, FOB shipping LCL goods to the customer's designated warehouse in the domestic agent, this situation is the customer has a cooperative agent is responsible for booking warehouses, factory shipments only need to follow the requirements of the agent to send the goods to the port of origin warehouse can be.
FOB sea freight consolidation should be noted: the consignee agent's charges are generally higher; FOB because the agent is designated by the customer, the consignee is recommended to pay the full amount before delivery.
Calculation of duty on LCL arrival: (for reference only)
VAT (value added tax) DUTY (customs duty) ADV (miscellaneous customs clearance fees)
VAT = (Value of goods (declared to customs) Freight DUTY) X VAT rate |DUTY = Value of goods X Product tax rate
For example:
1 Goods valued at $200 shipped at $300 less than $750 duty free.
2 Value of goods 1000 USD shipping 500 USD Checked duty is 5.6%
Duty payable = Duty (1000 500) * 5.6% = 84USD
Part 3.Air freight from China shipping to Vanuatu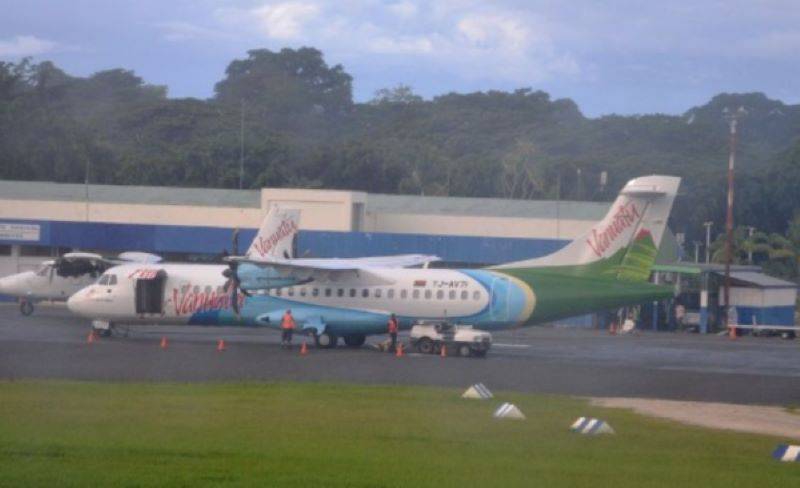 Port Vila International Airport
Formerly known as Bauerfield International Airport, the three-letter code (IATA) is an international airport located in Port Vila, the capital city of Vanuatu, and is operated and managed by Vanuatu Airports Limited, Vanuatu's main airport and a hub for Vanuatu aviation.
The airlines currently providing services are Air New Zealand, Air Pacific, Air New Guinea, Air Vanuatu, Fiji Airways, Solomon Airlines and Virgin Australia. Air Vanuatu is the only airline operating international services, offering flights between Port Vila and destinations around the world such as Brisbane, Sydney and Melbourne in Australia, Auckland in New Zealand, Nadi Town in Fiji, Noumea in New Caledonia and the Solomon Islands. Air Vanuatu also offers direct flights from Sydney and Brisbane to Port Luganville.
There are no direct routes between China and Vanuatu, and air transport from China to Vanuatu can only be done via Australia, New Zealand, Fiji and New Caledonia.
Air freight from Hong Kong to Port Vila Airport, carried by Air Pacific, air freight prices are divided into five classes: 44RMB/45KG+; 41RMB/100KG+; 38.9RMB/300KG+; 39RMB/500KG+; 38.8RMB/1000KG+.
Shanghai to Port Vila by air, Air New Zealand, via Auckland, the air price is divided into five steps: 103RMB/45KG+; 58RMB/100KG+; 58RMB/300KG+; 58RMB/500KG+; 58RMB/1000KG+. The time limit is 5-7 days.
Part 4.Express service from China to Vanuatu
International express: DHL Express, EMS Express, UPS Express, TNT Express, FedEx Express
International mail: China Post Parcel, HongKong Post Parcel, Switzerland Post Parcel
Different delivery methods have different prices. International express is faster but the price is higher, while international mail is cheaper but the delivery time is longer.
International express: 3 to 5 working days
International mail: 7-20 working days
The timeliness varies according to the delivery method and destination country, and is affected by weather and other factors.
Items prohibited or restricted for import by Vanuatu Customs (including but not limited to)
The following items are prohibited from entry: weapons and ammunition, explosives, dangerous drugs. Plant seeds (e.g. grass seeds, bean seeds, vegetable seeds, flower seeds, etc.); fruits and vegetables (apples, oranges, mangoes, cantaloupes, papayas, pineapples, carrots, soybeans, tomatoes, etc.); live plants (flowers, potted plants, seedlings, leaves, buds, etc.); animals and animal products (milk, cheese, yoghurt, salami, animal hides, feathers, honey, etc.)
A fine of VT 1,000,000 (approximately RMB 70,000 at the March 2013 exchange rate) will be imposed for bringing in illegal items or failing to make the required declaration. Quarantine boxes are available in the airport hall for the disposal of prohibited items.
Part 5.FAQ with shipping from China to Vanuatu
FAQ
Q: How long does it take to ship my cargo from China shipping to Vanuatu?
A:Usually, when most companies don't know the exact date your shipment will arrive, they provide an approximate date. In most cases, these dates are reliable. However, this again depends on the mode of transportation and the efficiency of the shipping company to reach the destination.
Q:My supplier has no right to export. Can you help me export the goods?
A: Yes, we will purchase the export license and customs clearance on your behalf and then send the goods to you.