Korea shipping from China
JIKE is a professional freight forwarding service, Korea shipping services are also included in our range of services, ports in Korea, Korean customs clearance, choice of shipping methods and much more. If you have a question, we can answer it and you are more than welcome to contact us, if you have already called, an expert will give you an answer within 24 hours.

With the establishment of formal diplomatic relations between China and South Korea in 1992, trade and economic exchanges between the two countries have been increasing and, with the exception of a relatively brief downturn due to the Asian financial crisis, have been maintaining a rapid momentum of development. Overall, trade between the two countries is developing on an upward trend.
Guide to Shipping in Korea
With more than a decade of experience in freight forwarding, we are absolutely confident that we can serve you well with our Korea shipping services. So, this guide will take you through all the important aspects of professional shipping from China to Korea.
Part 1.Customs system in Korea
The Ministry of Industry, Trade and Resources (MITR) is the Korean government department in charge of trade, mainly responsible for Korean industry, energy resources, trade and investment policies, etc.
In accordance with WTO rules, Korea has largely removed rigid controls on agricultural imports.
Some textiles, chemicals, machinery, civil engineering and household goods are required to submit an "application for self-regulatory safety confirmation" to the certification body after passing inspection by the inspection body.
The import and export of special commodities such as petroleum, cigarettes, ginseng, designated agricultural and fishery products and foreign periodicals and films require legal permission.
Tax Policy for Imported Goods in Korea
Import duties and taxes: All import duties and taxes in Korea are calculated on the value of the shipment, i.e. CIF (CIF).
Korean tariff rates range between 0% and 40%, with an average tariff rate of 4.17%.
VAT: Imported goods with a value of up to 150,000 KRW are exempt from customs duty and VAT; VAT = standard VAT rate of 10% x (CIF price + customs duty + applicable taxes).
The tariff rates are 0-13% for electrical machinery, electrical equipment and accessories, 8% for iron and steel, 0-8% for organic chemicals and 8% for furniture, bedding and lighting equipment.
Notes for Export to Korea
Customs clearance documents: bill of lading, packing list, invoice and China-Korea FTA certificate of origin.
Foodstuffs such as agricultural products, fruits and vegetables need to be provided with the Animal and Plant Quarantine Certificate.
Products that come into direct contact with the mouth, such as mugs and plates, are classified as food grade and require a health certificate, a description of the ingredients and the manufacturing process.
Wooden products, solid wood and straw products require a fumigation certificate and food quarantine for customs clearance.
Part 2.Sea freight from China shipping to Korea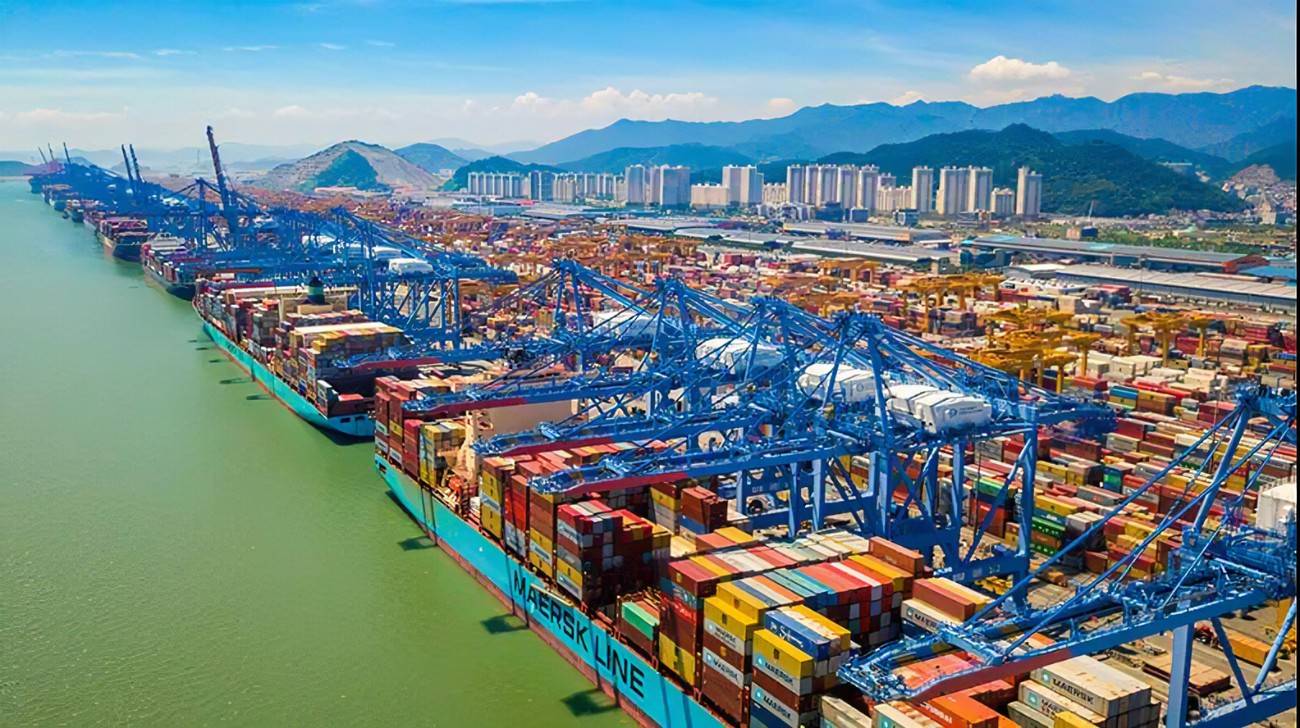 China and Korea are geographically close to each other and have strong complementarities in terms of natural resources, labour resources and industrial structure. After years of development, trade between the two sides has grown and trade dependency is close, with South Korea having become China's third largest trading partner The two largest ports in South Korea are the ports of Busan and Incheon, and shipping to South Korea is mainly to Busan and Incheon.
Incheon Port
It is the largest port on the west coast of Korea and the second largest port in Korea, located on the south coast of the Han River outlet on the northwest coast of Korea and bordering the east side of Ganghwa Bay.
Incheon port has a vast industrial and economic hinterland, mainly in steel making, machinery, automobile, shipbuilding, chemical industry, electronics, vehicle manufacturing, metal processing, oil and textile. Incheon has well-developed transport links, including the Gyeongin Expressway and electrified railway lines.
Pyeongtaek Port
It is one of the three major ports designated by the Korean government to trade with China, and has business relations with Dalian Port, Tianjin Port, Weihai Port and Qingdao Port in China.
Port of Busan
Located on the southeast coast of Korea, bordered by the Korean Strait in the southeast and the Nakdong River in the west, and confronted with Tsushima Island in Japan, it is the largest port in Korea and the sixth largest container port in the world. It is the hub of Korea's air, sea and land transportation, as well as a financial and commercial centre, and plays an important role in Korea's foreign trade.
Ulsan Port
It is located in Ulsan Bay in the southeast of the Korean peninsula, southeast of the port city, near the Sea of Japan, 40 nautical miles south to the port of Busan, 60 nautical miles north to the port of Pusang, 149 nautical miles to the port of Moho, 173 nautical miles to the port of Munjin, and 323 nautical miles to the port of Cheongjin in the Democratic People's Republic of Korea. Ulsan is Korea's largest base for heavy chemical and shipbuilding industries, and the port basically serves industry.
What is the shipping cost and time from Shenzhen port to Korea?
Korea Ki-port, many shipping companies can go, each shipping company price varies, at present small container ranging from 20-70 USD, large container ranging from 40-120 USD, depending on the requirements.
Shipping time from Shenzhen to Incheon, Korea
1.OOCL: six cut-off seven open, Shenzhen Shekou direct ship, 3 days to.
2.ASL: two cut-offs and four openings, direct shipping from Shekou, Shenzhen, 3 days to.
Shipping time from Shenzhen to Busan, Korea
1.SITC: one cut and two open, direct shipping from Shekou, Shenzhen, 5 days to
2.SINOKOR: five cut-offs and six openings, direct shipping from Shekou, Shenzhen, 6 days to.
Other considerations for sea freight
(1) The weight of the container to Korea should not exceed 25 tons net weight, if it exceeds 25 tons, it will be checked by the customs in Korea, the weight of the trailer on the road in Korea is generally limited to 17 tons net weight for small containers and 23 tons net weight for large containers.
(2) There is no direct shipping to Jeju Island, but only to Busan for barging.
(3) Seoul, Korea is not a port nor an international airport, the nearest port and airport to Seoul, Korea is Incheon Airport. Incheon, Korea is divided into Incheon Old Port, Incheon New Port and Gyeongin Port. Many Korean buyers do not like to send their goods to Incheon Gyeongin Port because of the high towing fees!
(4) To enter EDI in Korea, you must provide the business license of the Korean buyer. Therefore, it is important to show the contact details of the Korean buyer on the bill of lading, otherwise failure to enter the Korean buyer's business license number in time will result in penalties.
(5) Pre-clearance is possible in Korea, which means that the Korean buyer can clear the goods in advance before they arrive in Korea. If the company is a frequent importer, pre-clearance in advance will allow the goods to be cleared and picked up as soon as they arrive at the Korean port, the same day they are cleared!
(6) Goods sent to Korea that are in direct contact with human skin or food must be provided with a Chinese health certificate! Otherwise, Korea cannot clear the customs!
(7) If the goods are sent to Korea and you want to return them for quality reasons or for reasons of the Korean buyer, you must have the consent of the Korean buyer, otherwise you cannot return them!
(8) In Korea, it is possible to do shipper information concealment, also mainly for three-party trade. For example, your company is a middleman, the actual supplier is in Korea and the buyer is in Japan. You do not want the Japanese buyer to know the Korean seller, nor do you want the Korean seller to know the Japanese buyer, you only want them to know you as a middleman, this is possible to do shipper information concealment in Korea.
Part 3.Air freight from China shipping to Korea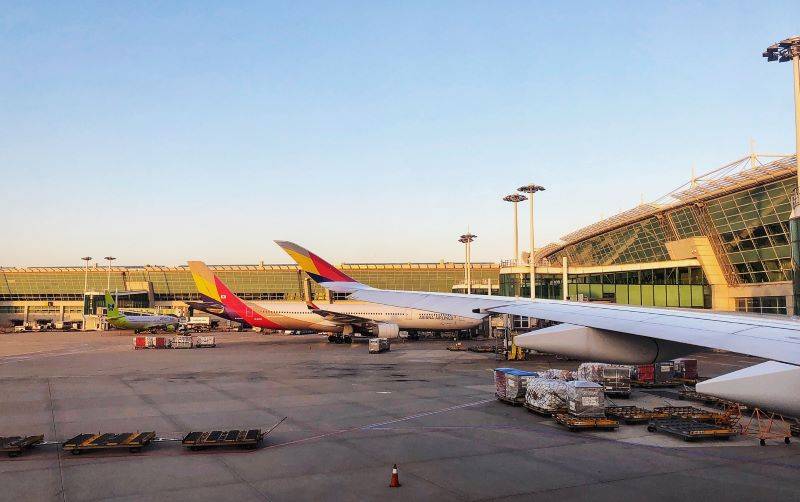 Incheon International Airport
Incheon International Airport is located on Yeongjong Island in the western part of Incheon, Korea's famous seaside resort city. It is 52 kilometres from Seoul Special City and 15 kilometres from the Incheon coast. It is an aviation hub for international passenger and cargo traffic, and is the 6th busiest international airport in Asia.
Gimpo International Airport
Seoul Gimpo International Airport (Gimpo International Airport) is located in Gangseo-gu, Seoul Special City, Republic of Korea, just 20 km from Incheon International Airport, and is the regional airport of Korea.
Jeju International Airport
Jeju International Airport is located in Jeju City, Jeju Island, South Korea and was built in 1968. The airport's domestic terminal is 32,292 square metres in size and has a capacity of 807,000 passengers per year, while the international terminal is 15,825 square metres in size and has a capacity of 1,177,000 passengers per year. The other one has a cargo terminal with an area of 17,574 square metres and can handle 330,000 tonnes of cargo per year.
Gimhae International Airport
Gimhae International Airport, the second largest international airport in Korea, is the headquarters hub of Korean Air and Asiana Airlines.
Air freight costs from China to South Korea
The larger the shipment, the correspondingly higher the cost of shipping from China to Korea.
In principle, the actual cost of airfreight from China to Korea depends on the airline chosen.
Some are specialised aircraft, i.e. cargo planes that are used exclusively for transporting goods, while others are used primarily for transporting passengers and secondarily for transporting additional cargo.
Nevertheless, the actual rate also depends on the type of service and route you choose, whether direct or transit.
The cost of air freight is always calculated by multiplying the weight or volume of the cargo by the chargeable weight rate.
Calculating the volume/weight ratio is very simple.
It is estimated that 167 kg per cubic metre of space is required.
However, if the weight exceeds the chargeable weight, the actual weight is usually used to calculate the cost.
The average cost of many courier services is US$1-3 per kg.
Nevertheless, this can vary depending on a wide range of key factors.
Part 4.Some questions about express delivery from China to Korea
China domestic to Seoul Incheon express air freight to Korea how much how long
Domestic mail to Seoul China to South Korea by air, Incheon and other places generally 2-7 days to reach China to South Korea by air, the fastest DHL two or three days can be delivered. Under 21 kilograms international express are charged shipping costs by the first weight renewal weight a pound.
How to send a parcel from China to Korea
Domestic postal express parcels to Korea can be sent by international express, international sea and international air mail International courier mail small parcels, time efficiency requirements are relatively high or appropriate, DHL Express normal In about three days can arrive.
How long does it take to ship by air to Korea How much does it cost International Logistics
The price depends on what kind of cargo you take China to Korea air freight, multiple China to Korea air freight.
Restricted and contraband in Korea
Please make sure you comply with the contraband regulations set by each country, for your own sake too.
● All kinds of weapons, control knives, imitation weapons, imitation guns, toy guns, ammunition and explosive substances;
● counterfeit currency and counterfeit securities;
● Printing materials, films, photographs, records, movies, audio tapes, video tapes, laser disks, computer storage media and other items harmful to politics, economy, culture and morality;
● All kinds of potent poisons;
● Opium, morphine, heroin, cannabis and other addictive narcotics and psychotropic substances;
● Animals, plants and their products with dangerous germs, pests and other harmful organisms;
● Food, drugs or other items that are harmful to human and animal health, come from infected areas or can spread diseases.
● All kinds of dangerous chemical products and corrosive chemical agents
● Seeds, soil and various plants
Part 5.FAQ with shipping from China to Korea
FAQ
Q: How long does it take to ship my cargo from China shipping to Korea?
A:Even though most companies do not give you an exact date for the arrival of your cargo, they do provide an approximate date.In most cases these dates are reliable.But yet again it depends on the method of shipment and the frequency of the shipping company to your destination.
Q:My supplier has no right to export. Can you help me export the goods?
A: Yes, we can. We can buy the export license, do the customs declarationand ship the goods out to you.