Italy transport starts from China
China and Italy are in a two-way investment trade relationship, and they are trading partners of each other. The Jike team has extensive experience handling shipping in Italy and we will guide you through each method so that you can make any decision. At the same time, this guide will also take you to know the precautions for Italy customs, italy transport,shipping method, transportation costs, etc.
Italy transport Guide
I know you are a busy businessman and just need to provide the best way to transport your goods.
You must try to import from China to Italy
Well, today, I want to make the whole process simple and easy.
Part 1.Italy customs clearance system
Regulatory system
After entering the territory of Italy, the goods are subject to the supervision of the Italian Customs, including: inspecting the goods, verifying the documents, inspecting the accounts of the enterprise, inspecting the means of transport, carrying out personal belongings, etc., carrying out administrative investigations in accordance with the customs regulations, or taking measures against the supervised goods if necessary. Persons directly or indirectly involved in the procedures in the course of trade are required to provide the required documentation and the necessary assistance within the time prescribed by the customs authorities. Various documents are kept for at least 3 years for inspection by the customs authorities at any time.
Import duties about Italy
Only a small number of products are subject to a volume tax, i.e. a fixed amount per unit quantity of imported goods (e.g. per 100 litres or 100 kilograms). When goods are taxed by weight, the term "gross weight" refers to the weight of the goods, including packaging, and "net weight" refers to the weight of the goods excluding the inside and outside buns. Sometimes the ad hoc tax is levied on the net weight of the goods.
Most goods are subject to ad valorem tax, which is levied at cif (C.I.F) in accordance with ARTICLE VII of GATT on customs prices.
Italy exempts the members of the European Communist Party from customs duties and accords preferential tax treatment to imports from many countries belonging to third countries in accordance with a series of special trade arrangements of the European Community.
Customs declaration is the wrong declaration of the quantity, type or value of imported goods or goods entered into the warehouse may be subject to fines. The penalty amount is not less than 1/10 of the difference between the actual value of the goods and the declared amount, and may also be as high as the amount equivalent to the total difference. The allowable customs declaration quantity or value is 5% tolerance from the actual situation.
How much tax do I have to pay for Italy customs clearance?
The italy customs measures the value of goods by CIF, i.e. cost + insurance + freight (price of goods + insurance + freight)
Packages under EUR 22: No Duty and VAT.
Packages between 22 euros and 150 euros: no Duty, but VAT is required.
Packages over 150 euros: both Duty and VAT are to be paid.
Italy's VAT (value-added tax) is 22%, the duty depends on the specific goods, electronic goods usually do not have duty, clothing and other textiles duty is around 10%-20%.
Italian customs is extremely strict, please send sensitive items with caution.
VAT rate
Italian VAT = VAT rate x (CIF price + import duties), for reference only.
How long does it take to clear Italy customs
Customs clearance in Italy, generally 3-5 days can be completed, slow may take about 15 days.
If you find that customs clearance has not been completed for a long time, you need to be aware of the seriousness of the problem.
It may be that your goods have been detained. At this time, you need to contact the freight forwarding company to check.
Part 2.Ocean Freight From China to Italy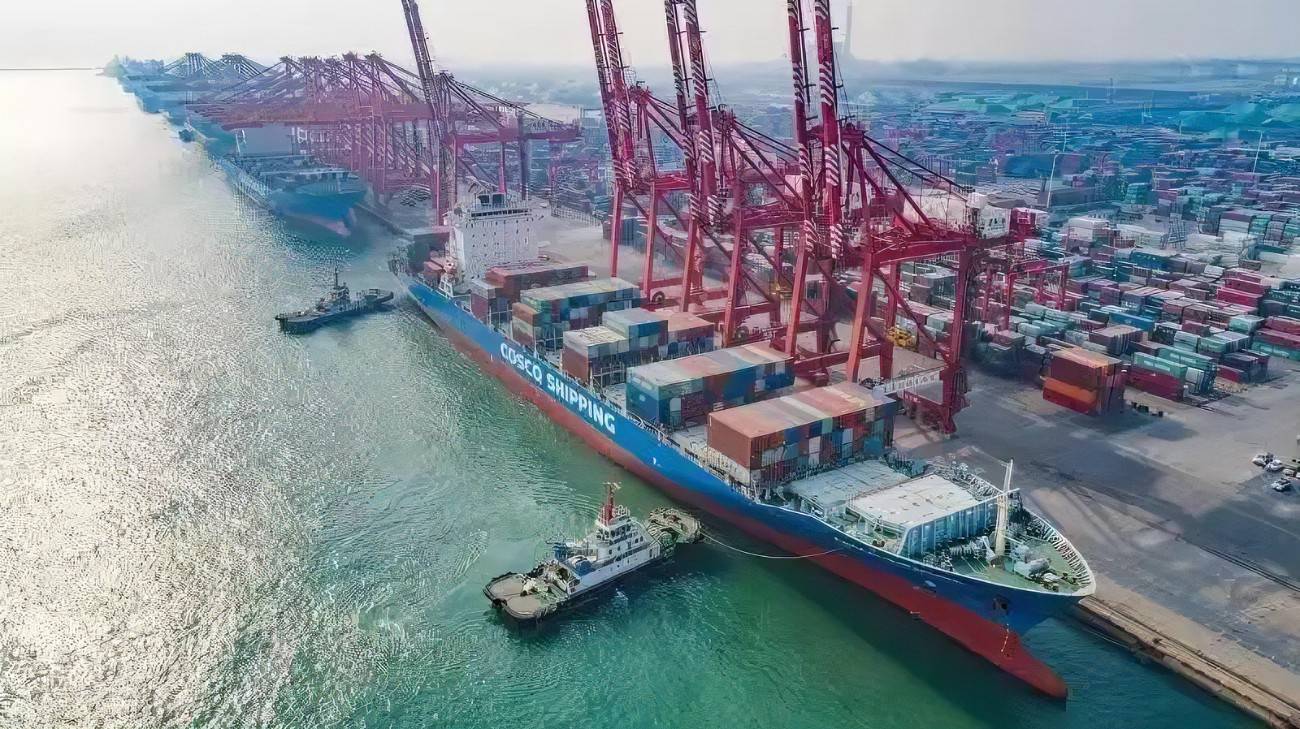 Shipping mainly calls at Ports such as Genoa and Naples In Italy, and usually has two modes of container transportation and bulk cargo transportation, which supports the whole sea to Italy. The carrying capacity is relatively large, the cost is relatively low, and it is suitable for large product selection. The duration is about 35-45 days.
Less Container Load (LCL)
This mode of transport is used when the importer has very few goods to import.
Thus, the goods are packed together with other packages going to the same destination until the container gets full.
The cost of transportation will be shared by the owner of the goods in the same container, but depends on the volume of each person's goods.
This is the cheapest mode of transportation if you consider that the imported goods are very small quantities, although it takes longer to reach the destination.
The time required is long because all small parcels are consolidated to ensure that containers are full.
On the other hand, it takes time to clear individual packages in containers.
Full Container Load (FCL)
In this way, the container is only filled with goods belonging to one person, and all the movements are completed as a single individual.
For this reason, once the container departs, it can be easily tracked using the container/booking number.
Full containers are charged at a flat rate.
It is the opposite of the LCL method, which charges for the single package in the container.
The 3 common types of containers include 20-feet, 40-feet, and 40-feet high cube containers.
All of these must have a maximum weight of 28 tons.
This method is safer than LCL. After all, there are no other different packages mixed together
The cost difference between LCL and FCL
The cost of containers is composed of various expenses: miscellaneous charges of shipping ports, warehousing charges, loading charges, or direct loading charges and reinforcement charges for some goods.
Generally, there are only three kinds of charges for LCL: ocean freight, local fee and warehouse fee.
The local fee is generally paid to the agent by the consignee at the destination port. The fees are not uniform. After all, the fees are different at each port, so the agents charge different fees, so it is necessary to confirm with the freight forwarder company in advance.
As FCL shipments lack many of the procedures required by shipping companies, some shipping associations will offer partial freight discounts for FCL shipments. For LCL shipments, shipping associations usually charge a certain service charge for container freight stations.
Part 3.Air Freight From China to Italy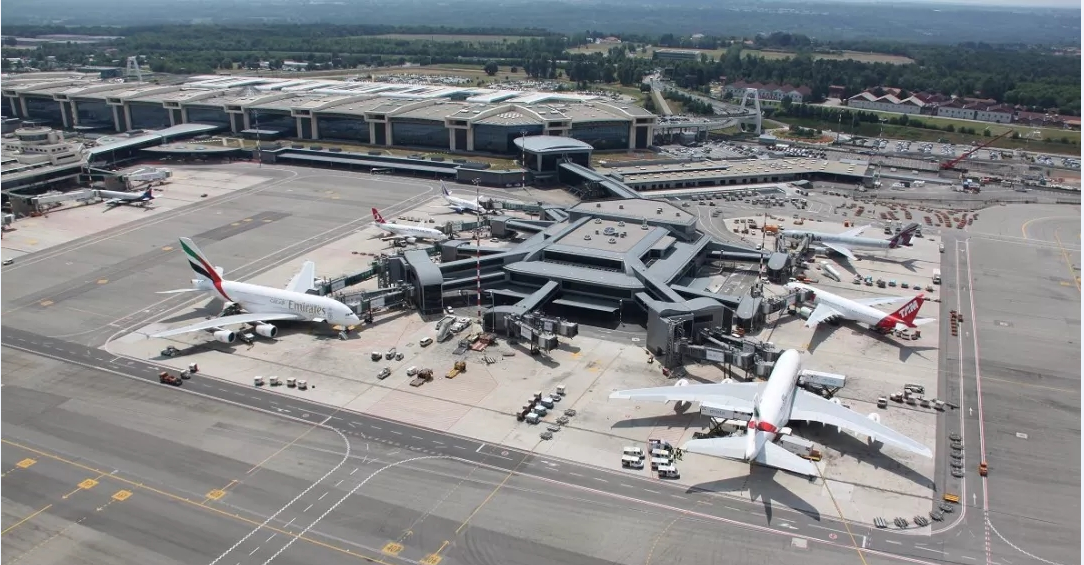 If you are concerned about timeliness, air transportation is your best choice.
If you want to expand your import business, air transportation is absolutely worthy, and it is also your favorite way to guarantee.
The reason naturally depends on that you are always in the position of customer needs.
You can also use this method when you want to transport your valuables goods.
The only drawback is that you need to pay more than sea and rail transportation, and there is a certain limit on the number of goods you can import.
Let's know about the air freight from China to Italy.
Billing methods for Italian air freight
Volume algorithm: air freight cost one unit basic freight rate (MTQ) x total volume (CBM)
Weight algorithm: air freight cost one unit basic freight (TNE) X total gross weight (KGM)
Volumetric weight = square number (CBM) x 167/KG
About the Italian air freight quotation this piece, is based on the specific information of the goods to determine, such as what is your goods, air freight to Italy how much a kilogram, can be calculated in detail, only need to provide your goods name, weight, size, destination and other information, and then we will calculate the price according to your cargo information.
The main airports available by air in Italy:
Venice Airport, Milan Malpensa Airport, Rome Filipino Michelino Airport, Bergamo Airport, Bari International Airport, Comiso Airport
Part 4.Rail freight service from China to Italy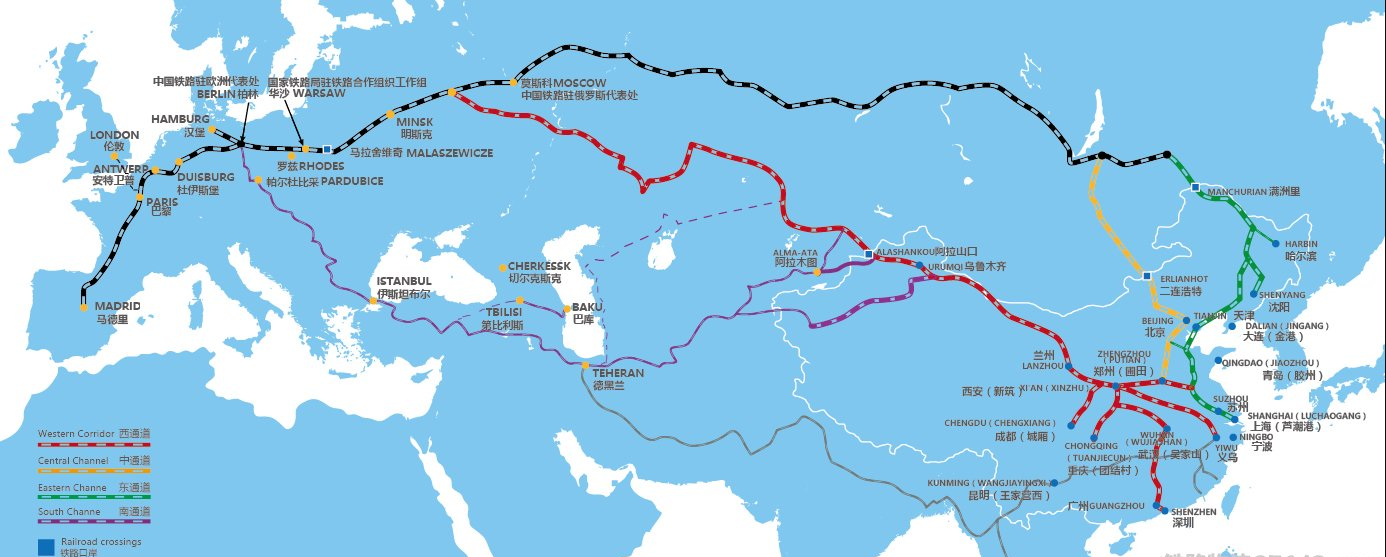 China-Europe Train Roadmap
Railway transportation is a mode of transportation between air transportation and sea transportation.
Its price is cheaper than air transportation, and its efficiency is faster than sea transportation
Coupled with the ability to handle bulk cargo, you can choose this way to transport your cargo.
Let's see what route your cargo will take using this mode of transportation.
Chengdu- Mortara Route
The line connects southwest China's Sichuan province capital of Chengdu, with the town of Mortara in northern Italy.
Compared with sea transport, this Sino-Italian railroad transport line can save two-thirds of the time, not only can Chinese products be transported to Italy quickly, but also Italian products can be transported to the Chinese market by railroad.
Previously, the international long-distance railroad transportation between China and Italy often required a detour of 1.5 months, which was similar to the time spent by the sea. Due to the long railroad transportation time, but the freight cost is higher than international sea transportation, most of the products between the two countries are still through international sea transportation. After the opening of this special line, more and more goods are transported to Italy by rail.
Pass through Poland, Germany and then Milan Train Station in Italy.If you choose railway LCL, you can unpack after arriving at the railway station in Germany, and then send it to Italy by truck.
The time of railway transportation is about 20 days shorter than that of traditional sea transportation, which is half of the time. Railway freight is higher than that of sea freight, much lower than air freight, generally only one-thirtieth of the cost of air freight.
Part 5.Costs of Italy transport
Cost of Shipping via Ocean
When it comes to shipping by sea, what may impress you is the relatively cheap cost.
Ocean freight is cheaper than other forms of transportation and it also allows you to ship bulk goods.
However, when we talk about cost, as an importer, you need to understand what this cost is made up of.
You will find that some of the factors that you are responsible for are very simple.
But during your shipping, certain fees are bound to change.
As an importer, it is important to minimize the cost of importing.
One way to do this is to reduce transport costs.
But what are some ways to do this?
Buy different quotes from different shipping companies
Buying quotes from different shipping companies will give you an idea about the best company.
Let's talk about the cost and the services they offer.
You can even negotiate the best shipping rates.
Limit your packing materials to the specified standards.
Since your shipping charges will be calculated based on the weight due, you do not want to increase the weight of your shipment.
This can be accomplished by using unnecessary packaging.
Limit your shipment to the specifications of the packaging materials provided by the airline.
Include shipping costs in your cost of goods
If your business imports for sales purposes, please do not bear the burden of transport costs.
Instead, pass it on to the buyer.
This will make your transport costs cheaper and more convenient.
You will find that one of the reasons for high shipping costs is that you have destroyed the goods to be shipped.
You can avoid this by arranging one-way shipping for all your shipments.
This will reduce your shipping costs.
Cost of Shipping via Ocean
The price of transport to Italy depends to a large extent on various variables, such as
Type of product. Different cargoes may have different shipping needs. For example, valuable or perishable goods may need to be given specialized packaging and/or security.
The size and weight of your package. This is perhaps the most important factor when it comes to price
As you might expect, the larger the package, the higher the price. However, please note that for smaller items, it may be more economical to ship via air.
If you ship by air, items under 100 kg will be cheaper by weight, plus you can add the extra value of fast delivery.
Shipping method. Air freight is always much more expensive than shipping via ocean freight.
Part 6.About the express service from China to Italy
International couriers to Italy recommend logistics methods
DHL International Express - fast, guaranteed timeliness, no Eori number required
FedEx International Express - cheaper than DHL, obvious price advantage in the off-season, and the speed is faster
The odds of various ems being detained in Italy are very high (including China Post, Singapore Post, Hongkong Post), it is recommended to take postal surface mail and express delivery.
China Post EMS shipped to Italy volumetric weight limit
Parcels sent to Italy using China Post EMS must not weigh more than 30kg, the dimensions of any side of the parcel must not exceed 1.5 meters, and the maximum horizontal circumference other than the length and length shall not exceed 3 meters.
Timeliness of delivery to Italy
International Express: 3-5 working days
International packets: 15-20 working days
EMS: 5-7 working days
China Post EMS and Hong Kong Post EMS are faster, Singapore Post EMS has a longer delivery time of about 20 working days.
The above time is the delivery time under normal condition, the delivery time is affected by weather and customs and other factors.
Restricted and contraband in Italy
You can't import everything in Italy.
Some laws apply to the import of goods that you need to know about,Some items cause customs to seize them when you import them into Italy.
It will be your loss.
To avoid this, here are the items that you cannot import into Italy from China.
Some laws apply to the import of goods that you need to know about.

Certain items are prohibited from being shipped from China to Italy.

Batteries and electronic products with batteries (cell phones, computers).

Hazardous goods (compressed gas products, erosive, toxic gas, flammable)

Weapons (hand weapons, imitation and ammunition)

goods (speakers, products with strong magnetic fields…)

Documents (currencies, publications, imitation cards…)

Some categories of products (adult products, drones, electronic cigarettes…)

Liquid, powder and paste (liquid cosmetics, toothpaste, capsule drugs,…)

Perishable products (food, plants, all live animals except properly packaged bees, silkworms and leeches)
Part 7.FAQ with shipping from China to Italy
FAQ
Q: How long does it take to ship my cargo from China to Italy?
A:While most companies will not give you an exact date for the arrival of your shipment, they will provide an approximate date. In most cases, these dates are reliable. But again, this depends on the shipping method and the frequency of the shipping company to your destination.
Q:My supplier has no right to export. Can you help me export the goods?
A: Yes, we can. We can buy the export license, do the customs declarationand ship the goods out to you.
Conclusion
As you can see, understanding the basic process of shipping from China to Italy is key.
Just get the goods in China and hire a freight forwarder to take care of everything for you.
This guide has most of the time needed to ship from China to Italy, and while not everything, you are more than welcome to contact us with your questions and our experts will surely answer your questions more professionally!
We'll help you streamline your shipping process.