China-Costa Rica relation
Costa Rica is the second largest trading partner of China in Central America, and China is also the second largest trading partner of Costa Rica.

In recent years, bilateral trade between the two countries has grown rapidly, and in June 2007, China and Costa Rica established diplomatic relations. In November 2008, Chinese President Hu Jintao visited Costa Rica and announced with Costa Rican President Oscar Arias the launch of China-Costa Rica free trade negotiations.

Step 1: Check the customs regulations for shipping to Costa Rica
It is safe to assume that you may encounter problems when your shipment reaches the Costa Rican border before entering or leaving Costa Rica.
Make sure you understand the regulations and restrictions on shipping to Costa Rica. You do need experts to help you with customs declaration documentation, clarify case requirements and provide critical visibility into the trade process to avoid costly delays. This is also the time to understand what documents you need to prepare to get your goods through customs.
Import customs tariff
Costa Rica's tariffs range from 1% to 15% of the price.
Since 1996, the tariff on imported raw materials, bulk grains, and oilseeds has been set at 1%. Costa Rica regularly reduces the applicable tariffs on rice and beans to satisfy local demand. Import tariffs for capital goods and most finished goods are set at 1% and 15%, respectively.
Import tariffs include value-added tax, purchase tax, elevation tax and surcharges, and provincial taxes.
A 13% VAT (sales) tax is levied on the purchase of most goods and services (including imported goods) for unofficial use by central or local governments. Certain basic products (staple foods, school uniforms, etc.) are not included.
Selective excise taxes on many imported and domestic goods have been reduced or eliminated. However, excise taxes still apply to some goods, such as whiskey, wine, and beer (10%). New and used vehicles (from 30% to 50%), depending on the model. Electric vehicles (five-year partial exemption). There are also some household appliances such as home refrigerators (ranging from 30% to 40%).
Please note that certain imported products are also subject to a Central Bank surcharge. These surcharges are usually paid for goods manufactured in Costa Rica or elsewhere in Central America unless purchased by the central government or the local municipality. If purchased by the local municipality, these goods are exempt from tax.
What documents are required to ship from China to Costa Rica?
Weapons and ammunition require a license issued by the Arms and Explosives Control Division of the Costa Rican Ministry of Public Security.
The imports are registered by the Central Bank of Costa Rica for statistical purposes.
Special import and export requirements and certifications (health, pharmaceuticals, pre-shipment inspection)
Drugs, pharmaceuticals, cosmetics, medical devices, and certain chemical products, such as solvents used in the production of narcotic drugs, agricultural inputs, and precursor chemicals, must have an import license (valid for five years) and be registered with the Ministry of Health.

Registration is required for the first import of food commodities.

The Ministry of Agriculture and Livestock (MAG) needs phytosanitary and animal health certificates. Costa Rican importers must obtain a license.

Machines such as surgical and dental instruments can only be for sale to licensed importers and health professionals.
In addition, Costa Rican regulations require imported biomedical equipment and materials to be registered with the Ministry of Health. According to local health registration regulations, all dietary supplements and natural medicinal products should be registered with the Ministry of Health before being on sale in Costa Rica.
What is prohibited in Costa Rica?
Costa Rica bans the import of used tires without rims because mosquitoes carrying yellow fever or dengue fever breed in the water that accumulates in tires without rims.
The import of blood is prohibited.
The import of used shoes is banned, and used clothing is subject to labeling regulations.
The import of weapons and explosives is strictly regulated. Only the government may import automatic firearms.
The import of fruit shells, coffee shells, and used cardboard egg separators is also banned due to the biological risk. This measure is intended to protect health and avoid plagues.
Please note that cosmetics, medicines, natural products for pharmaceutical purposes and pharmaceuticals are restricted, all of which must comply with the relevant ministry regulations before entering the country.
If you are in doubt about whether a package is safe or legal to transport before importation, please consult our professional staff. Don't try to break the rules, it will cost a lot of money.
Step 2: Select the delivery method
Freight services for shipping to Costa Rica
With our experience in freight forwarding for shipping to Costa Rica, we not only have expertise in the best freight routes and modes of transportation, but it also provides us with key relationships with carriers. This allows us to offer the cheapest way to ship to Costa Rica and to ensure that space is available when shipping your goods.
1) Shipping to Costa Rica by sea and container
If you are looking for the cheapest way to ship to Costa Rica, ocean freight is the best solution.
Every year, more than 90% of the world's cargo is shipped by sea, mainly thanks to its affordable transportation costs. Compared to other forms of shipping services, sea freight is superior, especially when it comes to transporting bulk or large-size cargoes over long distances.
Another benefit of sea freight is that it can accept almost all types of cargo.
Shipping time from China to Costa Rica by sea is expected to be between 25 and 35 days. The exact number of days will vary depending on the required service route and sailing schedule.
When using sea freight, importers have two options, FCL or LCL.
In terms of size, there are three types of cubic containers: 20-foot, 40-foot, and 40-foot high.
Please Note: A standard 40-foot container can hold 22 standard pallets and a 20-foot container can hold 10 pallets.
FCL and LCL shipping
You can ship your cargo in FCL and LCL.
A full container (FCL) will fit perfectly into a volume higher than six standard pallets. In this case, you can choose a 20-foot or 40-foot container, depending on the total volume of the cargo.
If you are transporting a large amount of cargo and can fill the container, it makes sense to choose FCL (Full Container Load). Another advantage of FCL is that it is more cost-effective to store your items in full containers separately from other importers.
If your shipment is not fragile and requires less space, you can place your goods in a shared container (LCL) and pay only the price of the necessary space. This means combining your cargo with other shipments to the same destination. Your deliveries may take more time due to the packing and unpacking process. LCL is a good choice for small businesses to get started.
In addition to FCL and LCL shipments, if you are shipping large or heavy cargo to Costa Rica, we recommend using a flat rack or open-top container solutions. If you need temperature control, we can provide refrigerated containers for shipping.
Main ports in Costa Rica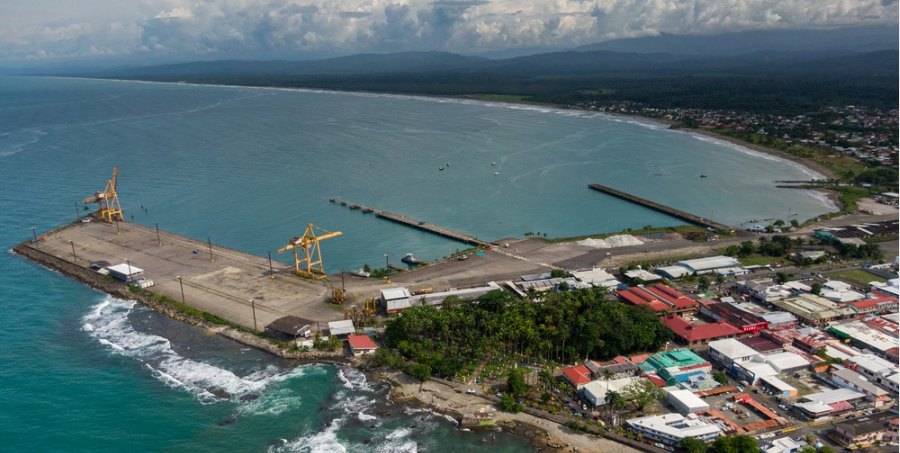 Puerto Caldera is located on the Pacific side of Costa Rica at the mouth of the Gulf of Nicoya. Although it is a very small town, it is an important port for Costa Rica and has established trade relations with the world.
It contains an industrial complex designed to accommodate freighters and cruise ships. The port of Caldera serves the nearby municipality of Puntarenas, the largest city and capital of the province of Puntarenas, Costa Rica.
Puerto Limon, also called Limon, is the sixth largest city in Costa Rica and is home to a multicultural community.
Puerto Limon is the capital and main hub of the province of Limon.
The capital of Costa Rica, San José is located in the Central Valley region, with the Talamanca Mountains to the south and volcanoes to the north.
Air Freight from China to Costa Rica
The greatest advantage of air freight is its speed. The cargo leaving China can arrive in Costa Rica in 3-7 days. This is optimal for high-value products as they take less time in transit.
However, please note that speed goes up with it and air freight can be expensive.
Air freight is a cost-effective option for shipments weighing less than 100 kg and not exceeding 1.5 to 2 cubic meters in volume - or when you just need to deliver the shipment quickly. The main benefit of airfreight is exactly that.
JIKEship has built an extensive network of airlines that specialize in air freight, flying daily and weekly departures from major airports in China to any air destination worldwide.
Our shipping selections include airport-to-airport, door-to-door, airport-to-door, and door-to-airport services.
Due to growing market demand, which may vary when the volume of cargo is high, JIKEship can offer expertise in this area for your logistics needs.
We did a special article on shipping from China, if you are interested, you can learn more here: Air Shipping from China
The best way to ship from China to Costa Rica
When shipping to Costa Rica, everyone wants to move their cargo quickly and safely at the lowest possible cost.
Every customer is different and has different requirements in every situation, coupled with the ever-changing shipping market.
The best way to ship your cargo from China to Costa Rica is to rely on the knowledge and insight of a reputable and experienced freight forwarder.
Please be sure to send the following points to your freight forwarder and they will tailor the best shipping solution to your needs.
The type of cargo and its value

How fast you need the cargo

Loading of the goods (size, weight, quantity) or simply share the packing list

Supplier's address (origin seaport/airport), delivery address (destination seaport/airport)

Your budget

Time of cargo readiness
How to ship from China to Costa Rica?
Step 1: Contact a freight forwarder
Step 2: Get a shipping quote
Step 3: Connect freight forwarder with supplier, the forwarder will work on the shipment and keep you updated
Step 4: Purchase cargo insurance (optional)
Step 5: Arrange customs clearance
If you are interested in shipping from China to Costa Rica, please contact us. No matter what your shipment is, we have the answer. Get customized shipping solutions and quotes from China to Costa Rica.