Shipping to Sweden from China
JIKE has a wealth of logistics resources. Shipping to Sweden, from anywhere in China or to anywhere in Sweden, Whether it's Sweden international airports or Swedish customs, questions about shipping to Sweden are answered in this guide, just to give you the most personal service.

Throughout recent years, Sweden's foreign trade market has grown and expanded day by day, and the import and export trade with China has continued to grow. Swedish lines assume the main channel of domestic trade with Sweden. In terms of imported products, electromechanical products, transportation equipment and mineral products are the top three categories of goods imported into Sweden at present.
Sweden Customs Clearance Guide
Do you have a business from shipping to Sweden? Then make sure you don't miss this article in which we have collected all the situations you will encounter, which will make your journey easier!
Part 1.Customs system in Sweden
New Swedish customs release for 2020
As of January 1, 2020, the following tax rules will apply to goods purchased from outside the EU.
Online purchase of items not exceeding 1700kr is exempt from customs duties
Goods not exceeding 4700kr are exempt from customs duty when crossing the border by air or ship,Goods not exceeding 3,300kr are also exempt from customs duties when crossing the border by car or train, etc.
Alcohol and tobacco are specified separately.
If the imported goods exceed the value specified above, they must be declared at the local entry customs office according to the red channel, pay customs duty, VAT or excise tax as required, and the customs will also randomly check whether the passenger's baggage exceeds the standard.
Import taxes are subject to import duties and fees whether individuals or business entities are engaged in the import of goods in Sweden (imports from countries outside the European Union).All import duties are based on the value of the goods, which is CIF
【Customs Duties】
The Swedish tariff rate is basically between 0% (such as books) and 17% (such as Wellington boots). Like some goods, laptops, cell phones, digital cameras and game consoles, are exempt from customs duties. Certain goods may be subject to additional taxes, calculated according to the country of origin, such as bicycles made in China are subject to an additional 48.5% anti-dumping duties.
【VAT】
Sweden's standard VAT rate is 25%, and certain goods such as books, newspapers and magazines enjoy a preferential VAT rate of 6%. VAT = VAT rate × (CIF price import duties).
【Threshold】
There is a threshold for Swedish import duty, where the value of imported goods (FOB) does not exceed SEK 1,300 and is exempt from customs duty, but VAT is still levied.
【Others】
Excise Duty: Taxes levied on specific goods such as tobacco products. Customs surcharge: refers to the import of goods through customs must be carried out when the inspection, laboratory tests charged by the fee.
Swedish tariff threshold
If the declared value exists 22 euros or more, the consignee EORI code must be provided in the invoice, otherwise customs duties and even some additional charges will be incurred and the customs clearance time will be extended as a result.
How long it takes to clear customs after arrival in Sweden
Customs clearance in Sweden, generally 3-5 days can be completed, slow may take about 15 days. If your cargo has been in customs clearance for a long time, you need to pay attention to it.
At this point you will need to contact your relevant freight forwarder and ask them to check the following to see what is going on and if the goods are being held up.
Part 2.Shipping to Sweden from China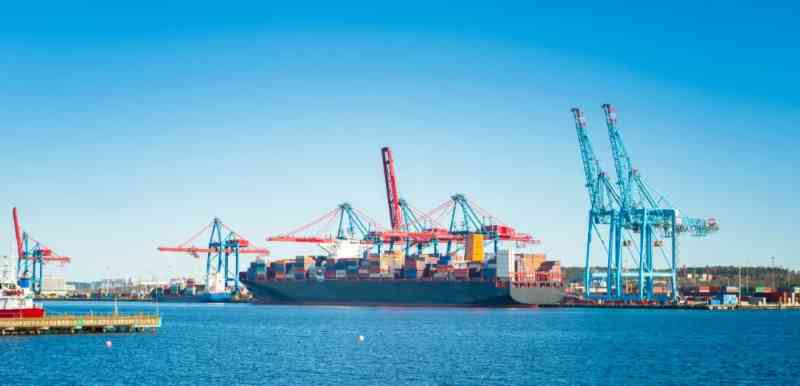 Sweden's maritime transport is more developed, the port is also relatively large, the current main ports are: Gothenburg, Helsingborg, Halmstad, Stockholm, Malmö, Visby and so on.
China's to Sweden sea line mainly docks at the port of Gothenburg and the port of Helsingborg, and some special line companies provide transportation in malmö and Jenschein ports, However, transit and trans-shipment in the German ports of Hamburg or Bremen is required.
How about shipping from China to Sweden?
FCL transportation:
Usually one ticket and one cabinet or one ticket multiple cabinets. The volume of the whole set of containers transported is higher, the safety is higher, and the transportation time efficiency is faster. Usually one ticket one cabinet or one ticket three cabinets.
Consolidation shipping:
Consolidation transport needs to be consolidated with other cargo owners, and the cargo volume reaches one container before it can enter and exit the ship. Usually three tickets and one cabinet.
Who is the lower cost between full container and LCL
a) Less Container Load (LCL)
This type of shipment is considered when the importer needs to import very small quantities of goods.
With this method, the goods are loaded together with other packages destined for the same destination until the container is filled up.
The cost of transportation will be shared by everyone whose goods are in the container, and the cost depends on the volume occupied by each person's cargo.
This is the most cost effective way when one person imports very small quantities, but it takes a long time.
The long time is needed for all small packages to be consolidated to ensure that the container is in a filled state.
As well, it also takes time to clear individual package in the container.
b) Full Container Load (FCL)
With FCL, the container is filled with only one person's merchandise and all tracking is done as a separate one.
So, as soon as the container leaves, it can be tracked by using the container/booking number.
This shipment is always charged at the flat rate.
It is the opposite of the consolidation method, where individual packages within a container are charged.
The 3 containers commonly used are 20ft, 40ft and 40ft high cube containers.
All these must have the maximum weight being 28 tonnes.
It is safer than LCL because there is no mixing of different packages.
The cost of container consists of a number of costs: sea port miscellaneous fees, storage fees, loading fees; some goods also have direct loading fees, reinforcement fees and other costs.
LCL generally includes three kinds of costs, sea freight, local fees, warehouse fees.
LOCAL fee is paid to the agent by the consignee at the local port of destination, the fee varies from port to port and is charged by each agent is also different, so it is necessary to confirm with the freight forwarder company in advance.
Some shipping associations offer freight discounts for LCL shipments because they reduce unnecessary formalities for some shipping companies. The same is not true for LCL shipments, where the shipping association charges a certain container freight terminal service fee.
How long does it take to sail from China to Sweden
Shipping to Sweden usually takes 5-7 weeks in transit time from China.
Popular routes include Ningbo to Gothenburg, Shanghai to Gothenburg and Ningbo to Helsingborg. However, this also depends on the particular port of call and may increase or decrease the transit time by a few days.
For example, LCL shipping from Fuzhou to Gothenburg takes about 41 days, while FCL shipping from Ningbo to Gothenburg and FCL shipping from Shanghai to Gothenburg both take about 46 days. Tianjin to Gothenburg takes about 48 days, and Shekou to Gothenburg takes about 39 days.
Part 3.Air Freight From China shipping to Sweden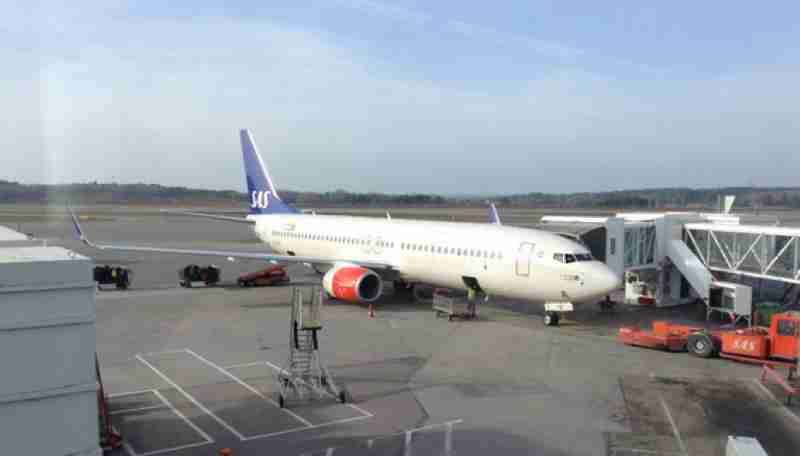 Sweden international airport
 Sweden International Airport contains three major airports, Namely Stockholm's Arlanda Airport (the first largest airport), Gothenburg's Landwert airport (the second largest airport) and Malmö's Sturup Airport (the third largest airport).Air freight from China to Sweden is about 1 kg for a minimum of 16 RMB, and if the cargo is small, it takes about 30 kg to start.
  China to Sweden the fastest need more than ten hours, China Hong Kong, Beijing, Shanghai, Shenzhen, Guangzhou and other airports have direct flights to Sweden, from Shenzhen to Switzerland Gothenburg For air transportation, airlines such as China Southern Airlines, China Eastern Airlines and Air China can provide regular flights with a range of 5-7 days.
Documents required for air freight shipment from Sweden to China

Import license certificate
  Swedish imports have a special system for certain products into the system, that is, the import licensing system. For example, textiles and most agricultural products are covered. This certificate can generally be obtained before the order is finally confirmed.Where does the import license come from? Generally applied for by the importer.
  2) Certificate of Origin
  When a Certificate of Origin is required, a commercially printed form for sale may be published by an accredited Chamber of Commerce, one original copy each. A copy of the Chamber of Commerce's archive is also provided.
  3) Commercial invoice
  The Swedish Customs stipulates that only a commercial invoice is required for goods subject to a volume tax; For goods subject to ad valorem tax, 3 copies of the commercial invoice such as air freight must be provided, 1 original commercial invoice and 2 copies must be attached to the goods, and a copy must be sent to the consignee. The commercial invoice shall have the following contents: the name and address of the seller, the name and address of the buyer, the date of invoicing, the date of the purchase contract and all expenses including the number of goods, gross quantity, quantity, name of the goods, unit price, discount, GIF price, delivery conditions and payment conditions. The commercial invoice must be signed and confirmed by the drawer or his authorized agent.
Part 4.About the express service from China shipping to Sweden
International couriers to Sweden recommend logistics methods
DHL International Express - fast, guaranteed on time, no Eori number required.
Fedex International Express - cheaper than DHL, off-season price advantage is obvious, faster.
The odds of various ems being detained inSweden are very high (including China Post, Singapore Post, Hongkong Post), it is recommended to take postal surface mail and express delivery.
China Post EMS has volume and weight restrictions on cargo.
Parcels sent to Sweden using China Post EMS must not weigh more than 30kg, the dimensions of any side of the parcel must not exceed 1.5 meters, and the maximum horizontal circumference other than the length and length shall not exceed 3 meters.
Timeliness of delivery to Sweden
International Express: 3-5 working days
International packets: 15-20 working days
EMS: 5-7 working days
*Tip, in terms of time, China Post EMS and Hong Kong Post EMS are faster, Singapore Post EMS has a longer delivery time, about 20 working days
*The above time is the delivery time under normal circumstances, and the delivery time is affected by factors such as weather and customs.
Restricted and contraband in Sweden
You can't import everything in Sweden
Some laws apply to the import of goods that you need to know about,Some items cause customs to seize them when you import them into Sweden
● Bank cards, credit cards, calling cards
● Body parts and organs
● Urn
● Illegal drugs, drugs
● Live and dead animals or birds and their parts
● Refrigerated, frozen or fresh products
● tobacco
● Valuables of any kind
● Wine, alcohol
Part 5.FAQ with shipping from China to Sweden
FAQ
Q: How long does it take to ship my cargo from China shipping to Sweden?
A:Even though most companies do not give you an exact date for the arrival of your cargo, they do provide an approximate date.In most cases these dates are reliable.But yet again it depends on the method of shipment and the frequency of the shipping company to your destination.
Q:My supplier has no right to export. Can you help me export the goods?
A: Yes, we can. We can buy the export license, do the customs declarationand ship the goods out to you.