There are a variety of shipping methods used to transport cargo around the world. The mode of transportation is determined by the business needs and the size of the cargo. When transporting cargo by sea, you have come across these two terms, FCL and LCL, which play a considerable role in the shipping industry.
FCL And LCL: Difference Between FCL And LCL In Shipping
Whether you are an individual or an organization, you have encountered these terms in the course of transporting your cargo, and FCL and LCL are two factors that determine how a shipper will transport your cargo. For more information on FCL and LCL, please read the following articles.
What is a Full Container Load (FCL)?
The full name of FCL is Full Container Load. It applies to businesses with bulk cargo that can fit into one full container. The container does not contain any items belonging to others and the entire container is dedicated to one owner. In this case, if a shipper owns the container, then the container does not need to be fully or completely loaded. Here, your cargo is safer because there will be less downtime.
What is LCL?
The full form of LCL is Less Than Container Load, used when the shipper does not have enough cargo to fill the container. In this case, the container is loaded with cargo from different shippers. The best shipping companies in China, such as JIKEship, arrange a container where shippers can load their cargo with other cargo. Shippers don't have to spend a lot of money for a full container of small shipments, they only have to pay according to the volume they ship.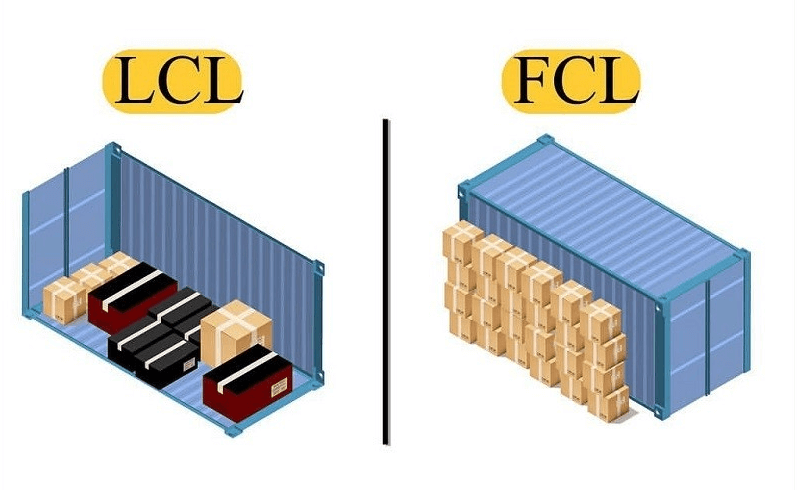 FCL and LCL: Which is better?
Both FCL and LCL are used for different purposes and they have their advantages and disadvantages. However, here we will provide some points to understand which is better for you.
Size
The concept of FCL and LCL is based on dimensional requirements. If the shipper has bulk cargo and it is equal in size to the container, the full container load is chosen. However, if the size of the cargo is too small, causing space waste, then the LCL is used, for shippers who want to ship cargo that takes up a container space with multiple cargoes. This way, shippers can easily accommodate additional cargo and make the most of container space on LCL shipments.
Shipping Time
Another major reason for the choice is transit time. Most people usually prefer to transport their cargo from one destination to the final destination in LCL, because once the cargo is booked and loaded, the transportation begins. However, large containerized cargoes are not moved until the freight forwarding service finds the cargo needed to load the entire container. So, if the shipper needs to deliver the cargo within the scheduled time, it is better to choose a full container load.
Cost
Another important aspect when choosing between the two is the cost of the shipment. Actual shipping charges depend on the weight of your shipment. As the process becomes longer and more complex, large container loads can be expensive for transporting cargo from one location to another. While FCL is expensive, LCL is relatively inexpensive for smaller items.
Cargo Capacity
Cargo less than or equal to 1 CBM is suitable for LCL transportation up to 15 CBM. On the other hand, there is no minimum or maximum cargo size requirement for FCL shipments. However, it is preferred when the cargo size exceeds 15 CBM. This means that there are no strict restrictions on the shipping size of cargo in a full container. When you choose a full container, you can decide how much cargo you want to ship (Of course, cargo size should meet the container specifications. For more information, Click Here).
Safety and Security
In terms of security, FCL is relatively safer than LCL. Since another cargo is involved in the container, there is a higher risk of theft and damage during transportation. Cargo insurance for less than the container load can also provide an additional layer of protection.
The risk rate for a fully loaded container is lower because the cargo is shipped directly from the port to the delivery point on the direct route. In an LCL, the cargo goes through multiple stops, increasing the chance of theft and loss.
Tracking
Both FCL and LCL make it easier to track shipments. Shippers can easily track their shipments based on the information provided on the Bill of Lading. Find out where your shipments are arriving and where they are being held for longer periods. Upon loading the shipment, the owner will receive a bill with the consignment details.
Book Space
It is easier to find reserved space for LCL than for FCL. It is easier to find freight services to deliver less-than-container loads than larger loads (FCL). Sometimes it takes a long time to get approval for a full container load while shipping large volumes requires a lot of paperwork and waiting time to get permission to ship.
Customs Clearance
There is no significant difference in customs inspection between FCL and LCL. However, less than container loads increase the likelihood of higher clearance times because even if they capture one shipment, the entire container will be blocked. Also, for security reasons, they might undergo customs inspection. In addition, the cost of customs clearance is paid equally by all shippers sharing the container.
FCL and LCL: What should I choose?
Understanding the whole concept of FCL and LCL is very difficult, both as an individual and as an organization. Based on the above differences, we can clearly say that no one method is superior and best than the other. JIKEship is the best shipping company in China that will handle all your shipping needs and keep you out of trouble. You don't need to waste money and effort to find the most reliable shipping provider and all the documents. All you need to do is contact JIKEship for safe and efficient shipping services. Deliver your goods most conveniently through the most reliable and cost-effective freight forwarders around the world.