How to Calculate Shipping Costs for Small Businesses
In today's competitive marketplace, it is critical to offer the best shipping rates to your customers. It is also necessary for small businesses to know exactly how to calculate shipping costs. You don't want your customers to drop their shipments at the end of the inquiry because your shipping rates are too high.
A recent survey of 2,500 consumers in the U.S. found that cost was the most critical factor in shipping. 64.3% of respondents cited it, with speed coming in a close second. Shipping times and prices are becoming very competitive. jikeship is a pioneering company that is changing the standard of consumer shipping by offering international shipping services for a wide range of products on their website. Let us show you how to calculate shipping costs!
What is shipping cost?
For small businesses, shipping costs are the costs associated with moving items or products from the warehouse to the consumer's doorstep. The average shipping cost for small businesses includes packaging materials such as boxes, tape, bubble wrap and shipping label stickers, in addition to the cost of courier pickup and delivery of the package. Costs may include import and export fees when shipping internationally, as well as paying workers to prepare and deliver packages.
How to calculate shipping costs is a very important step?
Calculating shipping costs is necessary because shipping inventory is an integral part of your business operations. You need to find the right balance between what works for your business and what works for your customers. Knowing your shipping costs, such as FedEx estimated costs, will allow you to set reasonable shipping costs for your customers. The ideal shipping costs should be low enough to attract customers, but not so low as to erode your margins.
Being transparent about shipping costs also helps build brand loyalty and provide a great customer experience. Knowing your exact shipping costs allows you to provide customers with shipping costs in real time when they are ready to check out online. You can also offer your customers a variety of shipping options at different price ranges, depending on how quickly they want to receive their package.
The three main types of shipping you can offer your customers
There are essentially three types of shipping deals you can offer your customers when small businesses are determining how to calculate shipping costs. Each type of shipping has advantages and disadvantages, and you must decide which one is best for your business. If you want to reduce your shipping costs, you can always try one shipping strategy and change it.
Calculating shipping costs
In this case, shipping costs depend on the size and weight of the package. The disadvantage of this method is that for each product you have to determine how to calculate shipping costs. However, it may be beneficial to automate this process because your customers have shipping costs specific to their products.
Flat Rate Shipping
USPS Flat Rate Service is a popular choice for small business owners because of its convenience. USPS Flat Rate boxes are available in a variety of sizes and have predetermined rates regardless of the weight of the domestic shipment. The USPS fixed rate shipping weight limit for International Priority Mail is 20 lbs. For medium and large boxes and 4 lbs. For small flat-rate boxes.
Pre-determined rates can help you decide how much to charge your small business for shipping.
Free Shipping
Consumers love free shipping and this can be a way to increase sales. There are two ways to accomplish this. One is to include the shipping cost in the price of the product. The second option is to simply cover the cost as a temporary way to offer a better deal than your competitors.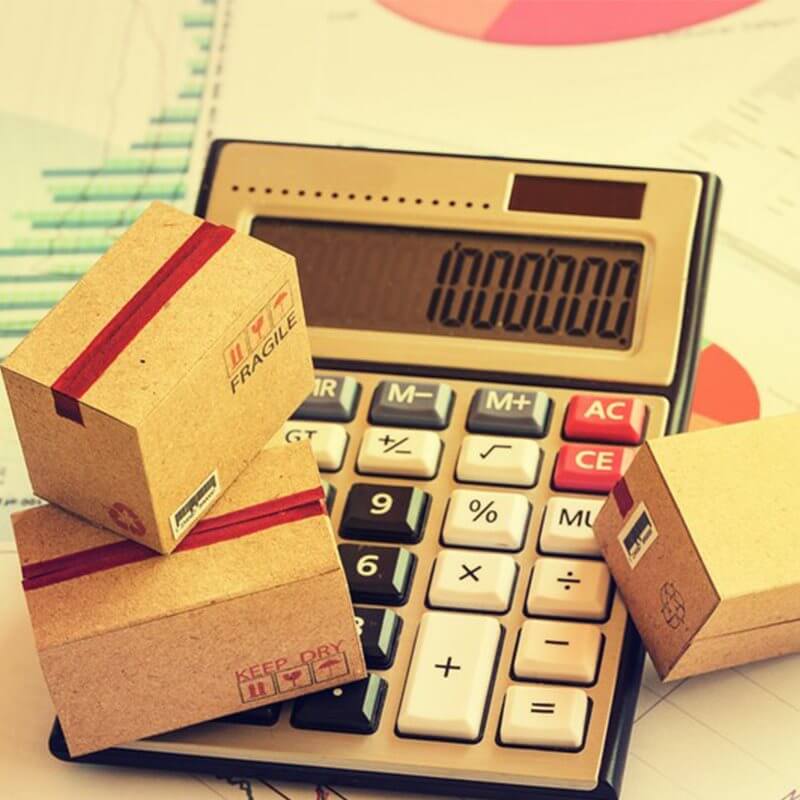 How to Calculate Shipping Costs for Small Businesses
For shipping within the United States, there are four types of information you can use to estimate shipping costs. You need to know the shipping point and origin, the weight of the package, the size of the package, and the estimated delivery time. With this data, you can use the shipping calculator to determine how to calculate shipping costs. Most shipping companies let you check the accuracy of the shipping cost calculation before sending a group of packages. International shipping is a little more complicated than domestic shipping. When shipping internationally, you need to include CIF costs. In addition to shipping costs, CIF costs take into account currency exchange, duties and taxes.
Point of shipment and origin
Typically, the farther you ship a package, the more expensive it will be. U.S. shipping rates are based on shipping zones. companies like DHL, UPS, USPS and FedEx use these to calculate shipping costs.
Package Weight and Size
The cost of shipping a package depends on the size and weight of the package. Couriers vary in the way they calculate shipping costs, and sometimes they will give you two options. The most basic way to determine how to calculate shipping costs is based on weight. Simply weigh the package and use the shipping calculator to calculate the price. Some couriers allow you the option to calculate shipping based on volume. If your package is heavy but small, this option is more affordable. Large carriers usually use the volumetric weight of the package. This is done by multiplying the L x W x H to get the total cubic dimensions of the package. This number is then divided by a specific rate, which depends on the status of your negotiations with the carrier. This method is used for very light packages that take up a lot of space in trucks and containers.
Other factors that may affect shipping costs
There are several other factors to consider that may increase your shipping costs. The first is shipping insurance. If you are shipping fragile items such as jewelry or electronics, you may need to pay extra for insurance to protect your business. You may also encounter additional shipping charges or surcharges. These fees can be used to add the recipient's signature requirement or to deliver packages on weekends. Fuel surcharges are also common when using overnight or same-day delivery services. There are also differences between Regular Mail and Priority Mail. Depending on your shipping needs, Priority Mail may be the better choice.
Choosing a freight carrier
Different freight carriers offer different prices and benefits, so you should research before choosing one. Choosing the right carrier or transportation company for your company can save you money in the long run. You may also be able to negotiate a better price if you are shipping a large volume.
For small businesses, it's critical to find a shipping company that offers advantageous solutions for smaller order volumes. Features such as free package tracking, free Saturday shipping and low-cost, high-speed delivery can all help small companies maintain their finances while meeting the needs of their customers.
Learn more about shipping services with JIKEship
At JIKEship, we offer air freight, ocean freight, rail freight, courier services, postal services, Amazon shipping services, cross-border trucking services, freight consolidation services, intermodal services and more, and we can help you find the best shipping, warehousing and order fulfillment solution for your small business. Whether you are looking for a more efficient transportation strategy or want to change to a fulfillment-based system, we have the experience and skills to help you take your business to the next level.