Train China to Europe Operation Updates (Week 1)
At the beginning of the new year, Train China to Europe started to run steadily and smoothly.
Looking back to 2022, the volatile global situation and sluggish economic recovery did not weaken the operation of Train China to Europe, and the import and export freight volume has increased the trend. The number of inbound and outbound charter trains from the "East", "China" and "West" channels has continuously broken new historical records. According to the statistics, the number of China-Europe (Central Asia) trains passing through Alashankou in the year exceeded 6000, the number passing through Khorgos in the year exceeded 7000, Manzhouli exceeded 4500, and Erenhot exceeded 2000.
At the same time, the network of Train China to Europe has been expanding. As of November2022,86 transport routes have been opened, reaching 196 cities in 24 countries. Among them Train China to Europe (Chang'an) has exceeded 4600 trains, Train China to Europe (Chengdu Chongqing) has exceeded 5000 trains, and Train China to Europe (Zhengzhou)has exceeded 1500 trains. Train China to Europe (Qilu) has exceeded 2057 trains, Train China to Europe (Hefei) has exceeded768 trains, Train China to Europe (Shijiazhuang) has exceeded 500 trains, and China Europe-Express (Wuhan) has exceeded 539 trains.
On January 1, 2023, the first New Year trains left their departures one after another. Due to the severe cold weather. the transshipment at the port is blocked to some degree. Taking the Ganzhou-Moscow train (leaving via Erenhot) as an example, the full T/T turns out to exceed 30 days. However, the scheduled services from Xi'an, Chengdu, Chongqing, Guiyang, and other major terminals remain stable. It only took 13-15 days for the train to travel from Xi'an to Moscow and St. Petersburg. In addition, the amount of goods collected in South China has increased greatly, according to the insiders, and the shippers are suggested to set aside 7-10 days ahead of ETD.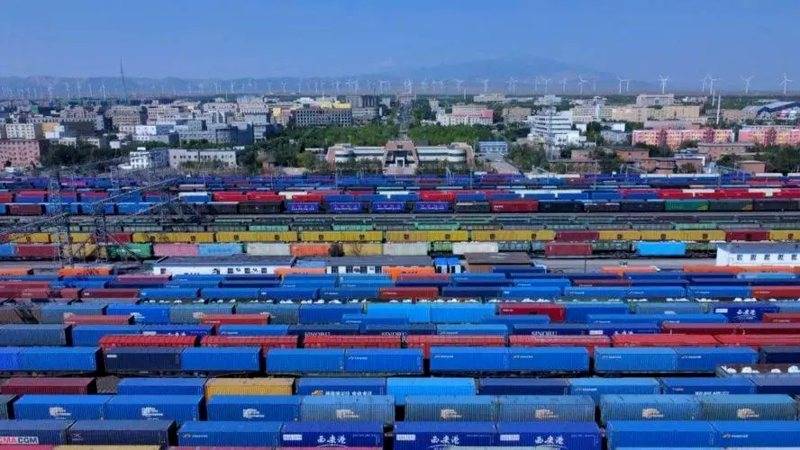 At present, the rail freight market has entered the peak season before the Spring Festival. The spaces in January are sold out, and freight forwarders are hoarding goods to be shipped in February. After the New Year's holiday, domestic trucking price and container leasing prices have risen to vary degrees. With the arrival of the Spring Festival, the growth of passenger trains is expected to violate the frequency of freight trains and the price of the freight market.
At the same time, Russia Railway issued a notice that the freight rate of the overseas section will be increased again, up 10.16%, since January 1, 2023. China Railway requires that from January 1, 2023, a Train--China to Europe can only be shipped when it is loaded with 55 containers. The General Administration of Customs issued a notice that from January 8, all measures such as nucleic acid monitoring and detection for novel coronavirus of cold chain food will be canceled. The impact of all these adjustments of policies on the railway freight market in the new year needs to be further observed in the new year.
Shanghai Cooperation Demonstration Zone launched its first Train China to Europe in Shandong Province in 2023
During New Year's Day, Train China to Europe (Qilu) loaded with daily necessities such as tea, soap, and palm oil from Japan, South Korea, and Southeast Asia, departed from the Shanghai Cooperation Demonstration Zone Multimodal Transport Centre. This is the first Train China to Europe (Qilu) - "Japan-Korea Land and Sea Express" train to be sent from Shandong Province in 2023. The train, carrying a total of 106 containers, will depart via Horgos and is expected to arrive in Almaty, Kazakhstan within a week.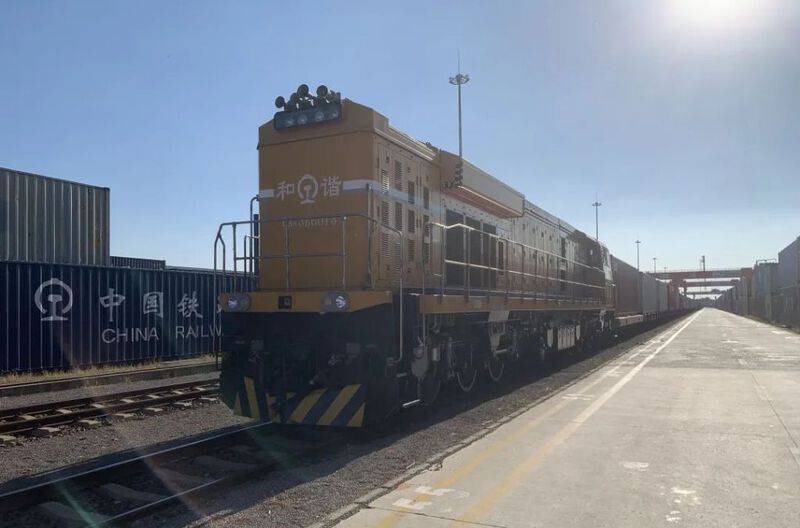 Russia extends trucks restrictions by 6 months
Russia has extended its restrictions until June 30, 2023, for trucks that come from the EU, Norway Ukraine, and the UK for six months. The ban came into effect on October 10 this year. It is a response to restrictions on Russian trucks by EU countries. Western countries have stepped up sanctions on Russia due to the Ukraine issue. Russian President Vladimir Putin previously stated that Russia would also fight back.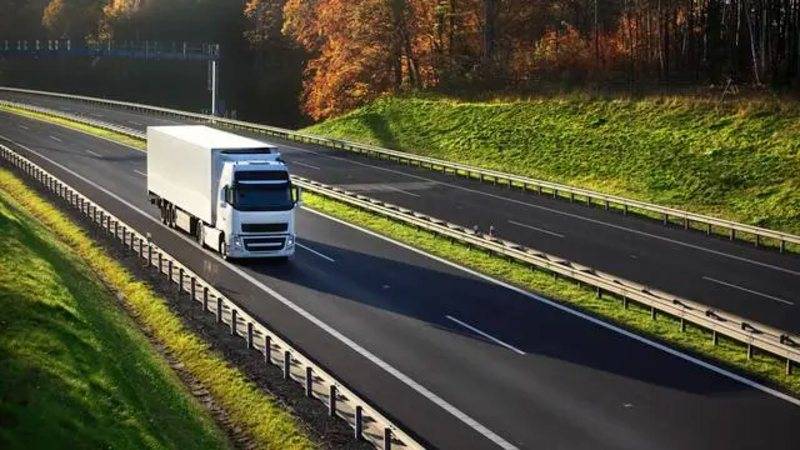 Nepal expects a 'positive outcome' from a feasibility study on cross-border railway
Six Chinese technical experts arrived in the Nepalese capital Kathmandu to conduct a survey and feasibility study of the Sino-Nepal cross-border railway. Officials from both sides said it marks another important step in the project as the two countries push ahead with the construction of a "heavenly road" across the Himalayas.
In an exclusive written interview with the Global Times, Nepal's Ambassador to China, Bishnu Pukar Shrestha, said the first visit of Chinese experts to Nepal to conduct a feasibility study was crucial for both Nepal and China and would help facilitate overland connectivity. Other teams will follow and I am confident that the survey will have a positive outcome", he said.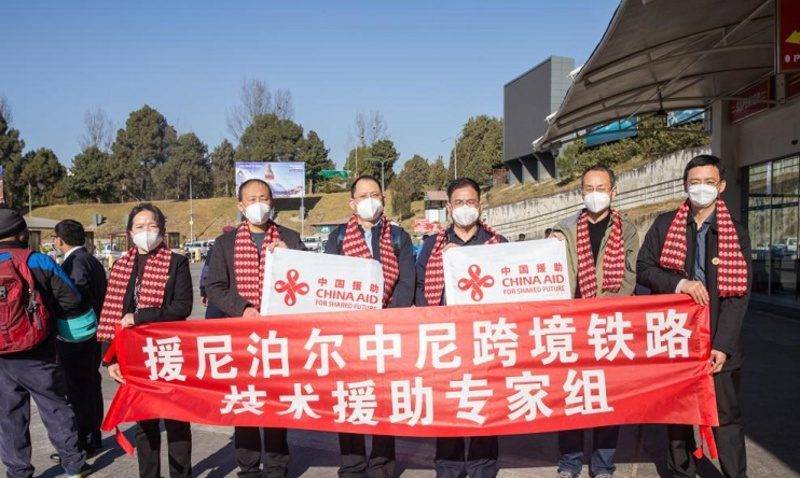 China to upgrade international logistics channels, cross-continent air freight networks
Speaking at a press conference held by China's National Development and Reform Commission, Zhang Dawei, an official from China's Ministry of Transport, focused on plans for China's modern logistics industry during the 14th Five-Year Plan (2021-2025). He vowed to further upgrade logistics channels connecting with neighboring countries to ensure the transportation of key commodities and to promote international cooperation.
The infrastructure of China's major transport corridors will be enhanced to connect with the cargo transport systems of neighboring countries and regions, which will further strengthen the regional impact of the Belt and Road Initiative, Zhang said Special financial support will be given to the first 15 cities, including Chongqing, Chengdu Guangzhou, and Zhengzhou, to establish freight hubs in 2022. There will be more and more Chinese cities considered in 2023.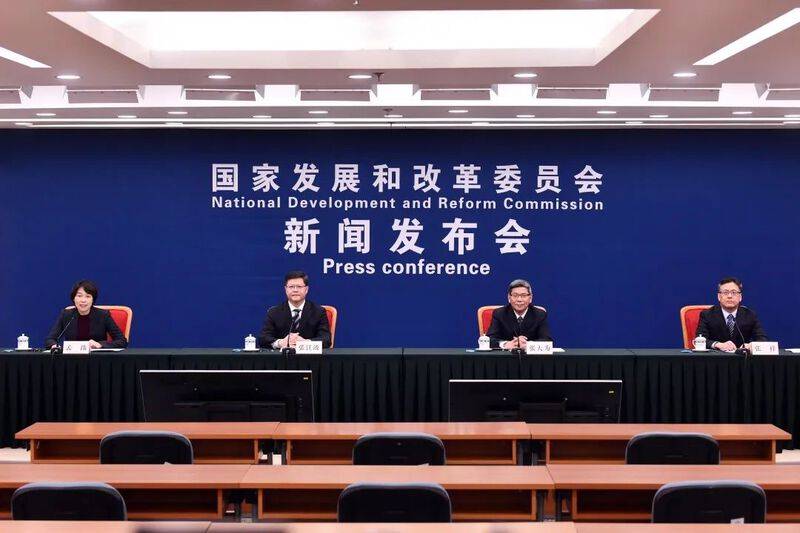 8,800 trains dispatched in the New Western Land-Sea Channel in 2022
On December 31, the last container carrying corn was loaded on the train at Qinzhou Port East Station in Guangxi. It was sent to Liuzhou South, Gaizang, Lanzhou Dongchuan, and other stations, marking a new record. The cumulative number of sea-rail intermodal trains in the Western Land-Sea Channel will exceed 8,800 in 2022, a year-on-year increase of 44%, with an average daily departure of about 24 trains.
The sea-rail intermodal trains of the Western Land-Sea Channel rose from 178 in 2017 to 8.800 in 2022, an increase of 49 times. Up to now, trains covered 12 provinces in western China, expanded their destinations to 338 ports in 113 countries and regions, and increased the number of transportation categories to more than 640.RCEP countries have become the largest source of goods flowing to Beibu Gulf Port now.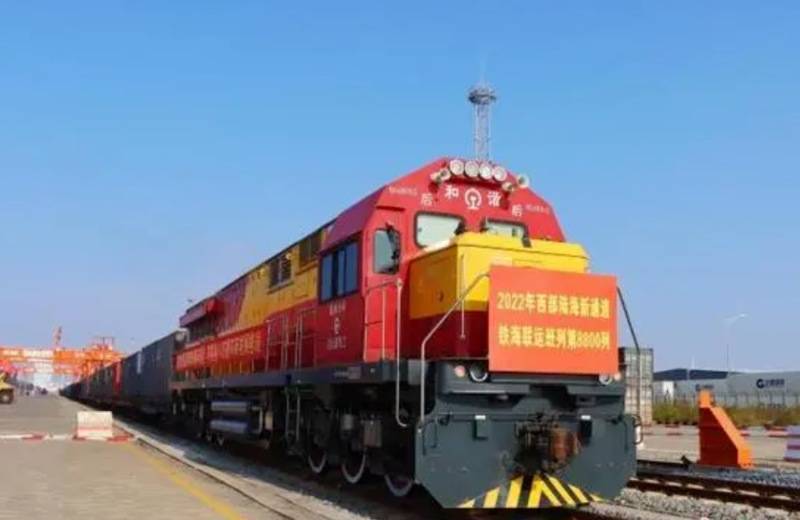 Trains passing through Khorgos exceeded 7,000 for the first time, ranking first in China
On December 28, a freight train loaded with daily necessities, mechanical parts, electronic products, and other goods, left for Vorsino, Russia via the Khorgos railway port. This is the 7,000th Train--China to Europe to pass through the port this year, and it is also the first time that the number of freight trains left Khorgos exceeded 7,000 in 2022. The number of freight trains leaving through Khorgos railway port is the largest this year. According to the statistics of China Railway Urumqi Bureau Group Co., Ltd., as of now, the number of Trains--China to Europe through Khorgos has reached 7,006, and the cargo volume at the port has reached 9.45 million tons, a year-on-year increase of 11.06% and 5.05% respectively.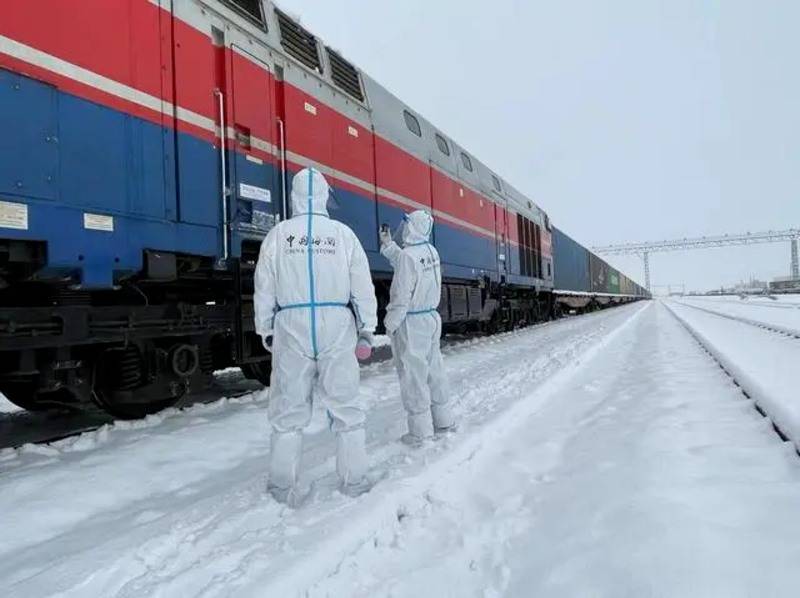 China-Laos railway (Panzhihua) dispatched
On December 29, the China-Laos railway (Panzhihua) was dispatched from Panzhihua Railway Station. This is the first international freight train that organizes goods from Sichuan in the form of a full train after the operation of the new Chengdu-Kunming Railway and exports them to ASEAN countries in a direct way. It marks the successful running of the international railway channel with the shortest distance, the highest Efficiency, and the most stable operation from Southeast Asia to Chengdu via Panzhihua, to the west of my country and Europe.
The first train consists of 24 containers, with a cargo value of about 10 million yuan, mainly including titanium dioxide, building materials, mechanical and electrical products, and other industrial products in the province. It is expected to arrive in Vientiane, Laos in 3 days, and will be transported by connecting railways or roads to Vietnam, Thailand, and other ASEAN countries. Saving more than 15 days compared with road-sea combined transportation.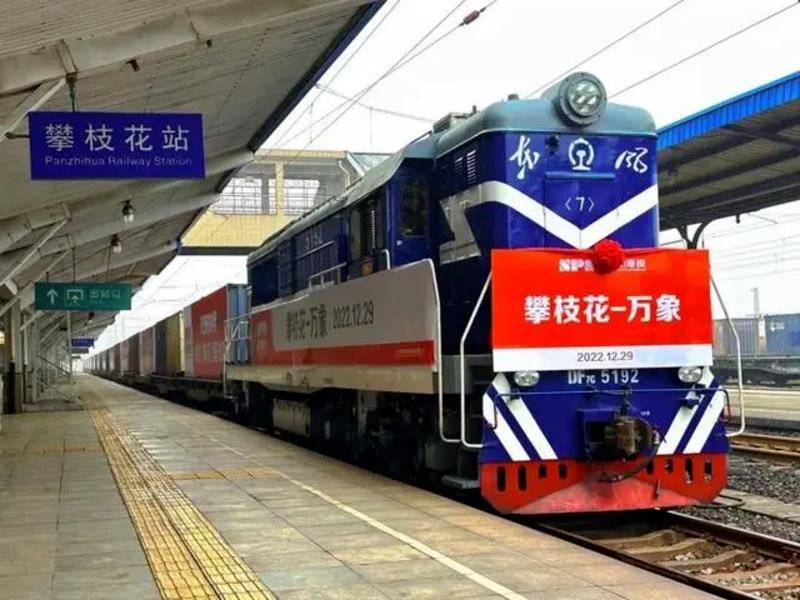 Jiangxi's first Train China to Europe in 2023 left smoothly
On January 1, a Train China to Europe loaded with 100 TEUs of ceramic tableware, ceiling lamps, and children's toys. toothpaste and other export goods successfully departed from Ganzhou International Land Port in Jiangxi Province, and will leave from Khorgos to Uzbekistan(Tashkent)), Kazakhstan(Almaty), and other countries. This is the first freight train dispatched from Jiangxi in 2023.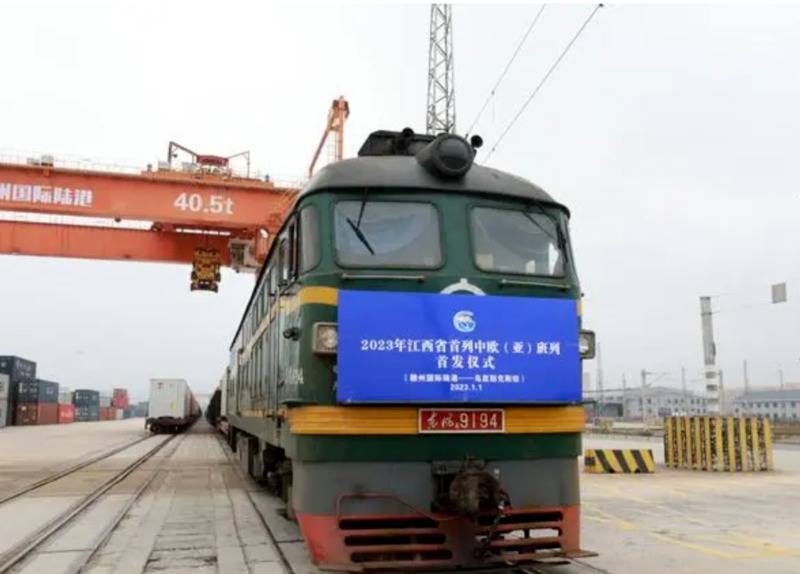 Goods from Suining are sent to Europe through Train China to Europe for the first time
On December 30, a train loaded with 50 40-foot containers of goods slowly departed from the Western Railway Logistics Park of Suining High-tech Zone leaving China via Alashankou and heading directly to Khovlino Station in Russia. It is the first direct international train from Suining to Russia. The whole journey is about 7240 kilometers and will cost 12 days. Goods include polyester knitted fabrics, open diesel generator sets, uncoated decorative paper for printing, and stretch films, with a weight of 690 tons and a value ofUS$2.7 million.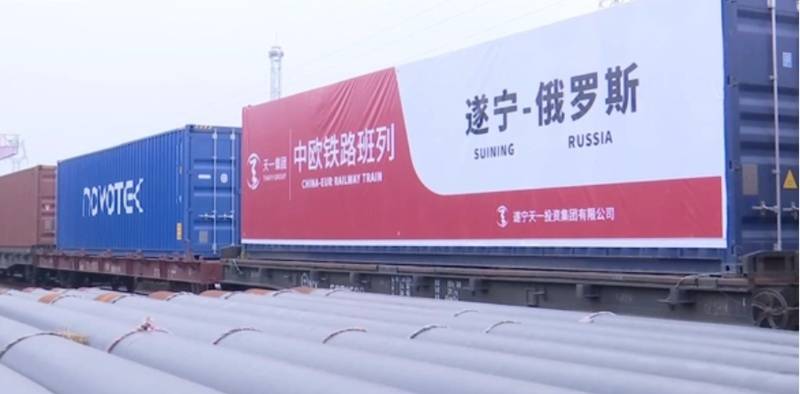 JIKEship is a freight forwarding company serving your import and export of railway, recognized skills, professional specialists, tailor-made logistics solutions, control of each step of the transport chain with a door-to-door train service…