Rail Freight from China to Europe Operation Updates (Week 3)
In the third week, the cold wave weather will affect most parts of China from west to east, and the smooth operation of Rail Freight from China to Europe will face multiple challenges. At Alashankou and Dostek on the Kazakhstan-China border, the temperature dropped by more than 20 degrees Celsius, the strong wind reached Force 12, the visibility decreased, and the loading capacity of the station was weakened, resulting in the delayed arrival of multiple trains. In addition, many trains were forced to be retained along the way.
According to China Railway, at present, 56 trains are reserved at Alashankou, 42 trains are reserved at Khorgos, 4 trains are reserved at Erenhot, 21 trains are reserved at Manzhouli, and more than 400 containers are reserved at Suifenhe The approval of public plans will be postponed. Affected by this, many chartered trains to be dispatched in January will be gradually delayed to February, and many goods will be waiting for arrival in the yard outside the station. The overall T/T of the European and Russian lines is expected to be affected, with a delay of about 5-7 days.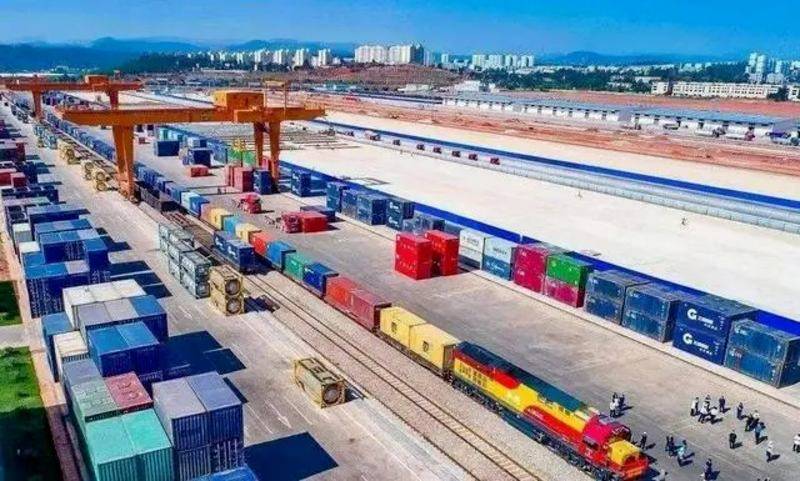 At present, the planned spaces at the major platform in February are almost full, and the Russian line ushered in a small wave of freight climax during the Spring Festival, and the spot market freight is the same as the previous week. Due to the large-scale holiday return of truck drivers, the trailer freight rate rose rapidly this week, with an increase of about 50% -80% in the long-term transportation in East China and South China, which still revealed the shortage of transportation capacity.
This week, the ocean freight market was again in a weak state, as the global transport demand continued to decline, the shipping companies blanked to a larger scale to reduce transport capacity. Experts said it was unlikely that sea freight would rise sharply in 2023.
The first inbound Rail Freight from China to Europe carrying Chinese Lunar New Year goods arrives in Xi'an
A train loaded with 1,300 tons of flour from Kazakhstan arrived at Xi'an International Port in Xi'an on Jan.13.This train marks the first inbound Rail Freight from China to Europe transporting Chinese New Year goods to Xi'an. As Rail Freight from China to Europe takes on many transportation responsibilities in past years, more and more foreign goods were delivered to China via Rail Freight from China to Europe trips. (by CCTV)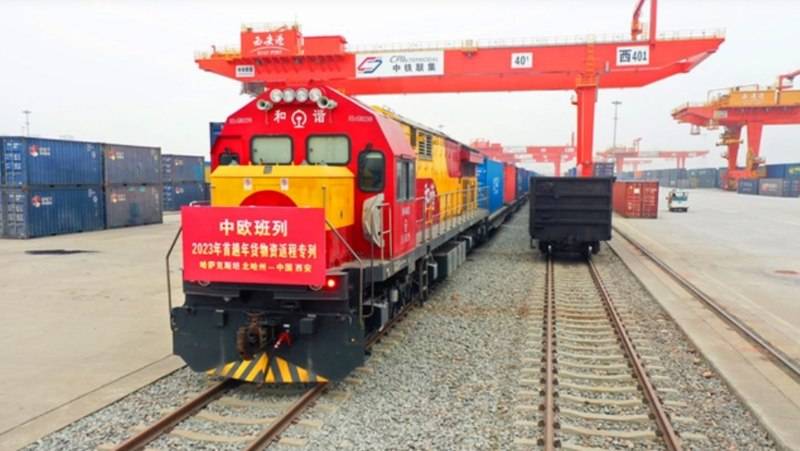 Chongqing further strengthens the international land-sea trade corridor
Chongqing will further accelerate the construction of the New International Land and Sea Trade Corridor, a major trade and logistics corridor with Chongqing as the operation center, according to a report presented at the annual meeting of the city's People's Congress on Jan. 4.
The New Land and Sea Corridor is an important outcome of the China-Singapore (Chongqing) Strategic Connectivity Demonstration Project, which was launched in November 2015 and covers financial services, aviation, transportation and logistics, and information and communications. During a government work report at the conference, Chongqing Mayor Hu Henghua said efforts will be made to strengthen the connectivity of the corridor with the Rail Freight from China to Europe service, the Yangtze River Golden Waterway, and the international aviation network. in 2022, this corridor transported more than 148,000 twenty-foot containers with a total value of RMB 25.12 billion (approximately US$3.73 billion), up 32% and 34% respectively year-on-year.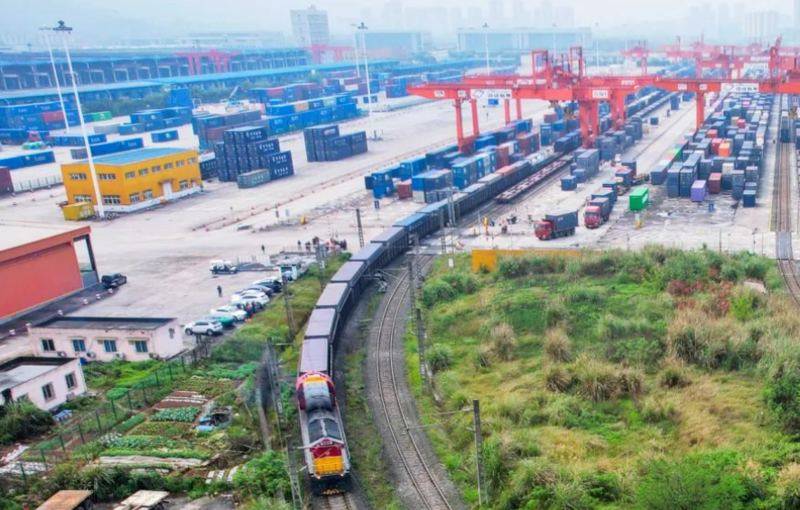 The First Rail Freight from China to Europe loaded with NEVs departs Guangzhou for Europe
On January 13, a freight train carrying 50 new energy vehicles departed from Guangzhou, Guangdong Province to Europe, marking the opening of a new channel for new energy vehicle exports in the Guangdong-Hong Kong-Macao Bay Area. The train will depart via Khorgos port and is expected to arrive in Europe in 15 days. The local logistics company said that compared with traditional sea transport, the China-Europe train has a more stable environment and route, which can boost the high-quality development of China's NEV manufacturing industry and the market extension of NEVs in areas along the "Belt and Road".
China's Jiangsu reports record number of trains from China to Europe trips in 2022
Jiangsu province, a major economic province in eastern China, handled a record 1,973 Rail Freight from China to Europe in 2022, up 9.6 percent year-on-year, local authorities said. Five cities in Jiangsu, including Nanjing and Lianyungang, have now opened 23 routes to nearly 80 cities in Europe, Central Asia, and Southeast Asia. The manager of an international freight train company in Nanjing said that due to the global economic crisis and the epidemic in recent years, international logistics transportation has been hampered. However, the Rail Freight from China to Europe has effectively filled the gap between supply and demand in these areas"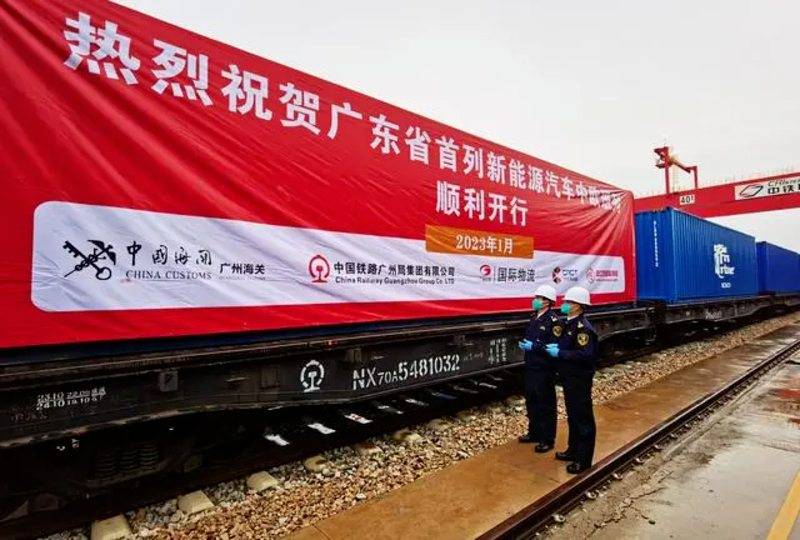 Zengcheng Railway Logistics Park has operated a total of 300 China-Europe freight trains
On January 9. a freight train with 106 standard containers of goods slowly left the Zengcheng Railway Logistics Park of Guangzhou Railway Group This is the 300th China-Europe freight train in Zengcheng. The train is fully loaded with 665 tons of food, household appliances, clothes, shoes, hats electronic equipment, and is expected to arrive in Europe in 16 days. Up to now, Zengcheng Railway Logistics Park has operated a total of 6 freight trains in 2023, a year-on-year increase of 100%. Help new year goods from the Bay Area to Asia and Europe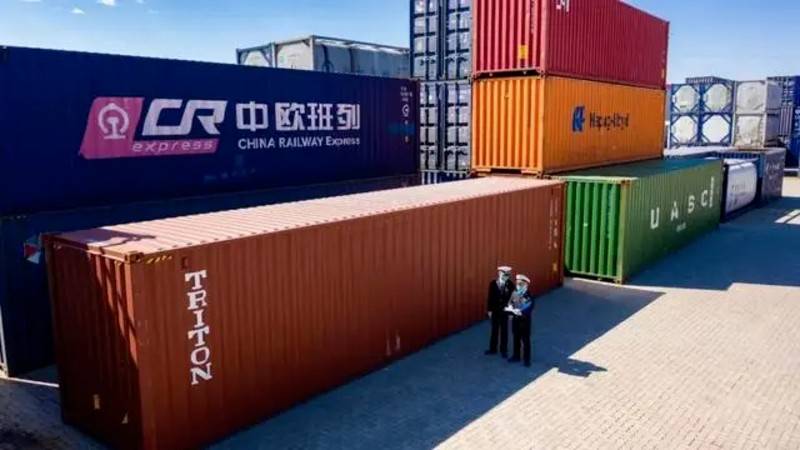 The Rail Freight from China to Europe (Shanghai) started its first trip in 2023, carrying 18.7 million yuan of cargo to Central Asia
The first Rail Freight from China to Europe (Shanghai) in 2023 completed customs declaration at Shanghai Station on January 8, and then headed westward to Kazakhstan, Uzbekistan, Kyrgyzstan, and other countries in Central Asia. According to reports, the train carries 100 TEUs of elevators, medical equipment, auto parts, daily chemicals, and other goods, with a total weight of more than 880 tons and a total value of 18.7 million yuan. In 2022, Shanghai Station Customs supervised a total of 53 freight trains, with more than 5,000 standard containers, a total cargo weight of 40,000 tons, and a total cargo value of 1.3 billion yuan.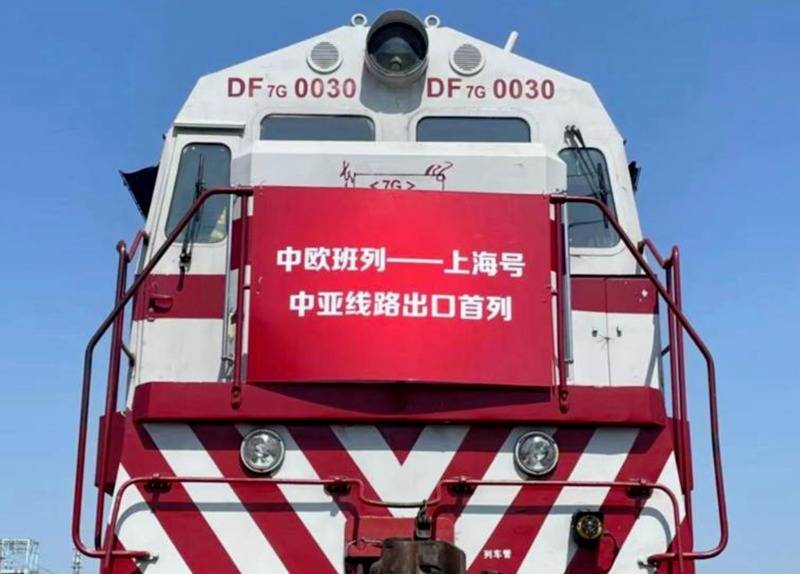 If you have any shipping inquiries for Rail Freight from China to Europe. Please feel free to contact our experts. We will answer you in 24 hours. We believe timely Tailor-made shipping solutions will boost your business.