China to Europe Train Operation Updates (Week 50)
In the 50th week, all routes of China to Europe train remained in good condition. As for the European line, the overall transit time from Xi'an, Chongqing, Chengdu, and other major stations to Malaszewicze is only 12-15 days. Due to the Christmas season and climate factors, the transfer at Malaszewicze to European terminals is extended, and the transit time for Hamburg and Duisburg is about 20-23 days: while it takes 26-29 days for the journey to Budapest. In terms of the Russian line, public trains at major stations have maintained a good on-time delivery rate. The average T/T for Xi'an, Chengdu, Yiwu, Hefei, Ganzhou and other cities to send to Moscow is 15-18 days. The fastest time from Guiyang and Chongqing to Moscow is 11 days. However, due to the tight schedule, some customized trains have been delayed to varying degrees, and the detention in the station is about 3-7 days. In addition, according to the notice of China Railway, since December 9, the traction rating of China to Europe train has been adjusted to no more than 3000 tons and the number of containers that can be received by the whole train has been adjusted to 55.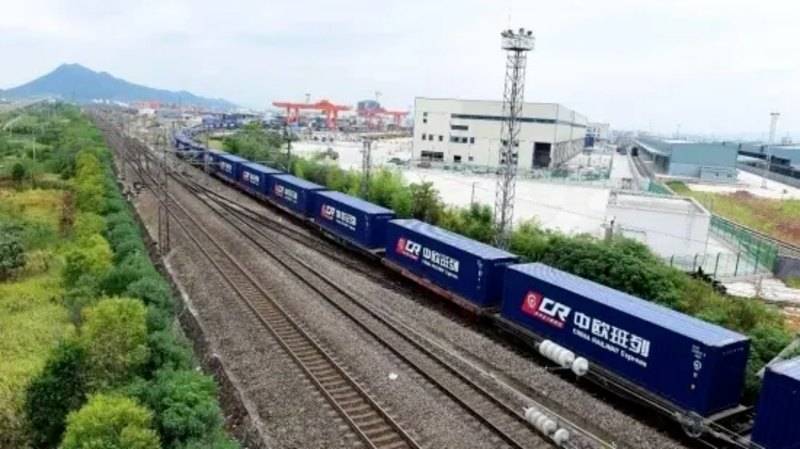 At the end of the year, the cargo volume for the Europe-bound service rebounds slightly. The shipping space for December from Chengdu, Xi'an, and other platforms has been fully booked. and the price has not changed much compared with last week. The Russian line continues to be hot. The shipping space of each platform has been booked for mid to late January. Some platforms have opened their spaces in mid-February in advance Industry insiders predict that the spot freight rate will increase by about 5% Some stations have issued a notice of rejection of heavy containers due to the fully occupied yards.
In addition, the domestic pandemic prevention and control policy has changed the epidemic situation in various regions is complex and changeable, and the New Year is approaching. Many factories in East China and South China have issued early holiday notices, and many workers will return home earlier, which is expected to have a significant impact on the transport demand in January. At the same time, the trucking companies reported that they would increase the trailer freight by about $300-500.
A total of 1.475 million TEUs of goods have been delivered by China to Europe train
According to the latest data from China National Railway Group, from January to November, cargo from China to Europe train and the Western Land-Sea New Corridor (sea-rail combined) increased year-on-year respectively. The international Logistics channel was stable and smooth.
In the past 11 months, a total of 15,162 trains and 1.475 million TEUs of goods have been transported, a year-on-year increase of 10% and 11% respectively. A total of 687,000 TEUs of goods have been delivered by sea-rail combined transport containers in the Western Land-Sea New Corridor, a year-on-year increase of 18.9% In November, the average daily transfer vehicles of the five major ports including Khorgos, Alashankou, Erenhot, Manzhouli. And Suifenhe exceeded 4,500 vehicles.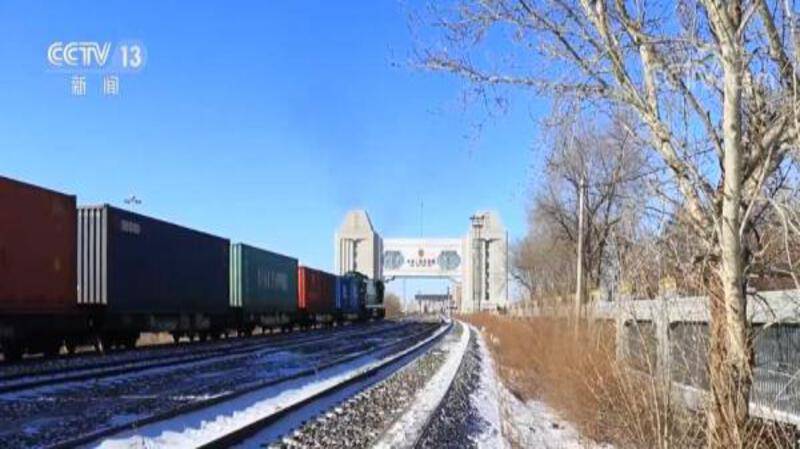 The first block train from the Turkish Mediterranean port is welcomed by Uzbekistan
An inaugural freight train carrying goods from Turkey's western Mediterranean coast to the center of Uzbekistan arrived at its destination in Tashkent over the weekend, the Uzbek state railroad company said in a statement.
The train, pulling 40 carriages loaded with household appliances and refrigeration equipment, was received by a welcoming committee after crossing through Iran and Turkmenistan. The 4,500-kilometer, four-country route was designed jointly by the state-owned railroad companies of Uzbekistan and Turkey. The trip appears to have taken place as a result of discussions at a summit of heads of state of the Organization of Turkic States held in Samarkand, Uzbekistan, on Nov. 11. As Uzbek Railways said in its statement, "at the summit an agreement was reached on the establishment and development of new transport transit corridors."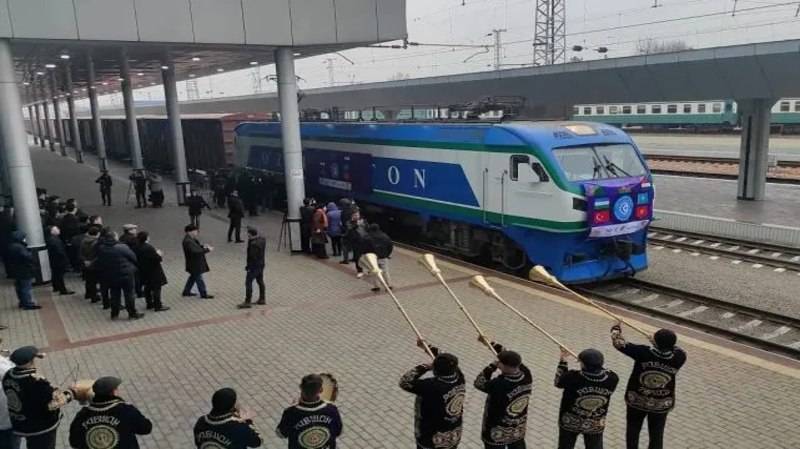 The China-Laos Railway has achieved outstanding results in the first year of operation, the Ministry of Foreign Affairs said
As of December 3, this year, the China-Laos Railway has been in operation for one year. Mao Ning, the spokesperson of the Ministry of Foreign Affairs, said that since the China-Laos Railway was officially opened, 24 passenger and freight stations have been developed, and a total of 8.5 million passengers and 11.2 million tons of cargo have been transported. This line achieved outstanding results in the first year. On December 3, the China-Laos Railway's first all-railway fruit cold chain train was dispatched. High-quality agricultural and food products from Southeast Asian countries such as Laos, Thailand, and Myanmar will be transported to the Chinese market safely and quickly thanks to China-Laos Railway's fast customs clearance and large-scale international freight.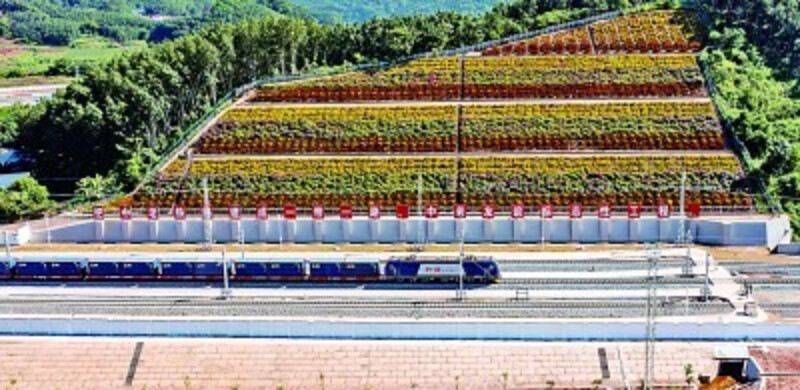 BAI SE YI HAO fruit and the vegetable train has operated more than 2,000
Baise is an important base for transporting vegetables from south to north. BAI SE YI HAO green fruit and vegetable train, as the first green channel for "transporting vegetables from south to north" in China, has opened up the bottleneck of cold chain railway transportation of agricultural products. In 2017, BAI SE YI HAO connected with China to Europe train. BAI SE YI HAO has successively dispatched cross-border trains from Nanning to Ho Chi Minh, Hanoi, Anyuan, etc. It has also set up logistics distribution centers in major cities in ASEAN and established Vietnamese dragon fruit, durian, and other fruit bases for direct procurement and supply models. Since its opening in 2013 as of December 6, 2022, a total of 2,143 trains have been operated, including 1,101 domestic special trains and 1,042 cross-border special trains.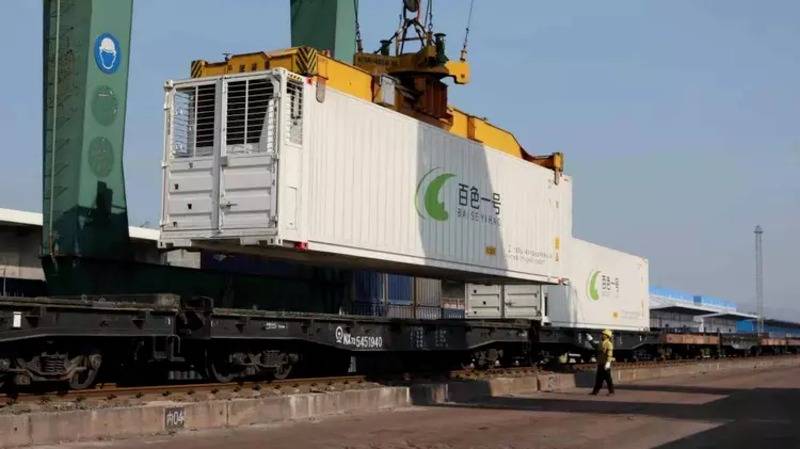 A cross-border e-commerce "China to Europe train" departs from Guangzhou Baiyun
On December 8, a cross-border e-commerce "China to Europe train" full of 100 standard containers of goods successfully departed from Guangzhou International Port. It will leave from Khorgos rail Port and is expected to arrive in Malaszewicz, Poland in 15 days. This train loaded with a lot of goods including clothing, luggage, car navigation systems, and color LCD panels made in the Pearl River Delta. The weight of the goods is about 423 tons, and the value of the goods is 41.06 million yuan. After arriving in Poland, they were immediately distributed to Germany, Italy, Spain, and other European countries. This is the first cross-border e-commerce China-to-Europe train operated by Guangwu International Logistics, marking a new level of high-quality development.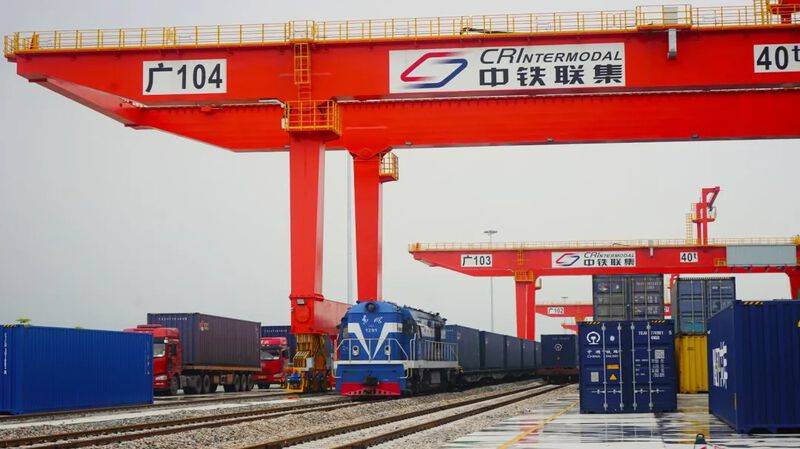 Tianjin ports freight trains bound for Europe & Central Asia break 90,000 TEUs, hitting a new record
On December 9, as a Central Asia train full of industrial products and daily necessities left for Mongolia, Tianjin Port's2022 freight train volume exceeded 90,000 TEUs, a year-on-year increase of nearly 60%. In recent years, Tianjin Port has made every effort to improve work efficiency. They have promoted the modes of "direct pick-up at the ship's side" and "direct loading at the port". At the same time, they have used the "one-order" whole-process logistics service of international sea-rail combined transport, realizing "one bill of lading, one special train, one-time throughout the whole links" to improve the efficiency of handling and unloading in freight cargo.