China is one of The Most Important Trading Partners of Belarus. In 2019, the Chinese market accounted for only 2.05% of Belarus's export share, while China was the second largest source of imports for Belarus.

JIKEship is one of the NVOCC freight forwarders in China, helping you ship your goods to Belarus. We can provide several freight services for any type of cargo you ship and guide you to find the service that is best for you.
Guide To Customs Clearance For Shipping To Belarus
China can be said to be the largest producer of exports to different markets around the world.
And Belarus is obviously one of the largest markets for various Chinese products.
Then you will learn the basics of importing from China, shipping to Belarus.
Part 1.Customs system in Republic of Belarus
Belarusian Standard of Origin
Belarus has signed agreements with the European Union, the United States, Canada, Japan and Mexico, setting out the criteria for the origin of exports to these countries. The EU is an important export market for Belarus and in its agreement with Belarus sets out different criteria for category I goods according to the number of commodity tariffs in great detail. For some products, the raw materials used must be belarusian; The raw materials for some products cannot exceed various standards such as 20%-70% of the wholesale price of manufactured goods (the proportion of different commodities is different). The agreement with the United States stipulates that the added value of processed products cannot be less than 35%.
In addition to the provisions of special standards with the countries that have signed the agreement, a uniform standard is applied in trade with other countries (including with the CIS countries): that is, a certificate of origin can be issued if the first four digits of the tariff number of the product before and after processing are changed.
Customs clearance document requirements
Organizing your paperwork is essential to make the shipping process run smoothly and is a necessity for all importers.
Customs declaration form

Goods and shipping documents (invoices, etc.)

If it is a commodity prohibited or restricted by the state, it must also have a license from the State Supervision Agency

Documents confirming the right to engage in foreign economic transactions

Confirmation letter that the use of the currency in circulation complies with the regulations of the state

Other documents required by customs
Belarus is an ally with Russia and a member of the Eurasian Economic Community, with fewer trade barriers and lower tariffs. In the World Bank's latest Doing Business 2017 report, Belarus ranked 37th out of 190 countries participating, up from 2015.
The current customs rate has been in place since 2001, with different rates based on the type and origin of the goods, with tariffs ranging from 0-30 per cent depending on the value of the goods. In practice, there are five tax rates: 5%, 10%, 15%, 20% and 25%.
Part 2.Ocean Freight | Shipping to Belarus
Belarus, a landlocked country in Eastern Europe, also supports the form of maritime transport from our country. The form of china's sea transport to Belarus is mainly "sea and land combined transport", that is, after arriving at the port of the neighboring countries, it is then transported to Belarus by truck.
Shipping to Belarus, there are usually 3 routes: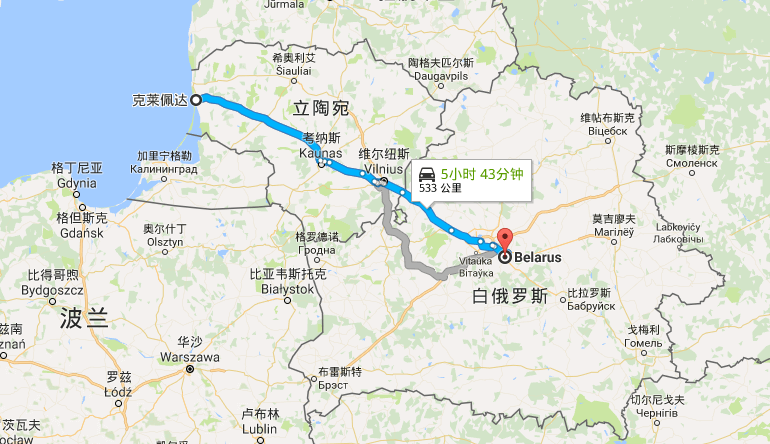 Transport route 1: Chinese port - Klaipeda (Lithuania) - trailer --- Belarus
  The basic ports in China are shipped from KLAIPEDA in Lithuania, and then the international transit is made by our local professional partners, container trailers are arranged, and bulk bulk cargo is transported by special vehicles to the customer's designated destination in Belarus.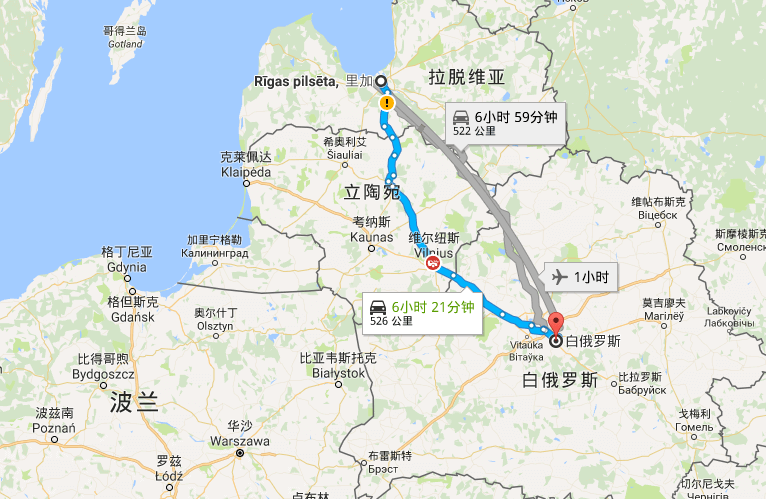 Transport route 2: Chinese port - Riga (Latvia) - trailer --- Belarus
  The basic ports in China are shipped from the basic ports to Riga (RIGA) in Latvia, and then the international transit is done by our local professional partners, container trailers are arranged, and bulk bulk cargo is transported by special vehicles to the customer's designated destination in Belarus.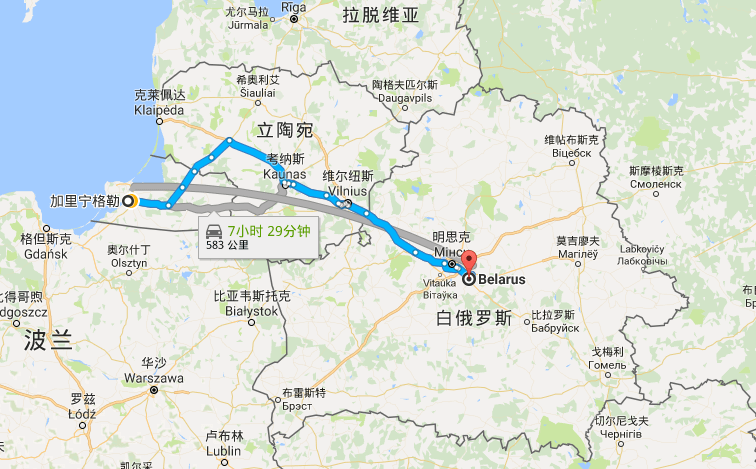 Transport route three: Chinese port - Kaliningrad (Russia) - trailer --- Belarus
  The basic ports in China are shipped from and shipped to Kaliningrad in the Russian enclave, and then our partners with professional qualifications in the local area do international transit, arrange COC/SOC container trailers, and bulk bulk cargo is transported by special vehicles to the customer's designated Belarusian destination, such as Minsk MINSK, Mogilev.
Belarus is generally to the capital Minsk (MINSK), the country rarely direct rail transport, generally sea-land combined transport, or sea-rail combined transport, railway is to the station, trailer is to the door. However, the railway is cheaper and the trailer is more expensive.
What customs clearance information is required for shipping:
Shipping LCL is cleared by ticket, and the information required for different products is also different, which can be confirmed with the importer. Usually, the export of live products needs to provide CE certification. Reservations are required for booking slips, packing slips, and invoices. If the customer has customs declaration information, he or she must provide the product name and customs code.
The whole container is customs clearance by container, the customer needs to provide cargo information (such as packing list, invoice, etc.), and our company provides the bill of lading. Some countries also need to provide the tax number of the individual and the business license of the company for customs clearance. If the customer has customs declaration information, he or she must provide the product name and customs code. According to different goods, there will be different customs clearance time, generally 3--5 working days.
1.When installing the cabinet, we must remember the cabinet number and seal number.
2.After returning to the cabinet, ask the driver for the updated volume and weight of the warehouse. Some terminals, the requirements are more stringent, must be based on their actual weighing.
3.After the copy of the bill of lading comes out, it should be checked immediately, the problem is found, corrected immediately, and finally confirmed to show the original bill of lading.
4.Pay attention to the arrival time of goods, communicate with the shipowner and customs broker in advance, prepare the required documents in advance, and avoid the occurrence of late boxes, late ports, late declarations, and late fees.
Part 3.Air Freight | Shipping to Belarus
There are 7 airports in Belarus, namely Minsk State Airport (MSQ), Minsk 1 Airport (MHP), Gomel (GME), Grodno Airport (GNA), Brest Airport (BQT), Mogilev Airport (MVQ) and Vitebsk Airport (VTB). These airports not only handle the transportation of domestic routes, but also international scheduled flights to various countries as well as charter passenger flights.
There are three main airlines for air transport in Belarus: Belarusian Airlines, Gomel Air Airport and air transport export airlines. Among them, the first two enterprises are mainly engaged in passenger air transport, and air transport export airlines occupy a dominant position in the cargo air transport market.
Belarusian National Airlines operates daily round-trip flights to Moscow, Vienna, Frankfurt, London, Paris, Rome, Warsaw, Riga, Kiev and other large and medium-sized European cities. In addition to Belarusian Airlines, a number of airlines such as Aeroflot, Lufthansa, Austrian Airlines, Lot Polish Airlines, Emirates, EL AL and other airlines have regular flights in Belarus.
Standards for the collection of tariffs on belarusian parcels
Belarusian Customs adjusts the standard of collection of parcel tariffs, the main adjustments are as follows:
  1) The tax base for parcels will be reduced from 220 euros to 22 euros. If the recipient receives a parcel with a cumulative value of more than 22 euros in 1 calendar month, he or she will be required to pay a tax rate of 30% on the excess amount.
  2) The weight of the parcel received by the recipient is only tax-free within 10kg. If the recipient receives more than 10 kg of parcels in 1 calendar month, the recipient will be charged 4 euros/kg for the excess weight.
  Note: If the taxation standard is met, belarusian customs will contact the buyer to pay the tax, and if the buyer refuses to pay the tax, the Belarus post will process the package as a "undeliverable package" (destroyed or returned) after 30 days.
Part 4.Railway Freight | Shipping to Belarus
Rail transport to Belarus is a landlocked country located in Eastern Europe, adjacent to Russia in the east and north, Belarus has its primary diplomatic focus on Russia, attaches importance to relations with the CIS and its neighboring countries, and also regards China as one of the priority directions of Belarusian diplomacy, and strives to improve relations with Western countries. Long-distance transport in Belarus is mainly based on railways, with a total length of 5,600 km of railways in the country, of which 894 km are electrified railways, and the double-track electrified railway on the Brist-Minsk-Orsha-Russia border is 612 km long. The railway route from China to Belarus starts from Wuhan Wujiashan Station, leaves via Alashankou, passes through Kazakhstan, Russia, Belarus to Poland, the Czech Republic, Slovakia and other relevant cities in the country, the whole journey is about 10,700 kilometers, and the running time is about 15-20 days.
Part 5.Express service | Shipping to Belarus
Advantages of international express delivery to Republic of Belarus
①Preferential price: Through JIKEship to take DHL, UPS, TNT, Fedex and other international express, you will enjoy the ultra-low discount of the official price, which is one of the reasons why most shippers choose JIKEship as their exclusive agent.
② Convenient delivery: If you don't know how to send international express, we can help you solve it, because we will have special customer service to help you complete a safe and fast international delivery plan.
③Professional service: We provide professional packaging service on packaging. If you need, we will help you repackage your parcel to make it comply with international shipping standards; thus avoid unnecessary packaging and reduce postage; strengthen your parcel and improve the security of your parcel.
④ Efficient and safe: We can store your package on the same day as it is received, and the package paid before 6 pm Beijing time will be sent out on the same day, and we will arrange delivery for you as soon as possible.
Recommended logistics methods for international express shipping to Belarus
DHL International Express - Safe, Fast, Guaranteed Timeliness
Fedex international express - cheap price, obvious advantage in off-season
China Post EMS——convenient customs clearance and fast speed; calculated by actual weight, the price of small packages has an advantage
Hong Kong Post EMS——Based on the actual weight, the price above 6kg has an advantage
China Post EMS volumetric weight limit for shipments to Republic of Belarus
The weight of packages shipping to Belarus using China Post EMS must not exceed 30 kg, the dimensions of any side of the package must not exceed 1.5 meters, and the maximum horizontal perimeter, excluding the vertical length, must not exceed 3 meters.
Timeliness of shipping to Belarus
International Express: 3-5 working days
International packets: 15-20 working days
EMS: 5-7 working days
*The above is the delivery time without accident, but it is affected by weather, customs, customs clearance and other factors.
Restrictions and precautions for shipping to Belarus
We should note that although the Republic of Belarus is a free country to do business in, everyone still has to respect their rules and regulations.
You should note that Republic of Belarus is a free country to do business, but you have to respect their rules and regulations.
● Powder, liquid, paste
● Magnetic products
● Andother weapons
● Food, medicine
● Alcohol, disinfectant, etc
● Batteries and other live products
● Prohibited items prohibited by the state and air
Part 6.FAQ with shipping to Belarus
FAQ
Q: How long does it take to ship my cargo from China to Republic of Belarus?
A:Even though most companies will not give you an arrival time, they will provide an approximate date, and these dates are reliable.
Q:My supplier has no right to export. Can you help me export the goods?
A: Yes, we can. We can purchase export licenses for you, do customs clearance and ship the goods to you.