International logistics enterprise, also called international logistics service provider or international logistics service provider, is an economic organization engaged in international logistics activities. It is an enterprise that is independent of the production field and specializes in various economic activities related to the international flow of goods. So what services do they generally provide? Today, Shenzhen Immediate Logistics Co., Ltd (one of the Non-Vessel Operating Common Carrier (NVOCC) approved by the Ministry of Communications of the People's Republic of China and a member of the International Freight Forwarders Association (FIATA)) As an example, let you understand the services of international logistics companies.
Air Freight
JIKEship's 3pl service provides customers with secure space allocation, competitive rates and airfreight services that meet a variety of transit time requirements. JIKEship has a dedicated airfreight department with fast and economical airfreight services to all parts of the world. Our network of tried and tested professional partners allows us to manage your cargo minutely and with the best service. We also help you to track your cargo in time.
Air freight service is available for all kinds of products from the most fragile to the heaviest.JIKEship offers air freight service from China to any other country. Your goods will be in the best hands even in far away places. We will strategically select air carriers based on shipping capacity and flight frequency, providing tailored air freight options that balance speed and cost to ensure your items arrive on time. By working closely with multiple airlines, JIKE's air freight services ensure the best possible air freight service for our customers, combining space allocation and competitive pricing.
Ocean Freight
JIKEship provides customers with ocean freight services and logistics solutions that increase efficiency and quality. As one of the world's largest container shipping companies, use our shipping services to move your ocean freight around the world, providing ocean freight services from over 300 ports, we deliver 12 million containers per year to all corners of the globe. Ocean Freight is a leading expert in global logistics. As a fully licensed and bonded freight forwarder, JIKEship provides comprehensive logistics and transportation solutions for many sectors of the industry. Helping small and medium sized businesses grow by simplifying end-to-end logistics. We will connect your business globally, whether shipping on the same continent or worldwide. JIKEship has the ocean freight, cargo, warehousing and container shipping experience to meet your ocean freight needs.
Rail Freight
Rail goods transport services are becoming more and more attractive for shipments between China and Europe/Middle East/Asia. Rail transport offers sustainable solutions for rail goods transport services as it has lower fuel consumption than other transport modes, especially when transporting high volume/heavy cargo by rail in inland areas. It has replaced safe and cost-efficient services and is becoming increasingly popular today.
As a pioneer in rail transport, JIKEship has been committed to rail goods transport services since 2014 when regular rail transport between China and Europe became the norm. We focus on developing long-term relationships with our customers and strive to exceed their expectations. JIKEship provides one-stop rail goods transport services between China/Asia and Europe, including ocean freight, customs clearance, and home delivery.
The Chinese rail network is one of the most extensive in the world, connecting destinations in the Middle East, Far East, Russia and Europe.
The Chinese rail shipping network connects more than twenty cities including Zhengzhou, Shanghai, Yiwu, Qingdao, Chengdu, Wuhan, Suzhou, Hebei, Chongqing and Suzhou.
JIKEship provides efficient, fast and reliable 3pl service! The cost of railroad transportation is 50% lower than air transportation, but the transportation time is more than 50% shorter than sea transportation.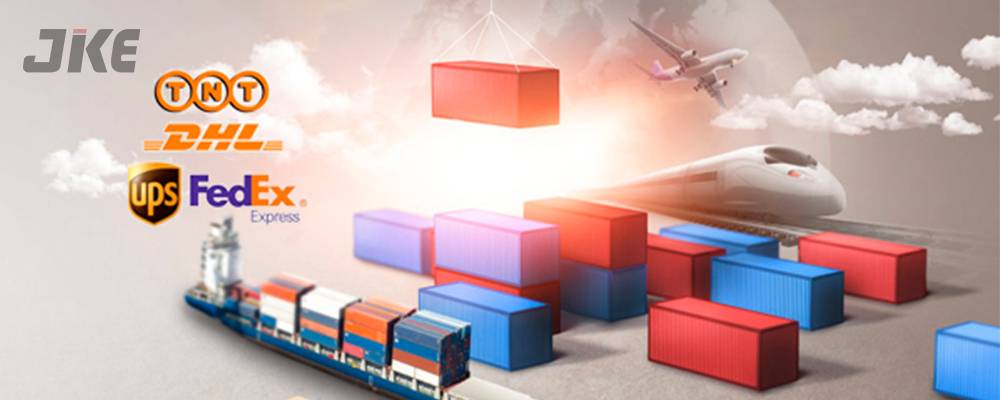 Express shipping service
JIKEship has established long term relationship with world famous international courier companies, we are the agent of FedEx, UPS, DHL and TNT. And we get competitive discounts. We understand the rules of shipping from China to the world, the advantages of each channel and shipping prices. We remind our customers of the required documentation and packaging requirements. Our professionalism drives our express business forward.
With nearly a decade of experience in the field of international courier services, GeekShip offers services in more than 220 countries and territories around the world, and our global offices and quality distribution facilities are staffed by a dedicated team of top-notch experts. At JIKEship, we have built an extensive shipping network to ensure that we can meet the shipping needs of a wide range of international courier services. Send your international courier package with us and we will handle all the delivery details on your behalf.
Postal Services
EMS - Postal Express Service, the brainchild of the Universal Postal Union, a global brand, a truly global service with many useful features. For specifying EMS courier services for delivery. Thanks to the extensive coverage of the postal network in terms of the number of post offices, the EMS network has the largest number of customer access points in the world. It also offers the largest last mile coverage in the world, supported by a network of premium postal courier services. Post offices in approximately 200 countries and territories worldwide provide this premium end-to-end service for documents and goods.
To track your package after choosing EMS courier service, use JIKEship's powerful tracking tools for true end-to-end EMS tracking.JIKEship's universal tracking system can provide tracking information for EMS and registered standard shipments, including private couriers, making JIKEship your one-stop tracking provider when you send a package!
You can track any EMS package, including China Post EMS packages, through JIKEship's universal tracking platform. Simply copy and paste your tracking number into the website and JIKEship's global tracking system will find the latest location and status information for your parcel. available 24 hours a day, 7 days a week, JIKEship's multi-courier tracking capabilities mean it's a one-stop store for all your tracking needs.
Amazon Shipping Services
JIKEship has invested heavily in e-commerce related logistics, especially Amazon logistics and delivery services. We can ship FBA by air/sea/rail and truck/courier. Our DDP service is not only suitable for parcel shipping, but also for container shipping.
Amazon Logistics is a service created by Amazon that allows business owners to receive items quickly and easily using their own delivery fleet and contract labor, rather than third-party providers like UPS and FedEx.
Send us your products and we'll take care of the preparation for Seller Fulfillment Prime (SFP), Merchant Fulfillment (FBM) and Fulfillment by Amazon (FBA). We help sellers achieve more on Amazon and maintain Seller Self-Delivery Prime status by consistently providing high standards of service and adhering to Amazon guidelines.
When you earn the Prime badge, we complete our mission We quality check and prepare your products to ensure they meet Amazon's strict SFP compliance standards. Your Prime order is then shipped quickly from our warehouse to a designated Amazon Operations Center via an approved Amazon carrier. Helping you make the most of your Prime products and provide the best fulfillment experience for your customers.
Sell more on Amazon with less hassle We guarantee that your products are 100% Amazon (FBA) compliant. 3PL prepares your products to meet Amazon's strict guidelines for logistics delivery and sends them to the Amazon operations center of your choice. We also ship your Amazon orders directly to your customers, leveraging centralized inventory and reducing the need for over-processing.
Improve inventory visibility and make informed decisions. Analyze what really matters with clear data dashboards. With 3PL Fusion technology, you get actionable insights and real-time visibility into your inventory and orders to help you effectively manage your Amazon performance and plan for business growth.
Cross-Border Trucking Services
Our main routes for cross-border shipments are European and Asian countries. Different types of items can be delivered to the port/gate via LTL or FCL via JIKEship to meet your needs and requirements, reduce transit time and save costs.
Cross border freight is a way to save you more money on large shipments, have more flexibility in what you can ship, and be only a little slower than air freight. If you use both air freight and trucking across borders, its availability is irrelevant to international travel, and it also prevents you from putting all your supply chain eggs in one basket.
Transporting between countries adds complexity and can push your time and budget to a tipping point, so you need a logistics provider with the service, expertise and technology to do it easily.
Our local multilingual experts understand cross-border economics and freight movement, as well as the geographic, regulatory and regional cycles that come into play when moving your goods across regions and continents. This deep knowledge base, combined with our global suite of services, flexible transportation mode mix and carrier network, provides the foundation for reliable service that optimizes your supply chain now and into the future.
You can rest assured that when you use JIKEship's flexible end-to-end services, once your freight is loaded on a truck, it's in the hands of the best drivers in the industry.JIKEship's strength is its people, and we believe that providing our drivers with great benefits is the key to their success and what makes us a truck transit leader. Contact us for a quote.
Goods consolidation services
If you have different suppliers in China and you want to ship all their cargo together, we can help you pick up and collect all your cargo from different Chinese factories and ship them out as one shipment.
Freight consolidation means packing multiple items with a single destination into one consignment. This allows senders of even small items to take advantage of bulk shipping rates, thus saving time and money.
Using the Less Than Container Load (LCL) model, we consolidate multiple individual shipments to fill containers. This is the most cost effective option for companies wishing to send only multiple pallets or boxes.
Freight consolidation services are ideal for customers who wish to ship small quantities of goods.JIKEship offers freight consolidation services without the need to pay for full container load (FCL) shipping, providing efficient and effective shipping for customers of all sizes.
With processing and distribution centers in Liverpool, Belfast, Indianapolis, and Singapore, we offer affordable and convenient integrated freight services to customers worldwide
Benefits of freight consolidation
Customers choose freight consolidation (LCL) because it can reduce costs, improve operations and increase flexibility. By consolidating shipments and sharing containers, costs are shared and you only pay for your share of the containers you use.
Freight consolidation or LCL services offer customers a cost-effective, efficient and reliable way to transport their cargo.
Consolidating freight shipments also allows you to optimize your supply chain. With the ability to move small quantities quickly and inexpensively, you can provide faster and more reliable service to your customers and partners.
All individual shipments are delivered to and handled at our global centers in Liverpool, Belfast, Indianapolis or Singapore. This allows us to select the correct container for each shipment.
They are then organized and packed into the appropriate containers with a full manifest to ensure proper supervision and security of all combined shipments. We pride ourselves on the safe handling and secure loading of all consolidated items, avoiding the risk of damage or loss.
Each consolidated shipment is sealed until opened by our receiving agent at the port of destination. These individual shipments are then unloaded and reconciled with the manifest prior to final delivery.
Multi-modal goods transport services
Our reliable door-to-door goods transport service can deliver your cargo to your destination by consolidating different modes of transportation. We specialize in determining the most appropriate multi-modal mode to meet your needs.
Multimodal door-to-door service is a combination of two or more modes of cargo transportation under one contract, such as air, road, rail or sea freight. The multimodal operator is the person who manages and coordinates the entire transportation task of the cargo from the shipper's door to the consignee's door and ensures that the cargo moves continuously along the best route to meet the consignment in the most efficient and cost effective manner.
In multimodal door-to-door services, the shipper's contract of carriage covers all modes of transportation from origin to destination, whether it is door-to-port, port-to-door or door-to-door transportation. The main benefits of multimodal transportation include providing faster cargo movement, cost savings, and having only one agent to handle it, i.e. a single point of contact.
The world of transportation has changed dramatically in the last decades. International cargo transportation is increasingly door-to-door and involves more than one mode of transportation. JIKEship's specialized freight and third-party logistics (3PL) providers offer reliable door-to-door goods transport services connecting the United States, Canada, Mexico and more through the NAFTA corridor.
It's important for you to optimize your routing and total transportation costs before you set sail. Sometimes a combination of different shipping lines is the best way to achieve total freight costs. However, this means more logistics coordination. On the other hand, a single carrier can achieve optimal routing and require less paperwork. JIKEship has 400 miles of cross-border shipping capacity across the South Texas and Mexico borders and an extensive network of partners that can handle any cross-border shipping service to and from our neighboring countries.
Intermodal continues to provide customers and businesses with the opportunity to find carriers to help them choose how to move their goods. More importantly, intermodal includes door-to-door goods transport services in its delivery services, which could make it the transportation industry's first choice.
The advantages of multimodal transportation to door-to-door services are numerous. Companies and businesses use this mode of transportation because it is a win-win situation for both the carrier and the customer.