How to Shipping To Croatia
China and Croatia have always had good economic and trade relations, the former Yugoslavia period, Yunnan Province and Croatia established friendly provincial relations, since 1993, the Chinese customs on the Sino-Croatian trade separate statistics. This means they have access to many investment and business growth opportunities.

Therefore, we will show you the advantages of the best sea freight service shipping to Croatia – whether by land, air or water. We will provide you with the most competitive price, far below the market price. In order to spare no effort to get them to where they need to go.
Guide To Customs Clearance For Shipping To Croatia
Croatia customs clearance requirements
Affected by the latest EU tax policy from July 1, 2021, all shipping to Croatia must provide customs clearance documents from now on:
Commercial invoice
The accompanying invoice must state:
① The recipient is the company: provide the company registration number.
② The recipient is an individual: the local person provides the personal id card number, the foreigner provides the passport number, and the IOSS tax number must be declared for shipment, which is reflected in the waybill and the accompanying invoice.
③ If the sender is unable to provide these (1) (2) items, the goods that the recipient does not cooperate with the import VAT may be directly returned or destroyed! At the same time, there may be high refund fees and other related miscellaneous fees, and if there is a cost, it will be borne by the sender by default.
④ The invoice must have detailed recipient/sender information, including detailed address/full name/contact number/email address, etc. If the importer and the recipient are not the same, the importer information must also be written.
⑤ Detailed description of the contents of the goods, including detailed product name, material, use, number of pieces, gross weight/ net weight, HS CODE, unit price / total price, currency, unit / quantity, etc. Note that the English expression should be correct, such as HS CODE is Harmonized System Code, and can not use cusoms code, commodity code, etc. The correct value of the item needs to be listed separately, such as cargo value, insurance, shipping, etc.
⑥ Indicate the country of origin, trade terms (DAPEXWCIF), and the reason for export (such as permanent, repair & return, temporary, gifts), etc.
⑦ Invoice number and date.
Certificate of Origin (A declaration of origin issued by an eligible exporter registered in the REX system, or a declaration of origin issued by any exporter for goods whose total value does not exceed 6,000 euros)

Preferential transfer documents

EU external transshipment documents

Proof of the movement of goods
【Customs System and Tax Rates】
Croatia introduced a new customs rate law on July 1, 1996, which is based on the relevant laws and regulations of the European Union. In the new tax law, in accordance with the principle of complying with the requirements of the WTO and protecting the domestic industry, the import tariff on raw materials has been lowered and the import tax rate on manufactured goods has been raised.
1.The average tax rate of gram customs is 20%, and the specific tax rate is classified as:
raw materials that cannot be produced in the country are exempt from customs duties or less than 2%;

Processed materials that cannot be produced in the country, the tax rate is not higher than 5%;

Manufactures that cannot be produced in the country shall be subject to a tax rate of not higher than 20 per cent;

Manufactures that can be produced in the country are taxed at a rate of 20% to 35%.
2.Tariffs on some imported goods: beef 25%, poultry 20%, computers 5%, televisions 15%, telephones 10%, washing machines (laundry volume of less than 10 kg) 15%, (laundry volume of more than 10 kg) 5%, household appliances 5% to 15%, clothing 25%, shoes 20%, refined oil 25%, lubricating oil 15%, cars (1,500cc or less) 10%, (1,500CC or more) 15%, used cars 20%, car tires 15%.
How long does it take to clear customs for imports
How long does it take to clear customs for imports
Import customs clearance is generally normal about 5-8 days, depending on the customs arrangement. If inspection and taxation are involved, it also depends on the inspection situation and the classification of tax rates.
Import customs clearance is not only the customs link, import customs clearance is divided into: ship arrival after the change of orders, commodity inspection and inspection, customs declaration, port yard payment, transportation and delivery and other links, general customs declaration takes about 1-3 days, the whole process down the fastest 2 days, generally 3-5 days can be completed.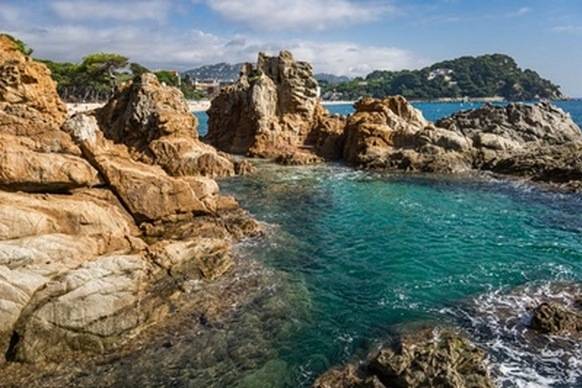 Part 2.Ocean Freight From China to Croatia
Now, Croatia's port facilities have been recognized by the "China + 16 Ceeconian Countries" cooperation framework. Chinese goods can be shipped to Central and Eastern European countries through four ports, one of which is the port of Croatia.
The port of Rijeka
It is a port in Croatia located on the coast of the Adriatic Sea. The port of Rijeka first appeared in historical records in 1281. The port of Rijeka was the main port of the Kingdom of Hungary, Yugoslavia and post-independence Croatia from the 19th to the early 20th century. Now rijeka Port is the largest port in Croatia. In 2016, the port of Rijeka handled 11.2 million tons of cargo. Now the Port of Rijeka has plans to expand.
Dubrovnik Harbour
Located on the southwest coast of Croatia, on the southeast side of the Adriatic Sea, it is one of the main seaports in southern Croatia. There is an international airport.
The characteristics of the free customs territory of the port are as follows:
(1) mainly engaged in entrepot trade and processing industries;
(2) There are various warehouses in the district, and after the domestic goods have been repackaged or processed, the country can issue a certificate of origin;
(3) Foreign capital may co-establish enterprises with the domestic country;
(4) The equipment required for foreign construction of factories and the transportation of foreign goods into the zone for storage and then transshipment are not subject to customs duties. However, the means of production, semi-finished products, power fuels and consumer materials consumed and used in the zone are subject to import taxes;
(5) It is not allowed to open shops for sale in the area, but it can supply materials and food needed by passing ships;
The features are only listed in most of them, and you are welcome to add additional notes in the comments section
The Port of Split
Croatian commercial port on the Balkans. It is located in the southeast of the country's coast, southwest of the port city, and bordering the Adriatic Sea. The sea route is 157 nautical miles northwest of the port of Rijeka, 211 nautical miles from the port of Venice, 146 nautical miles from the port of Bari to the south, 111 nautical miles from the port of Dubrovnik to the southeast, 163 nautical miles to the port of Bar and 1144 nautical miles to port of Said. There are many islands outside the port, and ships enter the port from the Splitsky waterway west of Solta Island in the southwest.
Container shipping services
You can ship goods by full container load (FCL) or less than container load (LCL). There are many factors you need to consider when shipping from China to Croatia
The cost difference between LCL and FCL
**a)**Less Container Load (LCL)
When the importer has very few goods to import, we recommend using the LCL shipment type to transport the goods.
Therefore, shipments bound for the same destination will be packed together until the container is full.
Shipping costs will be shared among all those who have goods in the container, with the ratio depending on the volume occupied by their respective goods.
This is the cheapest mode when one considers importing very small quantities though it takes a longer duration to reach its destination.
The long time is as a result of consolidation of all small quantities to ensure the container is full.
As well, it also takes time to clear individual package in the container.
b) Full Container Load (FCL)
In FCL, the container is only loaded with one person's cargo, and all tracking is done for one person only. And the shipment is always charged at the flat rate. For this purpose, the customer or agent can easily track it using the container/booking number once the container has been dispatched.
The 3 commonly used containers include 20 feet, 40 feet and 40 feet high cube container.
These dimensions must have a maximum weight of 28 tons.
This is safer than LCL since there is no mixing of different packages.
Container cost composition: ocean freight, storage fees, port miscellaneous fees, loading fees, some goods also have direct loading fees, reinforcement fees, etc.
LCL generally includes three fees, sea freight, LOCAL CHARGE, warehouse fee.
The LOCAL fee is paid to the agent by the consignee at the destination port. The fee charged by each port is different, and the fee charged by each agent is also different, so the customer needs to confirm with the freight forwarding company in advance.
Because FCL shipping reduces the formalities of shipping companies, some shipping associations will have freight discounts on FCL shipping. For LCL cargo, usually the shipping association charges a certain container freight station service fee
How long does it take to get to Croatia by sea
Shenzhen Shipping to the Port of Rijeka in Croatia can be directly shipped by sea, with a voyage of 25 days. Or via the Greek port of Piraeus for a transit, the voyage is about 30 days.
Shenzhen shipped to the croatian port of Ploce, a 34-day voyage, and MSC transited via Gioia Tauro Port. The 32-day voyage takes the CMA to transit via malta port.
Part 3.Air shipping to Croatia
Croatia is a republic located in southeastern Europe, at the junction of the Pannonian Plain on the Balkan Peninsula and the Mediterranean Sea. To the southwest and south is the coast of the Adriatic Sea, with numerous islands and a tortuous coastline; The south-central part is plateau and mountainous, and the northeast is plain. Croatia has 8 international airports (class 4E), the main airport being Zagreb "Pliso" airport.
(1)Bor Airport Three-word code: BWK
(2)Dubrovnik Airport 3-word code: DBV
(3)Lošinj Airport Three-word code: LSZ
(4)Osijek Airport Three-word code: OSI
(5)Pula Airport 3-word code: PUY
(6)Rijeka Airport Three-word code: RJK
(7)Sardar Airport Three-word code: ZAD
Dubrovnik Airport 3-word code: VNI ; Located in Dubrovnik, Croatia, it is the second largest airport in the country. Dubrovnik Airport handled 1.5 million passengers and 2,500 tons of cargo in 1987. Dubrovnik Airport handled 1143168 passengers in 2007, an increase of about 22,715 passengers by 2% over 2006.
(8)Split Airport Three-word code: SPU
(9)Split Airport (three-word code: SPU; Airport Name: Split)
Beijing (PEK) air freight to Croatia. Split (SPU)
Airline: SU
Transit Airport: MOW
Flights: 1, 2, 3, 4, 5, 6, 7
Aging: 4-6 days
First confirm the second way, pick up the bulk cargo, and transfer through MOW (Moscow). SU passenger aircraft flight SU201 / departure time 02:30 - Moscow arrival time 05:30, flight SU205 / departure time 12:00 - Moscow arrival time 15:00 is one PEK (Beijing) - SVO (Moscow) once a day, aircraft type B767, SU does not accept the level. Europe charges a CGC surcharge: CNY150/ticket. Goods under 100K charge a minimum fee of 50 yuan / ticket. (Can not rely on the level, do not take the liquid, do not connect the lithium battery, do not connect the chemical) The European main sub-order information fee is 50 yuan / ticket each. Pallet size limit: 156153114CM.Single piece limit 200KG.
(10)Zagreb Airport (3-word code: ZAG; Located about 10 km southeast of Zagreb, the capital of Croatia, Zagreb is the busiest and most important international airport in the country and one of the important bases of the Croatian Air Force. Zagreb Airport is the base airport of Croatian Airlines.
At present, there is no direct route between China and Croatia, Zagreb is the capital of Croatia, and Zagreb has a round-trip route with Dubai and Belgrade.
Shenzhen (SZX) air freight to Croatia. Zagreb (ZAG)
Airline: CA
Transit airport: FRA
Flights: 1, 2, 3, 4, 5, 6, 7
Duration: 5-7 days
Pick up bulk cargo/pallet, pick up low board size pallet 321.58M, Shenzhen (SZX)-Beijing (PEK)-Frankfurt (FRA)-re-truck transfer, two-way flight number CA931, flight every day, departure time 14:00 - arrival time 17:15 / flight number CA965, model 773, departure time 02:05 - arrival time 05:25. (Trucks are included 2.5 yuan / K, note that the minimum truck fee is 2450 yuan). Bubble goods with a solid weight of less than 100KG can only be distributed and cannot be divided into bubbles.
Part 4.About the express service from China to Croatia
Recommended logistics methods for international express shipping to Croatia
DHL International Express – One stop shop for express pickup and delivery, no Eori number required.
Fedex International Express - the price is cheaper than DHL, and international shipping is easier than ever.
The odds of various ems being detained in Croatia are very high (including China Post, Singapore Post, Hongkong Post), it is recommended to take postal surface mail and express delivery.
China Post EMS shipped to Croatia volumetric weight limit
The weight of packages shipping to Croatia using China Post EMS shall not exceed 30kg, the size of any side of the package shall not exceed 1.5 meters, and the maximum horizontal circumference and circumference shall not exceed 3 meters.
Timeliness of shipping to Croatia
International Express: 3-5 working days
International packets: 15-20 working days
EMS: 5-7 working days
*Singapore Post EMS delivery time is longer, about 20 working days, and China Post EMS and Hongkong Post EMS are faster
*The above time is the delivery time under normal circumstances, and the final delivery time is affected by weather, environment, and customs.
Restrictions and precautions for shipping to Croatia
Croatia has strict policies and restrictions on restricted and contraband goods that are not allowed into the country without an import permit issued by the government. E.g:
● All kinds of weapons, imitation weapons, ammunition;
● Counterfeit currency and counterfeit securities;
● Printed materials, films, photographs, records, films, audio tapes, video tapes, laser disks, computer storage media and other items that are harmful to China's politics, economy, culture and morality;
● All kinds of potent poisons;
● Opium, morphine, heroin, marijuana and other addictive narcotics and psychotropic substances;
● Animals, plants and their products with dangerous bacteria, pests and other harmful organisms;
● Food, medicine or other items that hinder the health of people and livestock, come from epidemic areas and other diseases that can spread diseases.
Part 5.FAQ with shipping to Croatia
FAQ
Q: How long does it take to ship my cargo from China to Croatia?
A:Although most shipping companies will not give you an exact date when your shipment will arrive, they will provide an approximate date. In the vast majority of cases, these dates are accurate. But again it depends on the shipping method and shipping company frequency of the goods to your destination.
Q:My supplier has no right to export. Can you help me export the goods?
A: Yes, we can. We can buy an export license, do your customs clearance and ship the goods out to you.