2023 FedEx Rate Increase: 6 Key Points
Effective Jan. 2, 2023, FedEx Rate Increase. FedEx Express (domestic, U.S. export and U.S. import), FedEx Ground and FedEx Home Delivery rates will increase by an average of 6.9 percent.
FedEx Rate Increase by 6.9 percent for PZONE/EZONE base rate shippers and by 7.9 percent for FXF 1000/501 base rate shippers.
Keep in mind that there is often a difference between the announced rate increase and the impact of the rate increase on individual shippers.
Our team at JIKEship has identified several important points for shippers to note and evaluate.
1.FedEx Rate Increase to record high in 2023
After breaking a decade-long trend of 4.9 percent and 5.9 percent growth in 2022, FedEx has added another point to its 2023 GRI, with Chief Customer Officer Brie Carere adding "inflationary backdrop" as a reason for historic growth. "We did not anticipate the significant cost increases that hit us directly last year at ......." Both statements were FedEx's answers to questions during its first-quarter 2023 earnings call on Sept. 22.
In 2009, FedEx Rate Increase of 6.9% for express delivery, but offset the increase by lowering its fuel surcharge by 2 percent. Notably, there was no change in fuel in this year's announcement.
It will be interesting to see if UPS matches the 6.9% increase. My guess is that UPS is currently adjusting its 2023 rates from a 5.9% increase to 6.9%. 2.
2.Most general surcharge increases exceed the announced 6.9%
Remember, the 6.9% in the title does not include surcharges. As in previous years, this year's surcharge increase is well above 6.9%.
By 2023, Home Delivery Residential Surcharge FedEx Rate Increase of over 8%. Home delivery area surcharges will increase by 10%+. ahs and oversize continue to soar with double-digit increases. Even the late fee has gone up 33% to 8%!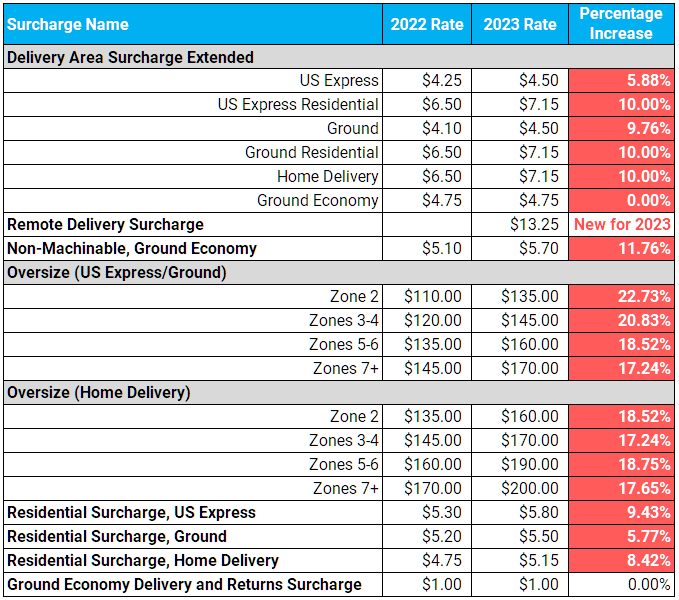 3.Ground minimum parcel fee (Zone 2, 1 lb. list rate) increases 7.9% to $10.10
The increase in the ground minimum was higher than the overall average. This happens almost every year. This figure is negotiable, so shippers should seek concessions.
4.FedEx creates remote surcharges for certain contiguous U.S. ZIP codes.
UPS introduced this fee in January 2022, and FedEx made it effective January 30, 2023. Nearly 4,000 ZIP codes in the continental U.S. will be charged a $13.25 fee for any delivery. The fee will be the same for commercial and residential shipments. 5.
5.Similar increases across weights, but longer regions receive higher increases
Last year, the increases were similar across regions, but this year, FedEx is increasing rates for longer regions (6-8) more than closer regions. The weight range increases are consistent this year, unlike last year, where lighter weights had higher increases compared to heavier weights.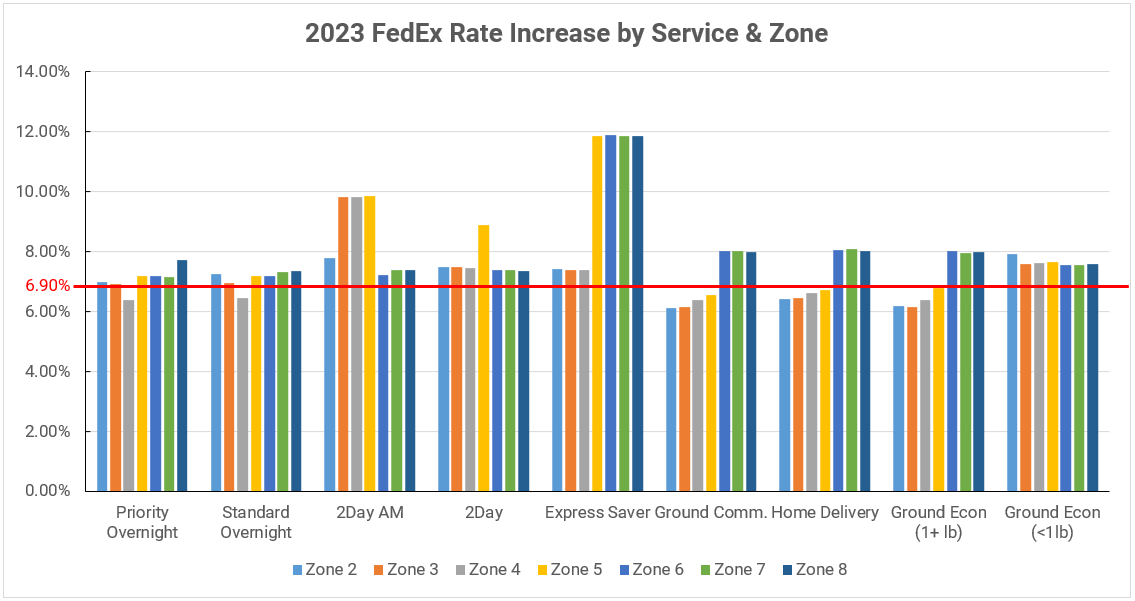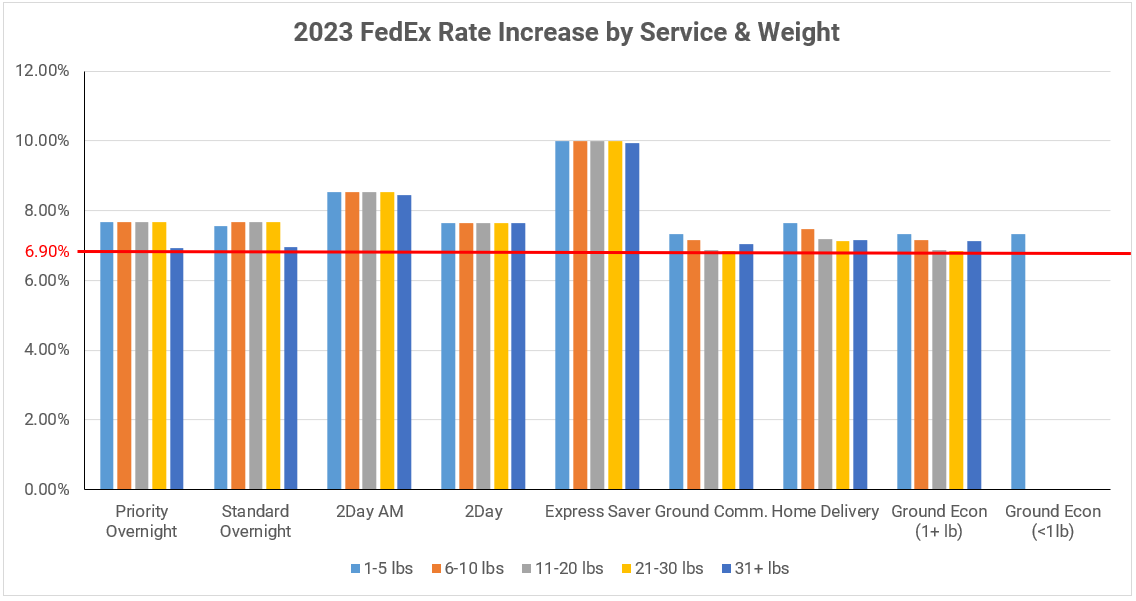 6.No change in some ground economy charges
Effective Sept. 26, FedEx has chosen not to increase Ground Economy delivery and return fees or delivery area surcharges.
How will this affect individual shippers?
The general rate increase will affect some shippers more than others because it is not a linear increase.
If you are a shipper who
Ship large packages
Have a high percentage of long-haul shipments
Or, incur significant ancillary costs as a percentage of total expenses
...... you may be subject to a much larger increase than the mandated 6.9%.
For example, last year, shippers using Ground Economy heavily increased by more than 15 percent due to delivery and return charges.
As with annual rate increases, it is critical to understand how all of the portfolio changes will affect your individual characteristics and ultimately your overall transportation costs. When you put the analysis together, you can have an informed conversation with JIKEship about FedEx rate increases.
JIKEship is a freight forwarding company that specializes in cost reduction and transportation services. You can reach us at [email protected].